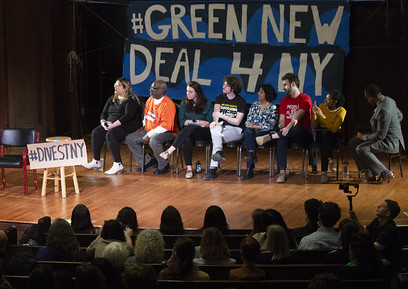 (photo: John McCarten/NY City Council)
---
The window for meaningful action on climate change is narrowing. Every year, as more climate impacts become "locked-in," changes we have to make to save the planet become even harder to implement. Right now, fossil fuel industry campaign contributions to politicians are holding back the solutions we need.
If we want to pass climate policies that could actually help reverse the climate crisis, then we also need to fix our democratic system that gives too much power to wealthy donors and big polluters. In New York, a state where wealthy donors contribute an outsized proportion of funds to campaigns, we have the opportunity to build a public campaign financing system that can address this imbalance. These two crises are interconnected.
Nationally, the fossil fuel industry has tightened its stranglehold on American politics. In the 2018 election cycle alone, $89 million in campaign contributions came from the oil, gas, and coal industry with the vast majority going to Republicans. Contributions from the fossil fuels sector put a stop to ballot initiatives that would have created landmark state climate and energy legislation here in New York—and across the nation.
In the battle over fracked gas development in New York, oil, gas, and fracking support industries spent $10.7 million on contributions and $33.5 million on lobbying from 2007 to 2013, stalling several fracking restriction measures. While grassroots activists eventually succeeded in pushing Governor Cuomo to take executive action to ban fracking, this influx of pro-fracking cash signals potentially bigger battles ahead as the state considers a 100% renewable energy target.
In 2018 in Washington state, $31.5 million was pumped mostly from mostly out-of-state oil and gas industry into a campaign that ultimately defeated a carbon tax measure that would create revenue for renewable energy and vulnerable communities. And a proposition that would have set restrictions on gas fracking in Colorado was defeated after oil and gas spent over $26 million in the state.
That is why a growing chorus of environmental advocates is calling for public financing of elections — which expands the contributions of small donors through public matching programs. With a fair elections system, elected officials would be more responsive to the electorate, an overwhelming majority of which believes we need bold policies to address climate change.
One of our best hopes today is here in New York, where lawmakers are on the cusp of passing groundbreaking climate policy and the state budget has just included a commission mandated to develop a public financing system for the state.
Public financing of elections would fundamentally change how Albany works, and amplify the power of working people and people of color. In the long term, fair elections mean that our elected officials will be more engaged with constituents in their districts and responsive to public concerns and needs.
To implement an effective fair elections program, legislators and Governor Cuomo must appoint commissioners committed to expanding access to our democracy. A robust program would also include a 6-to-1 contribution match for low-dollar sums, lower contribution limits, and an independent agency to administer the program. In order to limit the influence of big donors who seek to block effective climate policy and other urgent reforms, the commission must act quickly and decisively. Kicking the can down the road is not an option.
Simultaneously we can pass the Climate and Community Protection Act (CCPA) to put New York on a path to 100% renewable energy economy-wide. The CCPA is ground-up policy, with a coalition of over 160 groups from across the state backing the proposal. The bill puts in place requirements for energy investments to go to disadvantaged communities, and working groups that include community group representatives to oversee implementation of state energy plans. This means more people could be part of shaping an equitable energy transition for New York.
The impacts of climate change are not felt equally by all. We need to ensure a more inclusive political process to address everyone's needs, especially those most vulnerable to climate impacts and pollution, and communities that have been historically excluded from political decision-making.
We have the technology we need to begin a rapid transition to a renewable energy economy. Our ability to implement climate solutions is, therefore, a political question. With the majority of New Yorkers in support of government action to curb climate change, a legislature that is more responsive to the electorate could usher the ambitious climate policies we need. Public financing and bold climate measures like the CCPA can reorient our politics to expand who is heard and who is at the table.
***
Bill Lipton is the New York State Director of the Working Families Party. Adrien Salazar is a Campaign Strategist with Dēmos and one of the 2019 Grist 50 Fixers. On Twitter @BillLipton of @NYWFP & @adrien4ej of @Demos_Org.
***
Have an op-ed idea or submission for Gotham Gazette? Email This email address is being protected from spambots. You need JavaScript enabled to view it.