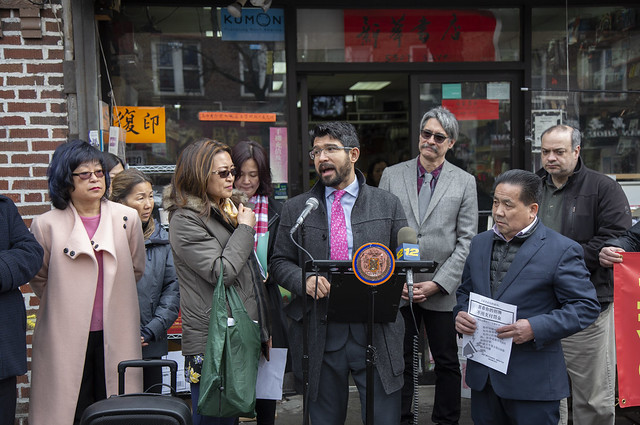 Council Member Menchaca and constituents (photo: John McCarten/City Council)
---
In the past week, the New York Post and New York Daily News published editorials criticizing New York City Council Member Carlos Menchaca's March 6 request to delay the certification of a consortium of major real estate investors and developers' application for a special permit to build two hotels and rezone Industry City for retail, office, and academic uses. The accusatory language in both newspaper editorials exhibits a deep contempt for the necessary public review of private development proposals.
This massive rezoning would greatly increase the density of commercial uses and allow three new buildings with 1.27 million square feet of market-rate, destination retail, hotel, and academic office space, and more importantly, will fundamentally and irrevocably alter the industrial working waterfront.
Menchaca and Community Board 7 requested more time for community review because "ULURP has historically failed to address the most urgent concerns voiced by the Sunset Park community." A spokesperson was quoted in the RealDeal that Industry City "intend(s) to make our case" through the ULURP process but ultimately agreed to a postponement after Congressional Representatives Nydia Velázquez and Jerry Nadler, and State Senator Zellnor Myrie intervened with a letter to City Planning Director and Chair Marisa Lago.
The Post described Menchaca's request as "holding Industry City hostage" in order to "blackmail" the developers for a "payoff to the activists." The Daily News demanded that City Council members cease their "corrupting power on land-use matters" by pointing to Amazon's February announcement of the withdrawal of a plan to build a massive campus in Queens. In concert with the Post, the Daily News similarly admonished Menchaca's "meddling" and "extortion," and demanded that he "must relent" and "the Council must end this craziness."
I teach an introductory urban planning class and we spend weeks on the complicated topic of zoning. One of the first things we learn is that the legitimacy of zoning is based on the legal concept of municipal police power which refers to the right of the community to regulate the activities of private parties to protect the interests of the public. Menchaca requested a postponement in the certification of Industry City's rezoning application in order to provide more time for a full vetting of public interests and concerns. This is not an unreasonable request especially as Menchaca's letter notes displacement and gentrification concerns, and specifically requests Industry City to explain "how its rezoning proposal will mitigate displacement, gentrification, rising rents, congestion, and the effects of climate change."
Despite indisputable evidence of Sunset Park gentrification including a NYU Furman Center study, the Post editorial repeated Industry City's delusional claim that since its rezoning does not involve residential development, "it's irrelevant to gentrification." Industry City CEO Andrew Kimball's letter stated that in order to have "modern manufacturing and making at Industry City," the Special Sunset Park Innovation District rezoning must include "a mixture of uses that allow for a higher return." And as page 6 of the Draft Scope of Work makes clear, Industry City needs the rezoning for "upscale" hotels, expanded destination retail, and new academic uses because without these city actions, it will not be able to raise $638 million in capital investment. Although Kimball argues that Industry City provides an antidote to gentrification through job creation, he has yet to specify the numbers, types, and wages of "high-quality" innovation district jobs that would be available to Sunset Park's working age adults (of whom nearly one in two lack a high school diploma).
Industry City's rezoning is essential to "generating the economic returns necessary to finance additional capital investment in the portfolio" in order to enhance and maximize property value and rent revenues (i.e., high-rent tenants).
As currently proposed, this rezoning will diminish one of New York City's last remaining industrial waterfront neighborhoods, and as UPROSE Executive Director Elizabeth Yeampierre notes, it also represents a lost opportunity for a frontline community to advance innovation, inclusion, and resilience in the face of climate change. For these reasons and the right of Sunset Park's Latinx-Asian working class to remain in the neighborhood, we must end the craziness of zoning in the service of the private market and enrichment of real estate developers rather than its intended purpose to protect the health, safety, and welfare of the public.
***
Tarry Hum is a professor at The City University of New York (CUNY) and author of Making a Global Immigrant Neighborhood. On Twitter @TarryHum.
***
Have an op-ed idea or submission for Gotham Gazette? Email This email address is being protected from spambots. You need JavaScript enabled to view it.