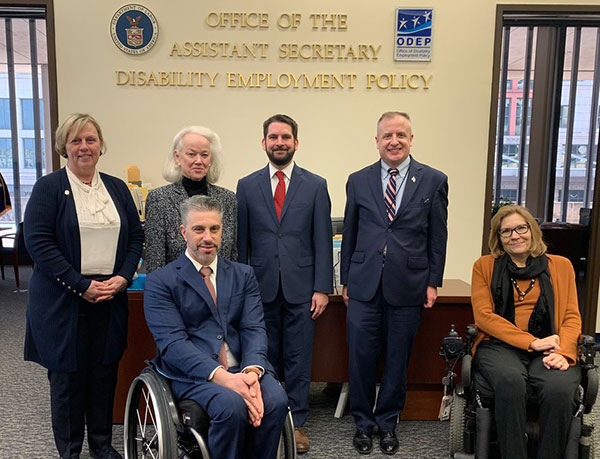 Victor Calise, front-left, is one of the authors (photo: @NYCCalise)
---
In the fairest big city in America, everyone deserves the opportunity to be employed. Unfortunately, the reality is that people with disabilities in the United States are twice as likely to be out of the workforce as their nondisabled peers.
Data collected by the Bureau of Labor Statistics at the U.S. Department of Labor shows that the proportion of Americans with disabilities ages 16 to 64 that was employed last year was only 30.4% compared to 74% for non-disabled individuals in the same age group. In New York City alone, 79% of working-age people with disabilities are currently jobless according to the most recent U.S. Census statistics. This staggering disparity is one of the most pressing challenges to full accessibility and independence of the disability community.
New York City is doing our part to increase the employment rate of people with disabilities. The Mayor's Office for People with Disabilities' (MOPD) NYC: ATWORK program is a first-of-its-kind public-private partnership, with funding from Institute for Career Development (ICD), the Poses Family Foundation, the Kessler Foundation, the Craig H. Neilsen Foundation, ACCES-VR, and The Mayor's Fund to Advance New York City that directly connects people with disabilities to prospective employers.
For example, Chelsea Dimond is a person with a disability who reached out to NYC: ATWORK after she was previously unsuccessful in finding employment through traditional job-seeking websites. After getting guidance regarding the search and interview process, she was ultimately hired as a Peer Respite Worker by Transitional Services Inc. New York.
On NYC: ATWORK's assistance, Chelsea says: "This program took note of exactly what kind of job I was interested in and made a perfect match for me. This job feels like it was meant to be, and now I'm able to make a difference in the lives of those who have mental illnesses like myself." Chelsea is only one of many examples of successful placement by NYC: ATWORK. The overall goal of this three-year initiative focuses on connecting 2,100 individuals with disabilities to internships, jobs, and careers in their field of choice.
The City's proactive approach to increasing employment for people with disabilities is rooted in the understanding that a good job and financial security are crucial to personal and professional independence. Before connecting with NYC: ATWORK, Simon Bondar was living with his parents. After working with MOPD on his resume and interview prep, he was hired by UNIQLO as a Sales Associate. With this new line of income, Simon was able to move into a new apartment with his wife.
New York's business community plays a crucial role in hiring more people with disabilities, in turn creating a more inclusive workplace that leverages the diversity of its employees. Through NYC: ATWORK's Business Development Council, the City has fostered relationships with companies across a variety of sectors including finance, hospitality, transportation, retail, and technology.
Additionally, the New York City Council has hired its first-ever liaison to New Yorkers with disabilities. Together, the de Blasio Administration and Council are dedicated to including disability in conversations about diversity in hiring practices and society at large.
Having an employee with a disability can be a catalyst for a cultural shift to a more inclusive workplace. Nondisabled business owners are more likely to think about accessibility and ultimately improve the company for all of its employees and customers alike. These employment opportunities also extend to city government where the 55-a program has paved the way for qualified people with disabilities to get hired without needing to take a Civil Service exam. By obtaining employment, a person with a disability will therefore not only gain the tools they need to live independently but will also make a positive impact on their employer and the community at large as well.
While New York City has made great strides to improve the lives of people with disabilities and many businesses have joined us in hiring members of the disability community, we know this is just the beginning. It is imperative that societal attitudes shift to recognize that disability is an important aspect of a diverse work environment and, indeed, that people with disabilities are productive employees who will positively contribute to a business and the community. All of us must make a conscious effort to recruit, hire, and retain qualified people with disabilities. Only then can we have a truly inclusive society and make New York the most accessible city in the world.
***
Victor Calise is the commissioner of the Mayor's Office of People with Disabilities. City Council Member Justin Brannan represents parts of Brooklyn. On Twitter @NYCCalise & @JustinBrannan.
***
Have an op-ed idea or submission for Gotham Gazette? Email This email address is being protected from spambots. You need JavaScript enabled to view it.