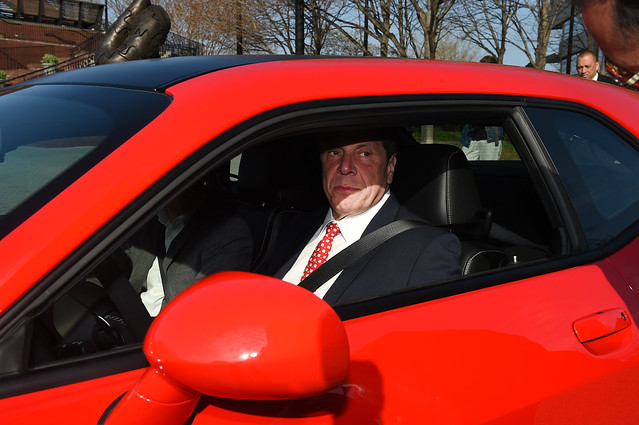 (Photo: Kevin P. Coughlin/Office of the Governor)
---
For nearly a year, activists have raised alarm-bells about how New York is creating the digital equivalent of widespread "stop & frisk" -- expansive new surveillance systems. One of the latest missteps comes from Governor Andrew Cuomo, who last July launched an MTA facial recognition program to scan drivers as they cross bridges and tunnels. For months, simply commuting to work may have involved a criminal background check for countless New Yorkers.
New reports show that the program might not just have been invasive, but also ineffective. So far, the pricey pilot project hasn't matched a single driver's face, according to the Wall Street Journal. But that may actually be good news. When the program launched, the governor was quick to tout its benefits, but reluctant to share some of the most basic information – where are the photos stored, who has access, how do we prevent abuse? Even without a response, we have a pretty good guess at the answer; the truth is that we've been down this road before.
For years, the NYPD has maintained automated license plate readers across New York City's bridges and tunnels -- hi-tech cameras that capture dozens of plates every minute. The photos are run through optical character recognition software like what is found on many home and office scanners, creating a digital database entry for each car. There is nothing inherently wrong with license-plate readers, but the question is the same as for Cuomo's cameras: who has the data?
In 2015, we found out the answer for license plate readers, and it came as a shock. Under a contract with Vigilant Solutions, a shadowy private corporation, police departments all across the country would have access to the information from New York's readers. A lot of security hawks said it was no big deal at the time; that it was even a good thing to share New Yorkers' private data more widely. But in January of last year came the wake-up call: ICE (federal immigration and customs enforcement) signed a contract with Vigilant Solutions and would get the license plate data too.
That's right, for more than a year, NYPD data has potentially been used for immigration enforcement under the Trump regime, making a lie of the promise of a "sanctuary city." What was the political response: nothing. Now, the situation could easily get worse.
License plate readers track just one thing: the car. But Cuomo's cameras have the potential to track everyone in the vehicle, even children. This combination can multiply the risks to immigrant New Yorkers. Under this policy, simply sitting in the passenger seat may be enough to reveal someone's location to ICE. And that's just the danger when these expensive boondoggles work as designed. All too often, they get it completely wrong.
Reading license plates is child's play compared to facial recognition. A license plate is designed to be read from far away; a short string of letters and numbers in high-contrast paint. You couldn't have an easier target, and yet the software still makes mistakes. We've seen it with our home and office scanners, like the "1" that becomes an "L" or spaces that disappear.
When scanner errors happen at home or the office, it's frustrating. When it happens with license plate readers, it means being stopped by the police, or worse. People have had guns pointed at them, had their door broken-down, and more, just because of faulty license plate readers.
If these systems have problems recognizing plates, how are they going to recognize faces? A license plate never cuts its hair or grows a beard. It never puts on makeup or a disguise. Given all the ways that appearances change, Cuomo's cameras will inevitably get it wrong, and it will have tragic consequences for some. Sadly, for immigrant families, some will also face tragic consequences when the cameras get it right.
Until Governor Cuomo implements the privacy safeguards needed to keep New Yorkers safe, facial recognition surveillance has no place in our state.
***
Albert Fox Cahn is the executive director of The Surveillance Technology Oversight Project at the Urban Justice Center, a New York-based civil rights and privacy organization. He writes the monthly "Surveillance and the City" column for Gotham Gazette. On Twitter @FoxCahn.
***
Have an op-ed idea or submission for Gotham Gazette? Email This email address is being protected from spambots. You need JavaScript enabled to view it.