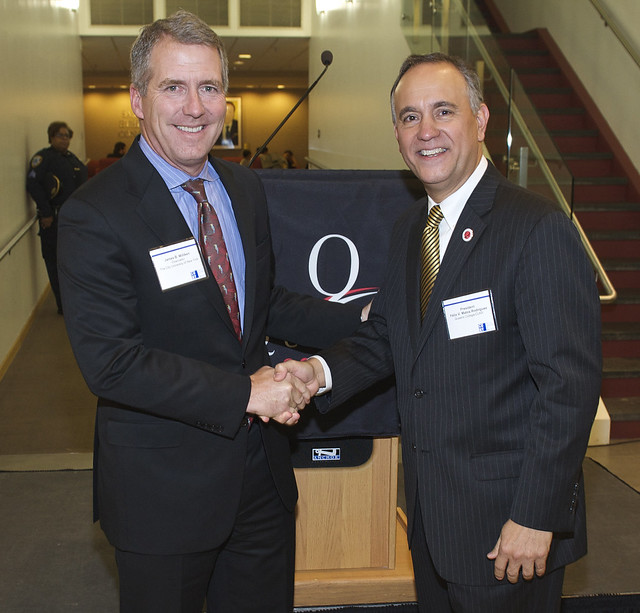 Former CUNY Chancellor James Milliken, left, & incoming Chancellor Felix Matos Rodriguez (photo: CUNY)
---
Today -- Wednesday, May 1 -- Felix Matos-Rodriguez assumes the post of CUNY chancellor following a year-long search. After successfully leading two CUNY colleges, Chancellor Matos-Rodriguez takes over an institution that has made important strides in recent years, including opening an innovative new community college and launching nationally renowned programs like CUNY ASAP.
To help grow New York City's middle class and greatly expand economic opportunity, CUNY's next leader will need to make boosting college and career success his highest priority.
The nation's largest urban public university provides many thousands of New Yorkers from low-income backgrounds with an education that can make the difference between persistent economic struggle and transformative economic and social mobility.
But CUNY still has work to do. Too many students drop out without a credential; graduates do not always end up on the path to career success; curriculum development can lag behind the city's fast-changing economy; and CUNY sometimes struggles to tune in to the needs of employers.
There's no time to lose. Today nearly 3.4 million New Yorkers age 25 and older lack any sort of post-secondary credential, exacerbating the city's opportunity divide. While nearly 61% of Manhattan residents hold a bachelor's degree or higher, the same is true for just 19% of those in the Bronx.
For residents without a college credential, far too many of the city's growing, well-paying occupations -- from software developer to registered nurse -- remain out of reach.
Narrowing that divide depends on CUNY.
There's no institution better positioned to help lower-income and first-generation students earn a post-secondary credential -- and with it, the opportunity to participate in and shape the economy of the future. But despite recent progress, only 22% of students who enter CUNY's community colleges graduate in three years. At CUNY's senior colleges, just 55% earn a degree in six years. Getting more New Yorkers on the path to economic opportunity will require a major effort to increase the number of students who graduate with a degree.
The new chancellor's first goal should be to dramatically improve those figures. Fortunately, CUNY has at least two programs proven to significantly boost completion rates: CUNY ASAP and CUNY Start.
ASAP provides a set of integrated supports to community college students, including free MetroCards and intensive academic counseling. Start is a bootcamp program that significantly boosts academic readiness for underprepared students without burning through their financial aid. Both programs should be made available to all community college students, and a version of ASAP should expand to senior colleges, too.
While it's true that most community college students enter the classroom struggling with at least one core subject, traditional remedial programs just don't work. Students in these programs are far more likely to drop out, even though research shows that most can succeed with a little help.
Chancellor Matos-Rodriguez should champion a system-wide effort to move away from traditional remedial education in favor of highly effective alternatives like the corequisite model, which allows students to pursue credit-bearing courses from day one with extra support.
But the challenge for the next chancellor doesn't end at graduation day. CUNY lacks a strategy to ensure that a CUNY credential leads to career success.
The next chancellor should lead a major effort to engage employers around every campus and develop industry-informed curricula tailored to growing occupations in tech, hospitality, creative industries, healthcare, construction, and beyond.
This will require CUNY to quicken the pace of development for new programs and courses and speed up technology procurement -- and New York City and State should support these efforts with more funding for employer engagement and a faster approvals process for new programs. Additional goals should include launching new apprenticeship programs with industry partners, expanding the number of internships and work-study opportunities available to CUNY students, and pushing to increase and improve career counseling services.
CUNY should also take steps to develop new certificate programs -- designed in partnership with employers, unions, or trade associations -- that can provide community college students with a marketable credential that counts toward a two- or four-year degree.
Doing all this will require sustained and expanded support from New York City and State. But it will also depend on strong and creative leadership at a decisive moment for public higher education. The new chancellor should ensure that CUNY's faculty, administrators, and curricula have the flexibility to move at the speed of technology and a clear mandate to prepare students for the jobs -- and opportunities -- of the future.
By focusing his administration on elevating college and career success, Chancellor Matos-Rodriguez can help the nation's largest urban university become its most effective launchpad to the middle class.
***
Jonathan Bowles is executive director of the Center for an Urban Future, a New York City–based think tank focused on expanding economic opportunity. Winston C. Fisher is partner at Fisher Brothers and co-chair of the New York City Regional Economic Development Council. On Twitter @jbowlesNYC & @Wnston_Fisher1 & @nycfuture.
***
Have an op-ed idea or submission for Gotham Gazette? Email This email address is being protected from spambots. You need JavaScript enabled to view it.