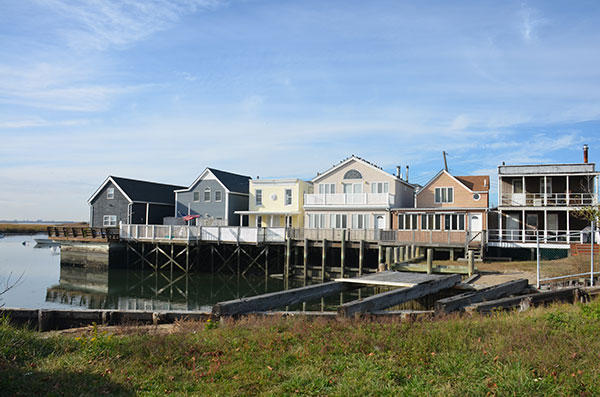 (photo: City Planning Department)
---
As the threat of climate change grows more prevalent by the day, cities must take the lead in reducing our carbon footprint and becoming more resilient. This year, New York City has taken a big, green step forward, with actions by Mayor Bill de Blasio and the City Council that will decrease our emissions.
When it comes to withstanding the storms and flooding that climate change will bring more frequently, though, it's vital that existing zoning rules don't stand in the way of protective measures for the buildings that make up our coastal communities. As sea levels rise, so too will flood waters and we must make certain that zoning accounts for future risk.
Shortly after Hurricane Sandy devastated our coastal communities, the City adopted emergency zoning to enable homeowners to rebuild to more resilient standards, based on the then-newly provided flood maps produced by the Federal Emergency Management Agency (FEMA).
These zoning changes allowed property owners to raise living space and mechanical equipment to a higher elevation that could otherwise wind up under water. They also expire one year after FEMA creates new flood maps. But there's no telling when the next storm may hit.
When it comes to building or renovating, the hundreds of thousands of residents and businesses in the floodplain can't be kept in limbo. We need to provide guidelines for how buildings can be constructed or retrofitted to better withstand or recover from storms and flooding. This affects roughly 400,000 residents in today's flood zone, an area that could increase in size to cover nearly 800,000 New York City residents by the 2050s due to sea level rise.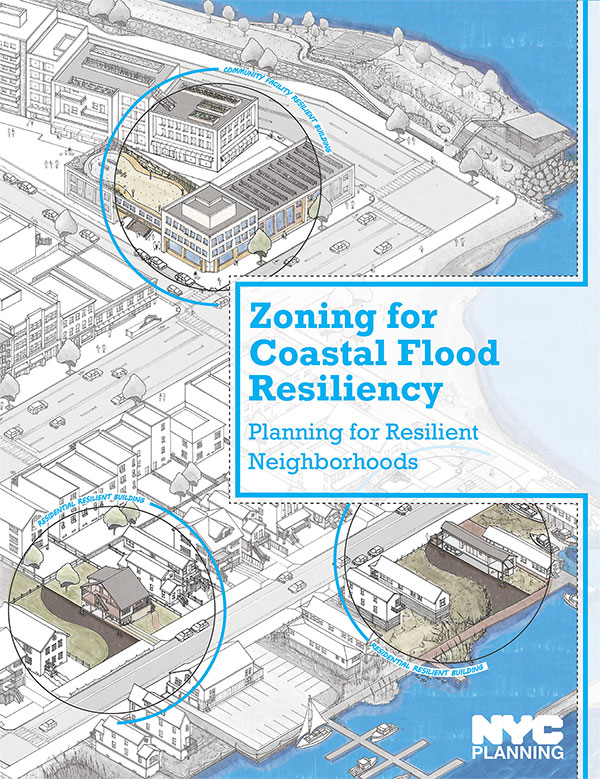 With years of lessons from Sandy recovery and community outreach, we've created Zoning for Coastal Flood Resiliency, rules tailored to New York's diverse neighborhoods, building types, uses and needs, as well as increased storm and flood risk from climate change.
We have listened to communities throughout the City's flood zones to understand the challenges they face both from storms and increased chances of flooding due to climate change. Zoning for Coastal Flood Resiliency is responsive to what we heard and will allow New Yorkers to make smart choices when retrofitting or rebuilding.
The proposal's main goals include:
Expanded geography: We saw during Hurricane Sandy that floodwaters ignore lines drawn on maps. Much flooding occurred well beyond the boundaries of the old Flood Maps. With climate change and rising sea levels, storms will become more frequent and floodwaters will travel further inland. We're expanding the proposed zoning protections from the 100-year floodplain to the 500-year floodplain, ensuring that an additional 44,600 buildings in the city that house nearly 350,000 additional residents can become more resilient.
Flexibility for resiliency: Residents told us that current zoning often forces their resilient measures to eat into living space in their homes. In response, we propose to allow sea level rise to be factored into designing new buildings or retrofitting existing ones, offering more room for resiliency. This flexibility will give resilient buildings a decreased chance of property damage from a future storm and likely reduced flood insurance costs.
Alternatives for the relocation of important equipment: For buildings to quickly get back up and running after flooding, it's critical that their mechanical, electrical and plumbing equipment or back-up systems are above floodwaters. The zoning would allow them to be elevated.
On a personal and a macro level, New Yorkers are still feeling the impact of Hurricane Sandy. It's imperative to apply lessons learned from that disaster and emerge stronger. These zoning measures will help individual property owners prepare for a resilient future.
This is just one piece of the puzzle. When combined with the City's investments in coastal protection and the hardening of our infrastructure, we can provide real and tangible risk reduction from coastal storms.
***
Michael Marrella is Director of Waterfront and Open Space at the Department of City Planning. On Twitter @NYCPlanning.
***
Have an op-ed idea or submission for Gotham Gazette? Email This email address is being protected from spambots. You need JavaScript enabled to view it.