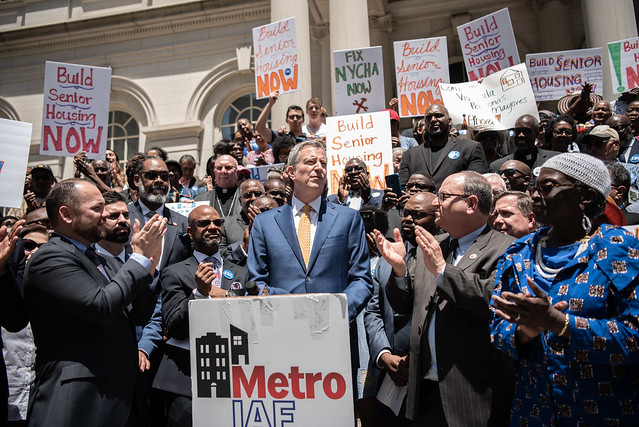 Mayor de Blasio rallies with Metro IAF (photo: Michael Appleton/Mayor's Office)
---
Last summer, Mayor de Blasio shook our hands and publicly promised to invest $500 million to build thousands of new apartments for low-income seniors. The celebration has been short lived. It turns out the mayor betrayed us and New Yorkers when he reneged on his commitment.
Last Tuesday, more than 500 East Brooklyn Congregations and Metro IAF leaders rallied on the steps of City Hall to get the money our seniors were promised. More importantly, we want the aspiring presidential candidate to come to grips with this cold and hard reality: the tale of two cities has grown worse not better over the past six years.
As pastors, we've spent the past 40 years organizing our people and pressuring public officials to deliver for the poor and working class of our city, many of whom worship in our pews or attend our schools.
We've had a relationship with every mayor. It's often been contentious but never duplicitous.
In 1983, after a tough public fight with then-Mayor Ed Koch, we began the construction of what would eventually become more than 5,000 Nehemiah homes and apartments. The Nehemiah plan, named after the prophet who rebuilt Jerusalem, resurrected Brownsville, East New York, and large parts of the South Bronx.
Our city's seniors will soon number more than 2 million. They stood by our city during the financial crisis of the 1970s, and the murder and drug epidemics of the '80s and '90s. We have a moral obligation to stand by them as they retire on fixed income and with a diminishing supply of affordable housing.
One of our older members recently confessed that trying to pay her $1,400 monthly rent on a fixed income sometimes forced her to choose between food and rent. We need a new Nehemiah plan for our city's seniors.
Mayor de Blasio came into office with talk of ending the tale of two cities. We believe his intentions were honorable, but, by all measurements, the affordable housing crisis, the dehumanizing conditions in NYCHA, and the future of many poor seniors and students are worse not better.
More than 65,000 of our fellow New Yorkers live in poorly-run shelters or expensive motels. At least 120,000 of our public school students are doubled up with family members or facing evictions.
Think about that. During times of prosperity and abundance, our young scholars are commuting from filthy shelters or far flung places. One of our high school students, her family evicted from their apartment in Bushwick, commutes every day from her relative's home in Pennsylvania.
There are more than 200,000 seniors on wait-lists to get into affordable housing developments. With wait times as long as five to eight years, many die before they get to move in.
The blame for the housing crisis doesn't start and end at City Hall. Slumlords and mega-developers have learned how to monetize the eviction and displacement of hundreds of thousands of black and Latino families. They might be driving the crisis but the city cannot and must not stand idly by.
We spent two years pressuring and negotiating with the mayor to get him to do something truly transformational. It appeared that the mayor was finally ready.
On a bright sunny day last June, in front of 10 City Council members and hundreds of our members, the mayor promised to invest $500 million to create senior housing on empty NYCHA parking lots.
For every senior that we could voluntarily move out of New York City public housing, we could free up a three or four bedroom apartment for a family to leave the shelter. A $2 billion city investment can create 15,000 new affordable senior housing units which, in turn, can create space for 50,000 New Yorkers to move out of the shelters and off the streets.
The first $500 million can generate 4,000 new seniors units, which would mean that 12,000 or more individuals could get permanent affordable housing in NYCHA.
In a recent letter to Comptroller Stringer, the mayor quietly admitted that the $500 million is not in his budget plan. It's gone, and so it appears is the mayor's willingness to help.
We made this announcement at church services across the city over last couple of weeks. As pastors, we have rarely seen our people so angry. The mayor says there's been unfortunate "confusion" about what he pledged, and claiming that the city's contribution would be much less, closer to $100 million.
We say it is only the mayor who has been confused.
It's possible that the mayor, like a lot of public officials, never expected to be held accountable for his promise. But he is, and he must deliver.
***
By Rev. Adolphus Lacey, Rev. Shaun J. Lee & Rev. David K. Brawley.
***
Have an op-ed idea or submission for Gotham Gazette? Email This email address is being protected from spambots. You need JavaScript enabled to view it.