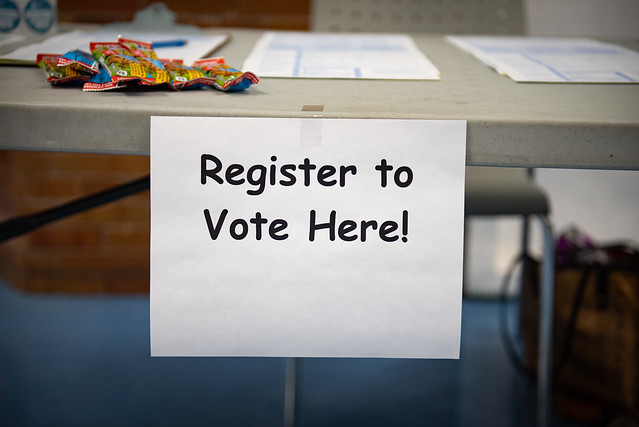 (photo: Michael Appleton/Mayoral Photography Office)
---
No one's socioeconomic status should limit their capacity to make their voice heard at the ballot box. But more must be done to ensure that low-income populations across the nation are registered to vote and can participate in the democratic process.
We can help address this issue in New York by taking more information directly to residents in and around their own apartment buildings. Managers of affordable housing developments can play a significant role in connecting tenants with the information needed to register to vote.
That is why NYSAFAH is launching a non-partisan voter registration initiative that will target residents of affordable housing developments that are managed by our members. Through this effort, we can help thousands more low-income New Yorkers register to vote by the end of this year.
NYSAFAH is the state's trade association of affordable housing developers, managers, architects, planners, and others who help build and preserve homes for low- and middle-income New Yorkers.
Our first priority is to deliver quality housing for New Yorkers. However, being good stewards of affordable housing often extends beyond the day-to-day maintenance of four walls and a roof.
Our members also impact the lives of their residents by helping them access social services, participate in recreational programming and engage in other activities that contribute to strong families and healthy living. We believe that working to increase rates of voter registration can become an important part of that broader mission.
As part of our new initiative, NYSAFAH will partner with the New York City League of Women Voters to advance a coordinated outreach campaign that is driven by direct engagement with residents. This outreach will include voter registration drives held at buildings in which residents live. At these sessions, managers will provide non-partisan guidance and information with the goal of maximizing voter registration among the resident population.
NYSAFAH members collectively manage hundreds of buildings across the five boroughs, with tens of thousands of residents overall. This makes for an even greater opportunity to have a real impact on boosting rates of voter registration among low-income communities throughout New York.
As we make progress on this front, we will also be taking an important first step toward advancing the broader goal of increasing voter participation – when more of us vote, we all benefit from a stronger democracy.
And after all, this just makes sense. When it comes to engaging with residents, why not start with a renewed effort to give them more of the tools they need right at home?
We have already received a great deal of positive feedback from NYSAFAH members who are excited to embark on what we all believe will be a crucial initiative for our state. Our team looks forward to seeing thousands more New Yorkers registered to vote – and we hope that this work can serve as a model for future initiatives to keep advancing the ball.
***
Jolie Milstein is president and CEO of the New York State Association for Affordable Housing (NYSAFAH). On Twitter @NYSAFAH.
***
Have an op-ed idea or submission for Gotham Gazette? Email This email address is being protected from spambots. You need JavaScript enabled to view it.