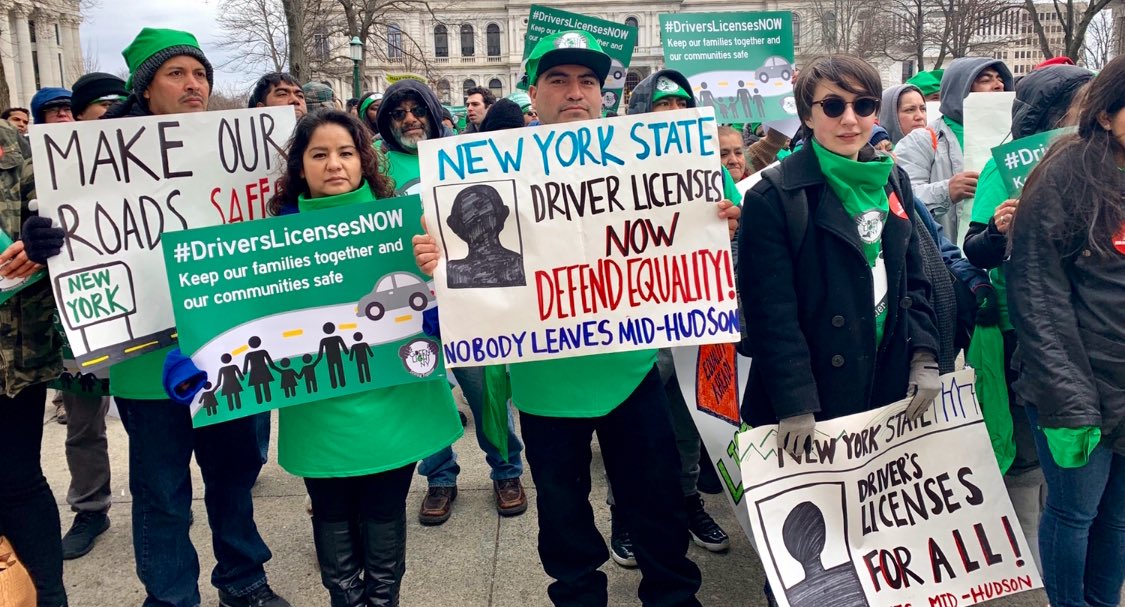 (photo: @EddieATaveras)
---
As a former Suffolk county police officer and detective, I think a lot about what keeps our communities safer. And one thing I know is that our roads are safer when everyone who is driving is licensed and insured. That's why, as a state legislator, I believe New York should let all qualified drivers, regardless of immigrant status, follow the same process to get a driver's license.
Driving is essential on Long Island. Throughout most of our region, you need a car to get to work and to drive your child to school or the doctor. Passing the Driver's License Access and Privacy Act would mean that 265,000 New Yorkers, including 51,000 Long Islanders, who currently don't have access to a license would be able to safely drive to carry out their basic daily life necessities.
The roads in our state will be safer because every driver will go through the same process: submit an application, take a road test, and, if you pass, obtain a license. Making sure all drivers are licensed and insured means that more drivers are aware of traffic regulations and will likely reduce traffic-related incidents.
Roads are safer when all drivers can be tested, licensed, and insured. While research has shown that undocumented immigrants are particularly careful drivers, they are even safer when they have a state issued driver's license. Various studies have concluded that ensuring equal access to licenses can reduce the incidence of traffic fatalities. And, in California, data show that within the first year of passing a similar policy to expand access to driver's licenses, the number of hit-and-run accidents declined.
In addition to making our roads safer, restoring access to driver's licenses to all New Yorkers can help build trust between local law enforcement and immigrant communities – a relationship that has been crippled by a series of attacks on immigrants and people of color by the Trump administration; the president went as far as encouraging police brutality in a 2018 visit to Long Island.
In the climate of fear that Donald Trump has created, members of our communities are more fearful than ever of interactions with law enforcement, which can lead people to not report crimes that they witness or of which they are victims. This is especially true when people don't have access to a state identification document.
No one, regardless of immigration status, should have to fear contacting a police officer, whether it is to ask for help or to contribute to a solving a crime, for lack of documentation. Having a driver's license will lead to thousands more current New Yorkers having access to an identification document that enables them to identify themselves as they drive on the road and proceed with their daily lives.
Restoring access to driver's licenses will also be an economic win for our state. Immigrant New Yorkers already contribute enormously to our state's economy -- contributing more than $100 billion annually as consumers, and more than $1 billion in taxes on top of that.
If the driver's licenses bill, which would especially increase the number of immigrants with licenses statewide, were passed, the Fiscal Policy Institute has found there would be a further gain. Annual state revenues would increase by $57 million, and there would be a $26 million one-time boost in revenue, as people obtain licenses and purchase cars.
It's also worth noting what this bill won't do. The standard issue licenses that would be available to undocumented people would not be valid for air travel, for entering federal government facilities, or to vote. The standard licenses would simply enable members of our communities to access the roads and the insurance they need.
The Driver's License Access and Privacy Act would bring benefits to all Long Islanders through improved road safety, trust in law enforcement, and an economic boost. New York should not delay. This should be the year to restore access to licenses to all qualified drivers.
***
Phil Ramos is an Assembly member representing New York's 6th Assembly District in Suffolk County. On Twitter @PhilRamos6AD.
***
Have an op-ed idea or submission for Gotham Gazette? Email This email address is being protected from spambots. You need JavaScript enabled to view it.