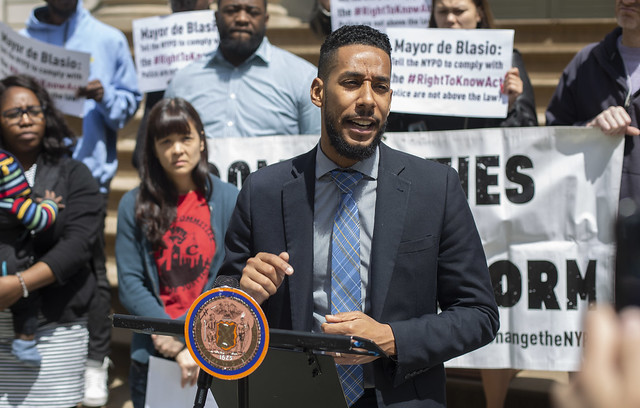 Council Member Reynoso, one of the co-authors (photo: John McCarten/City Council)
---
In recent history, New Yorkers have witnessed numerous instances of brutality and mistreatment at the hands of the police. Justice has not been delivered in many of these cases, and they all point to a glaring reality: a lack of transparency and accountability plagues the New York City Police Department.
The public was vividly reminded of this just a few weeks ago when a video of Christopher Parham's 2018 arrest surfaced. In the video, 19-year-old Parham is seen picking up groceries for the restaurant where he worked when three plainclothes officers followed him outside of the grocery store and threw him to the ground, violently arresting him without cause. The officer who took him into custody – an officer with a history of civil rights lawsuits – and his colleagues slammed his head onto the sidewalk of a busy Williamsburg street, giving him a concussion and tasing him repeatedly before dragging him backwards by his handcuffed arms into a police car.
Despite the fact that this brutal assault occurred in broad daylight in front of witnesses, and was captured on cell phones and security camera, paperwork completed by the NYPD indicated that no force had been used during the arrest. The NYPD says an internal investigation cleared the officers who attacked him of wrongdoing.
The charges filed against Parham were eventually dismissed following the District Attorney's review of surveillance footage obtained by Brooklyn Defender Services and our partnership advocating on his behalf. However, Parham's experience with law enforcement is not unique, and residents of New York City are not strangers to officers with problematic histories patrolling their streets.
Stories like Parham's are why we support the SaferNY Act, a package of bills currently in the New York State Legislature that aims to increase police accountability through measures such as repealing section 50-a of the state's Civil Rights Law, which shields police personnel records; enacting the Police Statistics and Transparency (STAT) Act; and strengthening the role of the Special Prosecutor currently enacted by executive order.
Police departments in New York are tasked with disciplining their own officers, which means that officers who commit crimes, ranging from lying under oath to murder, are allowed to keep their jobs, even after an assessment of potential wrongdoing has been made. In this enormously flawed law enforcement disciplinary system – one where, for example, a finding of wrongdoing by the New York City Civilian Complaint Review Board and Internal Affairs Bureau investigations does not guarantee that officers are penalized – the personnel records of police officers remain sealed under 50-a.
Under 50-a, the information contained in personnel files, including investigations and findings of fact, are sealed from public scrutiny. This is problematic because the publicly available records paint an incomplete picture, one that judges and prosecutors are all too able to ignore at the NYPD's urging. As a result, even when numerous public civil lawsuits have been filed, they are not considered as findings of fact or determinations of guilt and most of these cases settle out of court.
The public is starting to learn of some of the most problematic cases and worst offenders, however they have yet to be held accountable. As an example, Sgt. David "Bullethead" Grieco has been named in more than 30 lawsuits with allegations including physical violence and lying under oath. Yet despite his egregious track record, cases brought by this officer are still being prosecuted.
If we want a city that is safe, fair, and equitable, we must hold all citizens to the same standards and levels of accountability, including members of our law enforcement. It shouldn't take a City Council member and advocates to join forces to protect individuals like Christopher Parham from those who are supposed to protect us.
Parham wants to move on with his life, "I just don't want this to happen to anyone else," he says. It is in the hands of the New York State Legislature to get us closer to this goal, and that is why we urge our state lawmakers to pass the SaferNY Act before the end of this session in Albany.
***
City Council Member Antonio Reynoso represents parts of Brooklyn and Queens. Lisa Schreibersdorf is Executive Director and Founder of Brooklyn Defender Services. On Twitter @CMReynoso34 & @lisaschreib.
***
Have an op-ed idea or submission for Gotham Gazette? Email This email address is being protected from spambots. You need JavaScript enabled to view it.