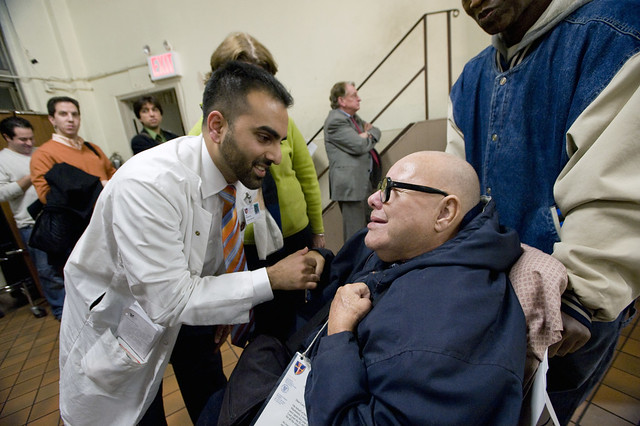 (photo: William Alatriste/City Council)
---
As health care providers and public health advocates, we believe that all New Yorkers deserve access to high-quality, comprehensive, compassionate health care. We believe that health care is a human right—not a luxury for the privileged.
And yet, New York State has cut vital public health programs for our city—and only our city. Known as Article 6, these state funds help support critical services provided by local health departments, including immunizations; tuberculosis outreach, education and testing; and sexual and reproductive health. In New York's most recent budget, New York City's reimbursement for this program was cut by 16%, resulting in more than $62 million in lost funding to essential city public health programs.
The Mayor's Executive Budget plan includes $59 million in funding to restore cuts to the Department of Mental Health and Hygiene administrative programs and organizations funded by the administration. However, it does not cover the millions in lost Article 6 matching funding for City Council discretionary-budget public health programs, such as those that support immigrant health, health education, health insurance access, HIV/AIDS prevention and treatment, child and maternal health, viral hepatitis, and more.
Currently, the City Council estimates cuts will result in no less than $3.4 million in lost funding across dozens of community-based organizations.
We are calling upon Mayor de Blasio and the City Council to stand up for our communities and say no to these cuts to our health care funding. We are calling for this funding to be fully restored in the city's fiscal year 2020 budget, which is due by July 1, including full funding for Council-discretionary funded nonprofit providers.
Funding for City Council public health initiatives is a small fraction of the $90-plus billion city budget. We can't afford to not invest in public health.
Lack of access to quality health care can lead to devastating outcomes, from premature death to high prevalence of chronic diseases, especially in our most vulnerable communities. The leading causes of illness, disability, and death in New York City are largely preventable. Clinical encounters with medical staff are critical opportunities for health promotion and disease prevention and treatment, yet many New Yorkers face egregious barriers to accessing care.
New York City has a long way to go before all our communities are able to access the health care they need and deserve to lead healthy, autonomous lives. We are on the ground every day, from the Bronx to Staten Island, providing care to those who need it most. We still have so much work to do—and what we need is more support for our lifesaving work, not a budget cut that threatens our progress and our communities' health and futures.
***
By Anthony Feliciano, Executive Director of Commission on the Public's Health System; Laura McQuade, President and CEO of Planned Parenthood of New York City; Mark Harrington, Executive Director of Treatment Action Group; Jennifer March, Executive Director, Citizens' Committee for Children of New York; and Charles King, CEO and co-founder, Housing Works.
***
Have an op-ed idea or submission for Gotham Gazette? Email This email address is being protected from spambots. You need JavaScript enabled to view it.