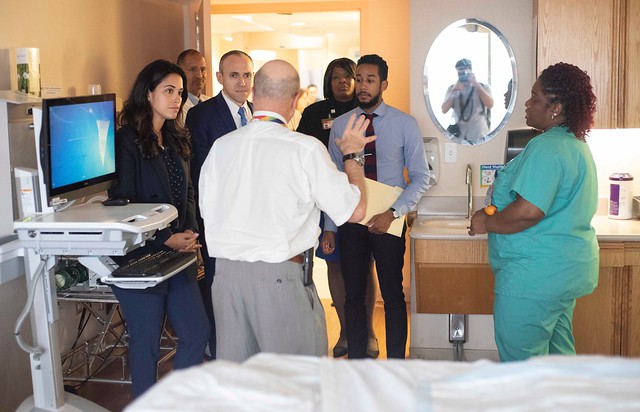 Council Member Carlina Rivera, left, one of the co-authors (photo: John McCarten/City Council)
---
New York City is one of the largest, most diverse, and advanced cities in the country – in fact, New Yorkers are living one-and-a-half years longer than a decade ago and nearly nine years longer than 25 years ago. Yet behind that positive sheen lies a shameful truth – our city persistently falls short in health outcomes for people of color.
As a New York City lawmaker chairing the committee that oversees our city's largest public health system and as the founder and leader of the city's largest physician-led nonprofit health care network, we are troubled that despite economic and technological leadership, our city continues to fall short on health basics.
Persistent health disparities are spread across all five of New York City's boroughs, most noticeably in communities of color. So, with another Minority Health Month in the rear-view mirror, we are hoping to spur solutions and bring much needed attention to these crises beyond just one month. Whether it is tackling the epidemic of diabetes, maternal mortality rates, or depression and suicides, we can no longer take on these issues without highlighting the disparate rates at which these medical issues affect New Yorkers of color.
And the solutions to these challenges can't just come from one sector. We need policymakers, community doctors on the front lines, and healthcare experts to all fight together for essential access to preventive care, increasing basic health education and literacy, and addressing the social determinants of health.
Our urban reality is stark: compared to their white neighbors, Latinx women are 60% more likely to be diagnosed with cervical cancer and are 70% more likely to receive late or no prenatal care; Asian-Americans are 30% more likely to be diagnosed with tuberculosis and 10% more likely to be diagnosed with diabetes; and African-Americans are 60% more likely to experience a stroke that could end in them becoming permanently disabled.
In addition, key survey findings in SOMOS's State of Latino Health report highlighted a series of health disparities Latino New Yorkers struggle with every day. For example, 33 percent of Latinos don't think people in their community get the health care they need, and 61 percent of providers think that Latinos face unique barriers that keep them from accessing health services.
Many of these conditions are exacerbated by what are known as social determinants of health, or more simply, the conditions in which New Yorkers live. These social determinants are attached to economic stability, education level, social and community context, health and health care; and neighborhood and built environment. And, every single one of these factors can determine a wide range of health risk outcomes.
Overall, New Yorkers who live in poverty and cultural isolation, including immigrant and first-generation New Yorkers, live underserved and in a political climate hostile to the historically disenfranchised. Put simply, this crisis is decades in the making, which is why the City Council Committee on Hospitals has been dedicated to examining these issues at our hearings and advocating for solutions from our city's biggest medical providers.
We must improve health literacy through building awareness – and use cutting edge technology to meet diverse New Yorkers where they live and how they receive information. New York City has more languages and dialects than the United Nations, and we are stronger and more unique for it – yet in many communities our access to internet services is far too low. We need to translate simple, effective health literacy messages from nutrition and exercise to smoking cessation in order to better reach more families and employ digital and handheld technology to carry the message.
We must make sure nutrition and healthy eating are no longer the purview of elites. It's worth repeating that farmers markets and supermarkets that specialize in natural, low-calorie, low-sugar, low-fat foods are economically far out of reach for far too many neighborhoods. Lowering food costs and making healthy food far more accessible and culturally relatable can make a huge difference in basic health for hundreds of thousands of New Yorkers who want to eat healthily but simply can't afford it or aren't exposed to it. And we know that local vendors who partake in farmers' markets and sell to health food markets would like to reach more consumers.
Together, we are pursuing a collaborative agenda defined by our partnership, expertise and unique lived realities.
***
City Council Member Carlina Rivera represents the 2nd district, which includes portions of the Lower East Side in Manhattan, is Chair of the Council's Committee on Hospitals and Co-Chair of the Council's Women's Caucus. Dr. Ramon Tallaj is Chairman of SOMOS, a non-profit, physician-led network of more than 2,000 health care providers serving over 700,000 Medicaid beneficiaries in New York City, with providers delivering culturally competent care to patients in some of New York City's most vulnerable populations.
***
Have an op-ed idea or submission for Gotham Gazette? Email This email address is being protected from spambots. You need JavaScript enabled to view it.