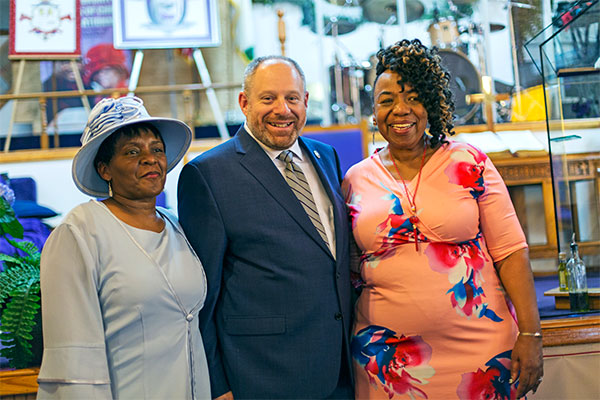 Valerie Bell, the author, left; Rory Lancman; and Gwen Carr
---
On November 25, 2006, my son Sean Bell was killed in a hail of 50 bullets from the NYPD on his wedding day. The officers who killed my son were acquitted due to the lack of an unbiased relationship between the judge and the Queens district attorney. Sean never received the justice he deserved and the men that murdered my son suffered no consequences under the law.
Subsequent to this marred process of criminal justice, I worked diligently alongside other mothers who were victims of police brutality to request Governor Cuomo use his authority under the law to appoint a Special Prosecutor in the Attorney General's office to investigate police use of deadly force. The governor supported our view and a Special Prosecutor was granted.
Since meeting City Council Member Rory Lancman, I've learned he has always been in relentless pursuit of police accountability. He has been, and continues to be a guardian against the racial disparities of law enforcement in communities of color, and this is why I am supporting Rory Lancman to be the next District Attorney in Queens.
As I have seen firsthand, criminal justice in Queens is stuck in the past, but for the first time in almost 30 years, the people of Queens have the power to elect a new District Attorney. The current Queens DA's office led the opposition to creating a Prosecutorial Misconduct Commission, and is the only DA's office in New York City that refuses to have a wrongful conviction review unit.
The office has opposed closing Rikers Island, and refuses to follow the lead of other District Attorneys who no longer prosecute most fare evasion and marijuana possession cases; 90% of such prosecutions are people of color. Queens' 2.3 million people deserve better than a 'lock 'em up and throw away the key' mentality.
For these reasons and more, Rory Lancman needs to be the next District Attorney in Queens.
Rory understands that our criminal justice system is built on a foundation of institutional racism. That racism manifests itself in a number of ways: massive discrepancies in communities of color for low-level arrests, broken windows policing that terrorizes black and brown communities, and a system that sets up even innocent people to plead guilty rather than endure the nightmare of Rikers Island while waiting for their day in court.
My family never received justice for what happened to Sean. Gwen Carr and her family never received justice for what happened to Eric Garner. Instead of just lamenting problems, Rory has gotten to work. He's sponsored legislation that would outlaw police chokeholds, and has fought against the misuse of New York's so-called "50-A Law" to shield police officers from public scrutiny of prior misconduct. As our next Queens District Attorney, Rory will not tolerate police malfeasance, whether it is violence against law-abiding citizens or perjury in the courtroom.
Finally, Rory will be a true criminal justice reformer at a time when Queens desperately needs it. Rory's vision is simple: create a fair system that treats everyone equally, and that views incarceration as a last resort for real crimes. Too many of our young people are given criminal records for the rest of their lives that make it hard for them to get an education, job, and housing.
On June 25, Queens will face a stark choice in choosing a new District Attorney. The District Attorney has incredible power over people's lives. Queens is long overdue for a true reformer who will make sure the law works for everyone, and will hold even the powerful accountable. That person is Rory Lancman.
***
Valerie Bell is the mother of Sean Bell.
***
Have an op-ed idea or submission for Gotham Gazette? Email This email address is being protected from spambots. You need JavaScript enabled to view it.