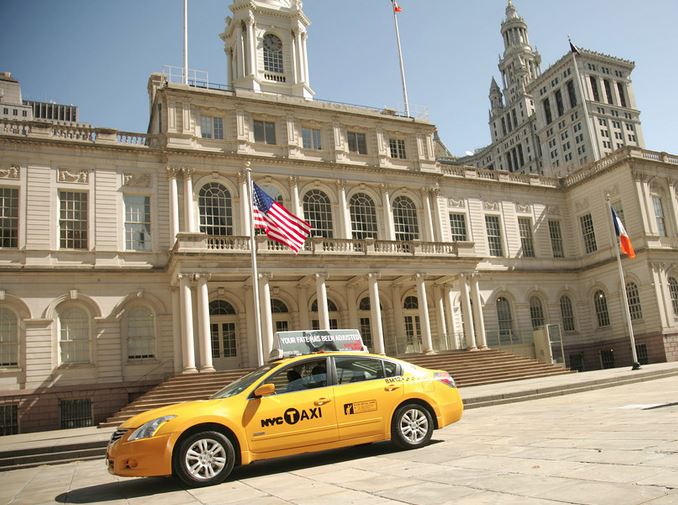 (Photo: Ed Reed/City Council)
---
Last week, the New York Times published another blockbuster investigative series by reporter Brian Rosenthal, this time on the misleading and predatory practices which led to inflated prices of New York City yellow taxi medallions over the last decade.
The compelling stories of taxi drivers who thought they were buying into the American dream by purchasing taxi medallions, only to find their incomes drastically reduced by the competition of Uber and Lyft, has been a topic of public discussion for some time, but Rosenthal's reporting provides new and detailed documentation of how lenders and brokers drove up the prices and encouraged purchases without concern as to whether the buyers had the wherewithal to repay their loans.
The story is reminiscent of the over-leveraged home buying encouraged and condoned by financial services firms and banks that contributed to the national housing bubble and the recession in 2008.
In his second article on the taxi industry, Rosenthal focused on the regulatory agencies that seemingly should have known something was wrong when medallion prices skyrocketed but did nothing to intervene. Indeed, the New York City Taxi and Limousine Commission even ran ads promoting medallion sales as a great investment. State and city officials are now investigating; legislators are looking at ways to aid struggling medallion owners.
The situation of many taxi drivers and their families (especially those who have died by suicide) is unspeakably sad and it is understandable that elected leaders want to help them. But the rise and fall of taxi medallion prices also contains a larger message and lesson for government about the dangers and unintended consequences of relying on one-time revenues to fund government expenses.
Fiscal watchdogs warn against reliance on "one-shots" because they artificially inflate the amount of revenue available and will have to be replaced by other resources over the long term. That is why organizations like Citizens Budget Commission (CBC) urge that one-time windfalls be used to pay down debt or bolster reserves, not to start new programs or pay for employee salaries and benefits.
CBC has repeatedly criticized the city for including large amounts of anticipated taxi medallion sales revenue in its financial plans since it began doing so in 2011:
"Balancing the budget with these one-shots does not address the structural problems– notably, escalating health insurance and debt service costs—but masks the problem temporarily and delays the discourse needed to adopt more enduring, if politically tougher, solutions. In addition, one-shots can be unreliable; if something does not work as anticipated, the savings will not materialize."
The same concern holds true for one-shots at the state level. New York state government has received over $11 billion in one-time revenue from settlements of litigation with financial institutions over the past five years. This funding has been used for a variety of initiatives, from infusions into economic development schemes like the "Buffalo Billion" to front end development and construction costs of the Mario M. Cuomo Bridge. Regardless of the merits of these projects, it would have been more prudent and appropriate to use these one-time revenues to reduce the state's indebtedness and/or increase its rainy day reserves to be better prepared for the inevitable time when there is an economic downturn.
And Rosenthal's investigation highlights another reason for avoiding reliance on one-shots: not only do they obscure the city's true fiscal picture but they can create pressure on officials – albeit sometimes unintentional or even unconscious – to maximize resources to fill a budgetary need.
The city has repeatedly included as much as $1.5 billion in taxi medallion sales revenue in its four-year financial plans. This is a great deal of revenue and suggestions that it might be achieved through unfair means would probably not have been favorably received by budget directors happy to have this revenue in their projections to reduce out-year deficits. No one was motivated to look a gift horse in the mouth.
The state and city comptrollers have joined CBC in criticizing the city's reliance on medallion sales receipts and the amount expected has been reduced and stretched out over longer lengths of time as the market changed and then tanked, and was completely removed from the mayor's executive budget starting in fiscal year 2019 and since.
It would be a great irony if, instead of leading to more than a billion in revenue, the taxi medallion market's problems lead to significant city spending to purchase owners' loans or bail them out in some other way, as some legislators are contemplating. The lesson is that when a sudden and untested revenue source appears, don't count on it because it may well be too good to be true.
***
Carol Kellermann was president of Citizens Budget Commission from 2008 through 2018.
***
Have an op-ed idea or submission for Gotham Gazette? Email This email address is being protected from spambots. You need JavaScript enabled to view it.
***
Have an op-ed idea or submission for Gotham Gazette? Email This email address is being protected from spambots. You need JavaScript enabled to view it.