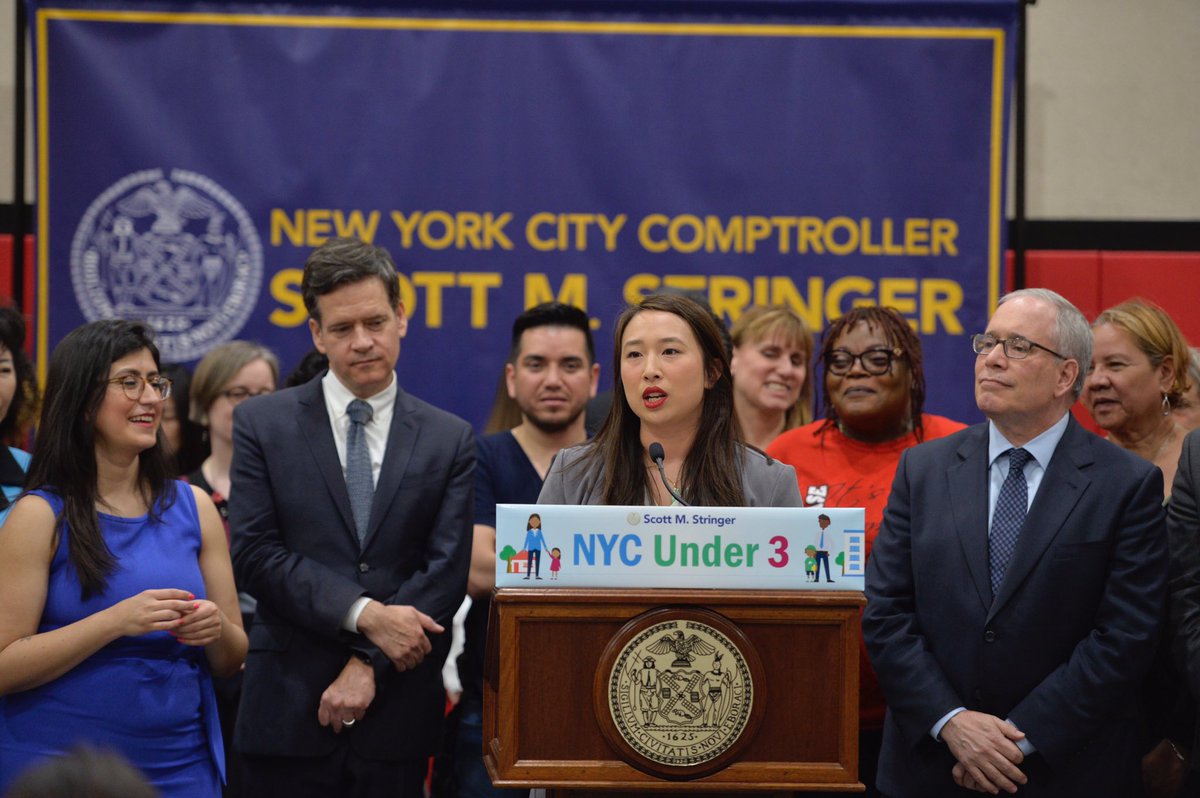 the authors: Assemblymember Niou, center, & Senator Ramos, left (photo: @NYCComptroller)
---
We've got a big money problem here in New York, and we hear loud and clear the New Yorkers who are calling for a small donor solution in the form of public financing of elections.
Public financing became a top issue in state budget negotiations earlier this year because of public demand. The plan for a commission to now determine the parameters of public financing of elections was placed in a large budget bill in the final hours of budget negotiations, making it nearly impossible to oppose as legislators.
But we must introduce and move public financing of elections bills this legislative session -- before it ends June 19 -- to fix, or overturn, a weak commission result. We're committed to ensuring that we end this year with a strong public financing program in New York, whether via commission, legislation, or a combination of both.
It's important to push this issue ahead and not simply allow the commission to unfold without additional legislation for several reasons.
As women of color and as elected leaders representing people from all walks of life, we are here to bring change and shift power away from big donors and to the people of New York.
Our elections are currently dominated by a tiny number of big donors. According to the Brennan Center for Justice, just 100 donors outspent all the 137,000 small donors combined last year. It's time for regular constituents to get their say through a 6-to-1 small donor match, lifting the voices of everyday New Yorkers and fundamentally changing the way politicians fundraise by allowing them to focus on those who may only give $20.
Those who oppose reform point to the price tag with a high estimate of $100 million per year (a small fraction of one percent of our state's budget) as an excuse to avoid changing the status quo. They say we can't afford it. You know what costs more? Corruption.
When elected leaders are forced to spend their time rubbing shoulders with big donors—who tend to be predominantly corporate donors—we end up with expensive, unnecessary, out-of-touch policies that hurt the rest of us. We also shut out people with a desire to serve their communities but without connections to big donors from running for office. These systematic barriers block women and people of color—in particular women of color—from running and winning public office.
Following damaging decisions by the Supreme Court that now allow unlimited money into our elections, public financing of elections is the only real way to counter the corrosive influence of super PACs—and we have a chance to show the nation how to get it done.
In Connecticut, after a small donor public financing system was put in place, lawmakers moved forward policies to end corporate giveaways and pushed ahead issues that are meaningful to communities of color and other underrepresented communities.
Once public financing was in place, leaders passed mandatory paid sick days, increased the minimum wage, instituted in-state tuition for undocumented students, and helped low-income and working individuals and families by adopting an Earned Income Tax Credit.
In another illustrative example, they also ended the practice of returning unclaimed bottle deposits to the beverage industry. The influence of beer and soda distributors long kept this giveaway worth up to $24 million annually in place. Now the money can be redirected to important public programs.
To ensure a similar result—a democracy that is not beholden to wealthy special interests and instead is responsive to the needs of constituents—in New York, we must ensure a strong Public Financing and Elections Commission that gets to work soon with diverse and credible commissioners to hold transparent proceedings with ample room for public input.
As lawmakers, we have to be prepared for the possibility of a weak commission result. Our responsibility does not end with appointing commissioners. It's our duty to ensure a strong public financing program, and that means having legislation ready should we need to improve upon the commission's recommendations.
Our mission is clear. We must deliver a strong small donor public financing program by the end of the year to shift power to the people of New York and away from big donors. We've come too far to settle for anything less.
***
State Senator Jessica Ramos represents parts of Queens. Assemblymember Yuh-Line Niou represents parts of Manhattan. On Twitter @jessicaramos & @yuhline.
***
Have an op-ed idea or submission for Gotham Gazette? Email This email address is being protected from spambots. You need JavaScript enabled to view it.