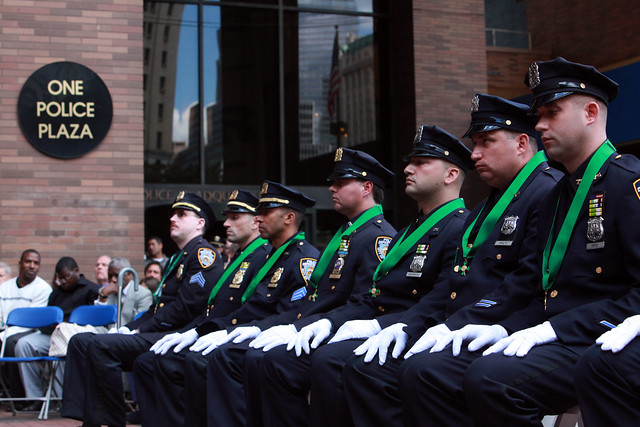 (photo: Spencer T Tucker/City Council)
---
Many justice reformers welcome increased political support for constructive systemic changes. New York state government, for example, recently enacted reforms aimed at restricting the use of cash bail and reducing misdemeanor arrests. Many Democratic presidential candidates pointedly decry mass incarceration and our "broken" criminal justice system.
The most positive feature of this shifting landscape is the moral concern that it reflects, the relatively new recognition among pundits, politicians, and broader public that our criminal justice system is marked by a stark racial bias and that it undeniably violates our nation's core principle of, as Thomas Jefferson put it, providing "equal and exact justice" for all people.
What's missing, though, is certainty that all the attention will lead to meaningful changes in on-the-ground practices.
For instance, New York's bail law includes significant exceptions regarding who can benefit from its provisions: judges can still set cash bail for New Yorkers with open warrants and with failures to appear in their histories. That's many thousands of people.
Plus, and this point applies to all the reforms enacted, the agencies mainly responsible for the system's current abuses, district attorneys and police, are still in power. They are in charge of implementing the changes and have ways at their disposal, overcharging being the most handy, to undermine them if they so choose.
Also, none of the Democratic presidential candidates who engage in indignant rhetoric on the issue have presented the kind of specific steps needed to reverse mass incarceration and to end systemic racism. We know from research and experience that the typical proposals that they and other mainstream politicians offer — body cameras, community policing, increased diversity, even marijuana legalization — will not make meaningful differences in current toxic practices. Jurisdictions that have enacted these changes still lock up far too many Americans, a disproportionate number of whom are Americans of color.
What's missing are policy reforms, proposed or enacted, that lead to institutional changes that are fundamental -- could say radical, in the sense that they address the "root" of the problem -- and significantly cut into the currently unchecked power of police and prosecutors.
One such step would involve repealing mandatory sentencing laws. It was the notorious Rockefeller Drug Laws -- enacted in New York in 1973, requiring a minimum prison term of 15 years (up to life) for the sale of 1 ounce or possession of 2 ounces of a hard drug -- that jump started the extraordinary expansion in imprisonment in the United States that we dub the "mass incarceration" movement. Eventually every state in the country and the federal government passed mandatory sentencing statutes, and the number of incarcerated Americans went from about 300,000 in the early 1970s to about 2.4 million today.
Abolishing these laws and restoring judicial discretion would substantially reduce the power of district attorneys to control case outcomes. Inevitably, courts would imprison a much smaller proportion of the people who the police funnel into the system.
Police practices are the most compelling factor driving the system's stark racial bias, especially in our nation's large cities. Jails hold mainly black and brown people because police arrest mainly black and brown people. Visit our city's arraignment courts where arrests are processed and a white defendant is a rare sight. On Rikers Island over 90% of the people locked up are non-white, there for two main reasons: they are too poor to afford bail and a NYPD officer has arrested them. Simply put, we cannot uproot the racism plaguing our justice system without drastically changing deeply discriminatory police practices.
Abusive police practices are firmly entrenched and long-standing -- New York City's early civic leaders, for example, established the NYPD in 1845, expecting it to control and contain two unruly groups new to the city: recent Irish immigrants and free black people ("free" because the state abolished slavery in 1827). Modest modifications, like issuing criminal summonses instead of arresting people and implicit bias training, won't do. The changes must cut into the police's absolute power, which, after all, corrupts absolutely, to end persistent ways officers violate certain Americans' rights and well-being.
Specific examples include: ending quotas that pressure officers to make unnecessary arrests and stopping "broken windows" tactics targeting poor people of color for infractions virtually ignored in white communities; eliminating arenas of responsibility police now have that are better addressed by social services like school safety, sex work, homelessness, and mental health; and substantially cutting police budgets and personnel.
In September 1955, after learning that an all-white Mississippi jury acquitted the men who tortured and killed Emmett Till, Chester Himes, a novelist based in Harlem, commented: "The real horror comes when your dead brain must face the fact that we as a nation don't want it to stop. If we wanted to, we would." Now, as was true 64 years ago when Till's murderers went free, no mainstream politician will back the "radical" measures needed to end biased and abusive policing. Few, if any, will call for repealing mandatory sentencing laws -- all too electorally risky.
But if our leaders want to move beyond hand-ringing expressions of moral concern about our justice system's inhumane practices, if they want to fulfill our nation's founding "justice for all" promise, they, or, perhaps, even just one of them, will come forward and, in response to Mr. Himes' plaint, state: "Now we will."
***
Bob Gangi is the director of the Police Reform Organizing Project (PROP). On Twitter @GangiFromPROP.
***
Have an op-ed idea or submission for Gotham Gazette? Email This email address is being protected from spambots. You need JavaScript enabled to view it.