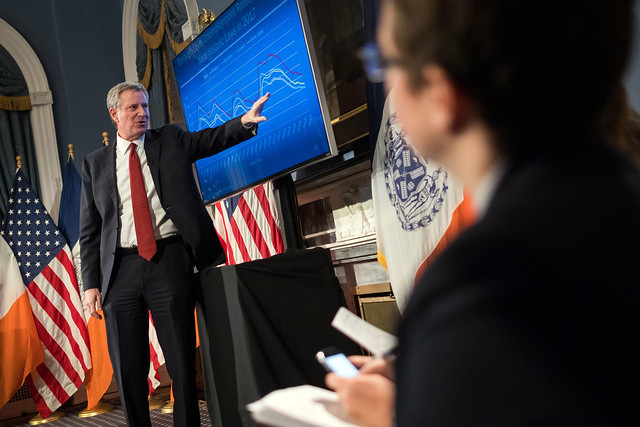 (photo: Ed Reed/Mayoral Photography Office)
---
With so much attention focused on the mayor's presidential campaign, rent regulation renewal, and the state of the transit system, most New Yorkers are unaware they will have the opportunity this fall to vote to dramatically change their city government.
The 2019 New York City Charter Revision Commission is considering what amendments to the City Charter, which defines the structure and powers of city government, it will recommend to voters for a yes or no vote on the November ballot. Notable proposals include ranked-choice voting for local elections, enhancing community board review of land use proposals, and multiple changes to the city's budget process.
One budget proposal the commission should approve and advance to voters in November is the creation of a Rainy Day Fund (RDF). An RDF is essentially a savings account that would allow city government to put away revenues received when the economy is growing and use them to stave off the most crushing service cuts and tax increases during an economic downturn or catastrophic emergency—the rainy days.
To weather the last two recessions, the city reduced police and ambulance staffing, cut library hours, suspended recycling, and increased personal income, sales, and property taxes. A well-structured RDF can ameliorate the need for this level of municipal pain, helping everyone from those who depend on city and social services to individuals and businesses feeling the strain of high taxes.
By and large, charter provisions and state laws enacted in response to the 1970s New York City fiscal crisis provide a strong budgeting and financial management framework that has served New York well—producing balanced budgets and prudent revenue estimates, while allowing the city to fund services New Yorkers desire.
Ironically, the city charter's balanced budget requirement, among the most stringent in the nation, is what makes using an RDF impossible. Balancing the annual budget requires city services delivered in one year to be funded only with revenues generated that same year. Saving money in a strong economy to use later in a recession misaligns that timing, and violates the accounting rules relied on by the charter.
The solution is for the charter commission to leave the charter's budgeting and financial management framework intact except to seize the opportunity to improve the charter by allowing an RDF, well structured to preserve both long- and short-term stability.
Absent an RDF, the city has devised legal work-arounds to provide some fiscal cushion. The city pre-pays expenses, freeing up money in the next year. The city has also used its Retiree Health Benefits Trust—money put aside to pay for municipal employees' retirement health benefits—as a de facto RDF by paying for current bills with the trust's assets rather than budget revenues.
These workarounds are problematic. Not enough money can be put aside; there are limits to what and how many expenses can be prepaid. In addition, there is no requirement to put money aside even in the best of times. Finally, using the RHBT as de facto RDF makes future taxpayers pay for current bills, which is hardly fair to the next generation.
True, the city has set aside some funds. The current financial plan includes $1.25 billion annually for reserves, but this pales in comparison to the need. Citizens Budget Commission estimates the projected three-year revenue shortfall from a recession comparable to the past two would be $15 billion to $20 billion.
How would a well-designed RDF be structured? The first step is to determine the right size of the fund. Based on past revenue trends, CBC estimates that 17 percent of tax revenues would be a good target size to mitigate a recession or emergency's most damaging impacts.
Second, regular deposits should be required during economic expansions. CBC recommends annual deposits of 75 percent of all tax revenues in excess of 3 percent growth; this would allow spending on services to grow in excess of long-term inflation and still generate substantial RDF resources. Had this been in place during the current record-long recovery, the city would now have nearly $9 billion in its RDF.
Finally, withdrawals should be limited to periods of recession or emergency. Economic triggers should be defined in law and RDF funds should not all be used in one year.
By putting a Rainy Day Fund on the ballot, the charter commission would provide New Yorkers with an important opportunity to strengthen one of the few flaws in the city's budgeting processes and would create significant momentum for the changes needed in state law.
Yes, some more political and proximate issues may be more galvanizing, and sadly, elected leaders and the public too often accept as inevitable the pain of hard choices during a recession. However, the annual impact of modest deposits in the good times will be significantly outweighed by preserving the services New Yorkers need during times of economic hardship.
***
Andrew Rein is president of Citizens Budget Commission. On Twitter @cbcny.
***
Have an op-ed idea or submission for Gotham Gazette? Email This email address is being protected from spambots. You need JavaScript enabled to view it.