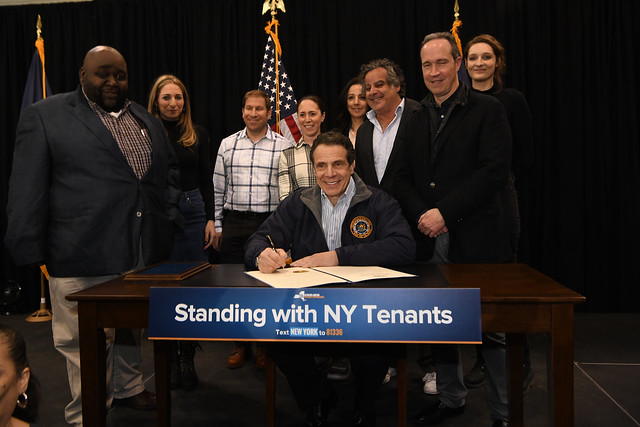 Danny Barber, left, is the author; with Gov. Cuomo & others (photo: the Governor's office)
---
I stood with Governor Cuomo last year when he showed how bad conditions in public housing have gotten after decades of federal neglect. With the governor's leadership, NYCHA was allocated $250 million in last year's state budget. While that money was held up due to the appointment of a federal monitor, the need for additional funds remains again this year.
Major capital repairs are needed to keep residents safe and healthy in all five boroughs. Leaks, mold, pests, broken elevators, and lead are a constant worry for us 400,0000 public housing residents as we try to get to work or school or care for our families at home.
The Assembly called for $300 million and the Senate asked for $250 million in the annual state budget process earlier this year. So far, NYCHA has gotten zero. This surprises me given the governor's commitment and the tumultuous year NYCHA has had, leaving residents with great uncertainty about the future status of our homes.
State lawmakers have a chance to redeem themselves and commit to fighting to preserve NYCHA by appropriating capital funds before the end of this year's legislative session, which is scheduled to finish this week and is expected to include decisions on capital allocations.
Albany also has an opportunity to create a more just and equitable tax policy while funding public housing, and it won't cost a dime in state budget money.
This year, New York City will give away about $600 million to homeowners through the Cooperative and Condominium Property Tax Abatement, which reduces real property taxes for owner-occupiers by 17.5% to 28.1%, depending on assessed value. With the abatement scheduled to sunset this week, Albany lawmakers have an opportunity to provide a long-term funding solution for public housing.
Reform legislation has been introduced in the Assembly by Robert Rodriguez with a companion bill in the Senate sponsored by the housing committee chair Senator Brian Kavanagh. This bill preserves the tax abatement for 90% of homeowners, while eliminating tax breaks for the top 10% of luxury coops and condos.
By ending this tax break for the top 10% of luxury owners now, $170 million in tax revenue will be collected each year. The reform legislation earmarks this revenue for capital repairs in public housing, which can help bring NYCHA into compliance with federal regulations protecting tenants from health hazards such as mold, lead, and vermin.
More than 320,000 cooperative and condominium homeowners received an average tax break of $1,890 in fiscal year 2019 but benefits to luxury homeowners far exceed this average. President Trump, for example, was eligible for $48,000 in tax relief when he resided in Trump Tower. This reform bill will end tax breaks for luxury owners who don't need them. New York City's Housing and Vacancy Survey indicates that 10% of all coop and condo owners citywide earn more than $350,000 per year. That number contrasts sharply with $24,000, the average income for residents in public housing.
Albany lawmakers will have to decide if they want to renew the current abatement and perpetuate housing inequality or if they want to reform it by ending tax breaks to luxury properties and fund repairs that will benefit many thousands of public housing residents. The choice seems simple.
***
Danny Barber is Chair of the Citywide Council of Presidents of NYCHA residents, representing 400,000 public housing residents. He is also President of Jackson Houses Resident Inc., Chairman of the South Bronx District Council of Presidents Inc., and a member of Community Board 1.
***
Have an op-ed idea or submission for Gotham Gazette? Email This email address is being protected from spambots. You need JavaScript enabled to view it.