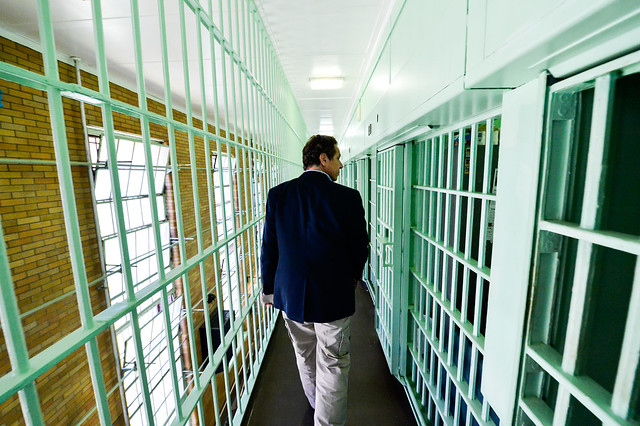 (photo: Governor's Office)
---
Thousands of people are subjected to long-term solitary confinement in New York. The United Nations calls it torture. New York's jails and prisons call it business as usual.
Our state's laws permit 23-hour confinement for months and even years at a time in jails and prisons across the state. This despite the fact that long-term solitary confinement creates severe and irreparable mental and physical trauma. Its effects can be deadly. The death this month of Layleen Polanco in a solitary cell at Rikers is just the latest example.
In 2015, the state and the New York Civil Liberties Union reached a settlement that required critical changes to the use of solitary confinement in state prisons. Although the state has made important efforts to reform solitary confinement for people in prisons, we need the legislature to pass more comprehensive changes to ensure that individuals held in both prisons and jails are no longer subjected to solitary confinement in state prisons and local jails that lasts longer than 15 consecutive days.
People in solitary confinement are seven times more likely to hurt or kill themselves. We cannot afford to wait on reform. Thousands of people are in danger and there is a bill in the state legislature that could help them.
The Humane Alternatives to Long-Term Solitary Confinement (HALT) Act would make several important changes to the way our state currently uses solitary. First, it would prohibit long-term solitary confinement by limiting the time spent in confinement to no more than 15 consecutive days or 20 days total in any 60-day period.
The HALT Act would ban the solitary confinement of especially vulnerable people, including those 21 years or younger, 55 years or older, and people with certain disabilities. The government would also be barred from locking up in solitary anyone who is pregnant or in post-partum recovery or anyone who is a new mother or caring for a child while incarcerated.
Critically, the legislation would prohibit solitary for all but a small set of serious offenses. And HALT would provide rehabilitative programming that would help keep jails and prisons safer for everyone, including staff. To that end, it mandates that all people in solitary receive at least six hours of out-of-cell rehabilitative programming, plus one hour of out-of-cell recreation per day.
In settling the NYCLU's lawsuit, Governor Cuomo has acknowledged that the state needs to reduce its reliance on solitary confinement. The settlement was critical to reducing the state's reliance on isolated confinement. But we need his leadership to push for more comprehensive reform that protects the health of everyone in our jails and prisons by ending prolonged solitary confinement.
No one should be subject to torture.
Speaker Carl Heastie and Majority Leader Andrea Stewart-Cousins must act now and bring HALT to a vote. In 2018, New Yorkers voted to end the gridlock in Albany that kept progressive legislation like HALT from passing. By voting for this bill, lawmakers will help show that this legislative session is different and that the status quo of Albany inaction is over.
***
Donna Lieberman is the Executive Director of the New York Civil Liberties Union. On Twitter @JustAskDonna & @NYCLU.
***
Have an op-ed idea or submission for Gotham Gazette? Email This email address is being protected from spambots. You need JavaScript enabled to view it.