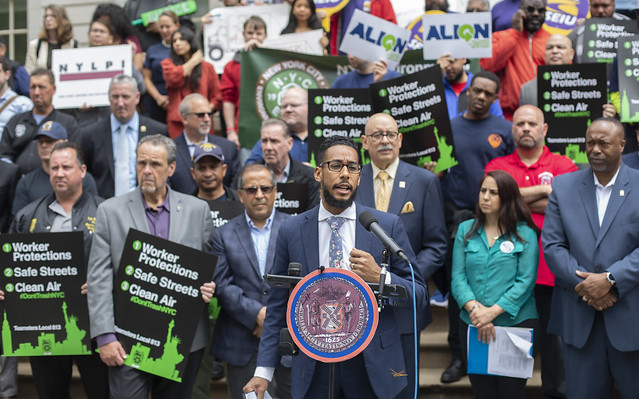 Council Member Reynoso (photo: John McCarten/City Council)
---
It is heartening that the New York City Council recently voted unanimously to declare a state of climate crisis. 2019 has already brought a string of droughts, record-breaking heat waves, crop failures, and storms, and it is obvious that this is the challenge of our lifetimes.
Having declared an emergency, now comes the time for swift additional action. After state and city lawmakers passed mandatory building retrofits, congestion pricing, and statewide emissions reductions, the next major climate bill our local government must pass is the Commercial Waste Zone Bill (Intro. 1574 before the City Council).
What does garbage from New York City's more than 100,000 businesses have to do with global warming?
Our office buildings, pizzerias, hospitals, and grocery stores send about 2.2 million tons of waste per year to landfills and incinerators, where it slowly decomposes and produces methane, a climate pollutant 28 times more potent than carbon dioxide.
When it comes to basic recycling and composting of waste, New York's business sector lags far behind cities like Seattle and San Francisco, which currently diverts 65% or more of their commercial waste. We simply will not meet our climate goals if we do not tackle our wasteful sanitation industry.
Second, the 90 or so private companies that collect New York City's commercial waste exist in a highly dysfunctional "Wild West" system in which they operate inefficient truck routes, cut corners on recycling, and pressure workers to complete dangerous and grueling shifts, as the owners attempt to compete for customers and ensure profits. Exhaustive studies commissioned by the City have found that this scheme results in 18 million unnecessary truck miles per year -- enough to drive to the moon and back 37 times.
But, less tangibly, it also means that investments in better recycling facilities, customer education, and waste reduction initiatives such as food rescue are a low or nonexistent priority for the city's private waste industry.
The City Council can enact a common-sense, proven solution to this decades-old mess. The commercial waste zones bill (Intro. 1574) sponsored by Brooklyn Council Member Antonio Reynoso will make this system far more rational and safe by selecting a single, high-performing waste company for each commercial zone.
After selecting 20 or so providers through a competitive bidding process, the City can hold these haulers accountable to high customer service, environmental, and safety standards through comprehensive, enforceable contracts.
With the right incentives to make investments and adopt industry best practices, the new system can rapidly achieve the same recycling and composting rates as successful west coast cities -- which would prevent a whopping 2 million tons of greenhouse gas pollutants each year by reducing the huge amount of business waste trucked to landfills. That is equivalent to removing one in five cars from New York City streets.
Moreover, we would create hundreds of new, green jobs in and near our city as recycling and composting facilities employ far more workers than do transfer stations, landfills, and incinerators.
Moving the needle on climate emissions is a daunting challenge that will require action in every sector of our economy. The good news is that we don't need to wait for further studies or new technologies to change our highly polluting private waste system.
Dozens of other cities have adopted similar zoned or franchised commercial waste systems, and many have rapidly increased their recycling rates while maintaining excellent customer service and fair prices for their business communities.
It would be a huge lost opportunity if the fear-mongering by a few well-financed business interests were to delay the passage of this common-sense, historic reform. We applaud the Council for naming climate change as a crisis, and call on Council members to pass the Commercial Waste Zone bill this summer.

***
Justin Wood is Director of Organizing and Strategic Research at New York Lawyers for the Public Interest. On Twitter @NYLPI.
***
Have an op-ed idea or submission for Gotham Gazette? Email This email address is being protected from spambots. You need JavaScript enabled to view it.