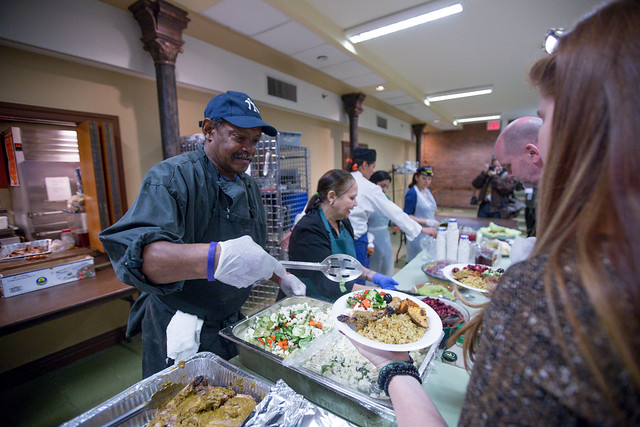 (photo: William Alatriste/City Council)
---
The recently-passed New York City budget greenlights billions of dollars to some of the most vital programs across the five boroughs. These dollars will help to fund homeless shelters, emergency food pantries, senior services, mental health services, and early childcare for the most vulnerable New Yorkers.
The City of New York contracts with over 1,000 community-based organizations (CBOs) to provide these essential human services at a cost of $6 billion annually. But thanks to the City's broken procurement system, CBOs are forced to wait a very, very long time to see their money. In fact, according to a recent Comptroller's report, human service providers wait an average of 221 days before being reimbursed for services and labor they have already provided.
Under the current system, CBOs are forced to essentially cover the City's costs and then wait over seven months on average for payment, which, when it arrives, doesn't cover their actual costs. What private business would accept -- or be able to operate under -- these terms?
This awful status quo persists because there are virtually no timelines attached to the City's procurement process, which allows bureaucrats to sit on contracts and deprive local nonprofits of desperately needed funds. After a contract is awarded, it goes through the supervising agency's review process, then to the mayor's office, and, if all goes well, on to the comptroller for registration. Only the comptroller is subject to a time limit, however, which is 30 days.
As a result, 80 percent of all contracts issued by the City are currently delivered late, with a whopping 89 percent of human services contracts arriving tardy. For nonprofits and charities that provide crucial citywide services, these delays can be catastrophic. Since these organizations cannot close their doors to those in need, many opt to take on loans. The problem is, these loans often come with interest.
One study estimated that late contracts cost New York City nonprofits a staggering $774 million in 2018 ($756 million in negative cash flow and another $18 million in associated financing costs). This is up from $675 million in 2017.
Think of the critical services -- for the elderly, young children, and disabled people -- that could have been provided by the $18 million lost to interest payments.
This burdensome debt not only drags down the vital services that CBOs can provide, but also threatens the livelihood of their employees. As Human Services Council Executive Director Allison Sesso writes, human service workers "increasingly find themselves in the very same position as their clients -- in need of social service assistance to provide for their families." The financial strain also disproportionately affects already marginalized populations, as women and people of color represent 85% and 75% of human service workers, respectively. In an industry with already high employee turnover, the City should be doing everything in its power to bolster, not undermine, these organizations' finances.
This is why we are introducing legislation that will help end the long delays within the City's contracting process and bring relief to CBOs. Our legislation, Intro. 1627, would require the City's Procurement Policy Board to establish time limits on each bureaucratic phase of the procurement process for any contract exceeding $100,000. The limits would be developed in consultation with each contracting agency and the Mayor's Office of Contract Services (MOCS).
Not only will this legislation help CBOs and other human services providers be paid in a timely manner, it will also require MOCS to report publicly on each agency's adherence to the time limits, providing the public with a necessary source of accountability.
New Yorkers deserve the best services, and the CBOs providing those services deserve to be paid fairly and on time by a city government they can hold accountable. Overhauling the procurement system may be bureaucratic and slow in nature, but it is necessary if we are to properly serve the New Yorkers who are most in need.
***
City Council Members Helen Rosenthal and Ben Kallos represent Manhattan districts. On Twitter @HelenRosenthal and @BenKallos.
***
Have an op-ed idea or submission for Gotham Gazette? Email This email address is being protected from spambots. You need JavaScript enabled to view it.