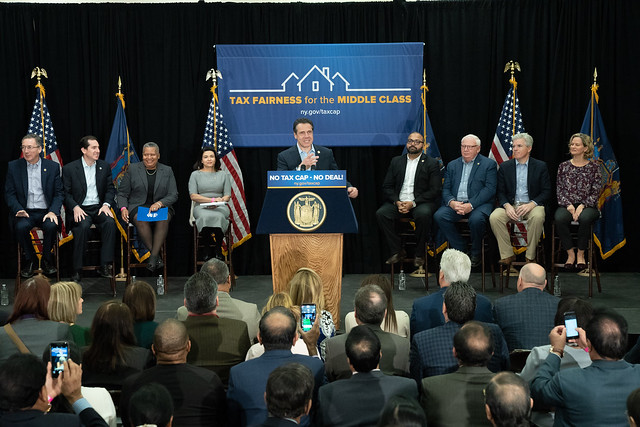 Gov. Cuomo and Long Island officials (photo: Governor's Office)
---
I've seen a lot through my five decades fighting for tenants in Albany, but I've never seen as tectonic a shift in power like we witnessed during this most recent legislative session.

For decades, the real estate lobby has spent more than the gross domestic product of many small countries to keep incumbents in power and ensure that the deck remained decidedly stacked against tenants, cementing a political status quo as solidly as the foundation of any luxury high-rise. And when the Republicans lost the Senate majority, the real estate lobby simply fell back on a new "majority" by shoveling cash to the now-infamous Independent Democratic Conference (IDC), members of which grabbed as much real estate money as they could in exchange for keeping Republicans in power and killing any real rent law reform efforts.

But in 2018, the electoral tide shifted. The IDC was largely swept out of office in the September primaries, replaced by true progressive Democrats; and in the November general election even more Democrats flipped seats from red to blue, making Andrea Stewart-Cousins the new Senate Majority Leader. Working with Assembly Speaker Carl Heastie, they delivered the strongest package of tenant protections of our lifetime. This victory will resonate among millions of renting families statewide.

The defeat of the IDC was the lynchpin that made this all possible, but even in our victory we saw the emergence of a new group every bit as disingenuous as the IDC and equally dangerous.

The IDC was built on an implicit dishonesty: candidates ran as Democrats, but then empowered Republicans once elected. After several years of this, the voters simply had enough and showed six of them the door. But this year, we saw explicit dishonesty from four Long Island senators -- Anna Kaplan, John Brooks, Monica Martinez, and Jim Gaughran -- all of whom ran as loyal Democrats, promised to support strong rent laws, and willingly accepted financial support from Tenants PAC.

Then they betrayed us.

These four turned their backs on tenants, ignored the promises they made, and sided with big real estate money and the entire Senate Republican Conference to vote "no" on the Housing Stability and Tenant Protection Act of 2019.

These Long Island 4 may not be a new IDC, but they are every bit as insidious, possibly more so, because they tried to dismantle tenant reforms from within the Democratic conference, siding with Governor Andrew Cuomo as he tried to create deeper divisions between New York City and suburban senators. This all blew up in Cuomo's face when the Senate and Assembly came together on their own to negotiate a strong rent law package without him, reducing him to impotent ranting.

Elections have causes and consequences. Years of seeing our rights as tenants ignored because the real estate lobby used big political spending to bottle up reform caused voters to say enough is enough and finally elect leaders who would stand up for them. And now come the consequences – both the energized and ascendant tenant movement that will continue to grow into greater political power for working families, and the backlash that legislators who turned their backs on us, including some Assembly Democrats, will face at the ballot box next year.

The IDC collapsed under pressure from voters across the state who expected more integrity and honesty from their elected officials. The dishonest Long Island 4, freshly-brewed in the worst cauldrons of Albany's toxic combination of money and politics, would be wise to heed that lesson.
***
Michael McKee is treasurer of Tenants PAC. On Twitter @McKeeTenantsPac & @TenantsPACNY.
***
Have an op-ed idea or submission for Gotham Gazette? Email This email address is being protected from spambots. You need JavaScript enabled to view it.