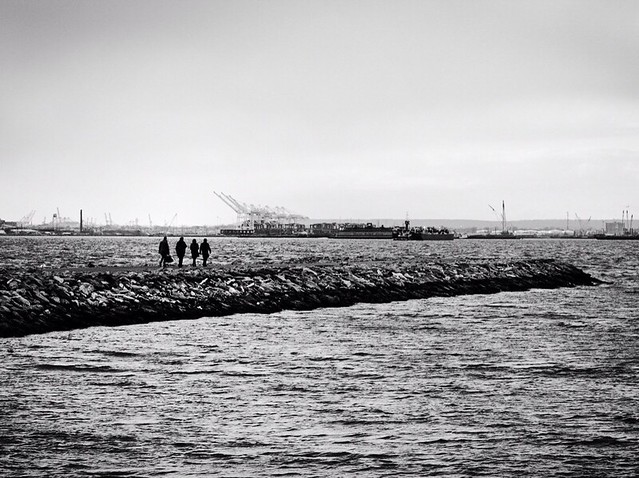 (photo: William Alatriste New York City Council)
---
Billy Joel's dystopian vision for New York City, laid out in the very upbeat but equally terrifying "Miami 2017," is coming true. The lights have indeed gone out on Broadway. Perhaps the only difference is that Queens won't stay.
This is New York City in 2019: a near 100-degree heat wave shut down power for hundreds of thousands of New Yorkers, who then trudged through flooded streets once the high temperatures gave way to torrential rain.
One thing became clear as climate change brought its greatest hits to the Big Apple: we are nowhere near ready for the next big storm.
Considering we're quickly approaching the seventh anniversary of Sandy's decimation to Queens, Brooklyn, and Staten Island, that's downright shameful. The City of New York needs to move into high gear for both short- and long-term solutions that protect every single neighborhood from the effects of climate change, because this is a public safety crisis.
Don't believe it? Clearly you haven't seen the footage of a straphanger at the Court Square station who was nearly swept onto the tracks by downpours. Twitter is filled with cellphone video of Brooklyn's 4th Avenue flooded by water from the Gowanus Canal, which is a Superfund site. Or maybe you haven't heard of instant New York legend Daphne Youree, who got out of her car near Exit 25 on the Long Island Expressway and used an orange traffic cone to clear a clogged drain to alleviate flash flooding.
These sound like a new version of the stories our parents told of the bad old days in the 1970s, when the Fiscal Crisis turned New York City into a living performance of Mad Max. But, as skyscrapers for the ultra-rich keep cropping up along 57th Street, we can't shrug at the fact that half of New York City's 10 wettest years have come since 2003.
If another Sandy-caliber storm struck today — though we hope it doesn't — New York would be brought to a grinding halt based on what we've seen in the last week. Temperatures caused some 53,000 customers to lose power last weekend, as Con Ed pulled the plug on parts of Brooklyn and Queens, apparently so the grid wouldn't be further strained. Even after the heat broke, on Tuesday, almost 3,000 customers were still without power and they were overwhelmingly in the outer boroughs.
Add a hurricane's storm surge to the mix and our electrical grid would crumble.
Con Edison has failed its duties as a public utility throughout the heatwave, which begs the question: how would they perform if a big storm hit tomorrow? The men and women who worked in the heat should be commended for getting power back up, but they shouldn't also be responsible for communicating that to those suddenly cleaning out their refrigerators. That's their bosses' job — one they didn't do well enough. All the while, they're asking New Yorkers for a collective $695 million rate hike.
Meanwhile, New York City's streets are starting to look like Venice. You'd think that, after the Rockaways, Broad Channel, and Southern Brooklyn went under water in Sandy, we'd be in better shape. The 500,000 New Yorkers who live along our shores have little more than some sandbags despite scientific models showing that sea levels will rise a foot over the next 30 years.
In the short term, we have to promote more green infrastructure. Bioswales, which are sidewalk gardens, absorb up to 75 percent of stormwater. The Climate Mobilization Act paved the way for green roofs atop newly constructed buildings, which can retain 95 percent of rainwater dropped in summer months. And we have to make serious investments in infrastructure that might not always seem exciting, such as sewers.
But we also have to make sure our kids don't have to deal with the mess we were too scared to clean up. Earlier this year we introduced a bill requiring New York City to create a five-borough resiliency plan.
Lower Manhattan is great, but asking Congress for $10 billion to protect a single business district when JFK Airport could be underwater by 2100 seems fiscally irresponsible. Failing to protect every neighborhood from Riverdale to Rockaway helps stave off tens of thousands of climate refugees the National Climate Assessment warned of when the seas come to claim our coasts.
We look forward to holding a hearing on this bill in October ahead of Sandy's anniversary, so we can get to work on doing the long-term resiliency work. In the meantime, our city agencies need to mobilize, assess what's causing rampant flooding throughout the city, and fix the problems immediately. Lastly, we need to make sure our threats against Con Edison have teeth and give the utility an ultimatum: give us the resilient, renewable grid we deserve or we'll come for your power lines.
The status quo is quickly sinking under the floodwaters, and New Yorkers are taking notice. Just like we've put our foot down to demand reliable service from the MTA, we need to take a stand on infrastructure. Because being late for work is one thing — being unprepared for a storm is fatal.
***
Costa Constantinides represents western Queens in the City Council and chairs the Committee on Environmental Protection; Justin Brannan represents southern Brooklyn in the City Council and chairs the Committee on Resiliency and Waterfronts. On Twitter @Costa4NY & @JustinBrannan.
***
Have an op-ed idea or submission for Gotham Gazette? Email This email address is being protected from spambots. You need JavaScript enabled to view it.