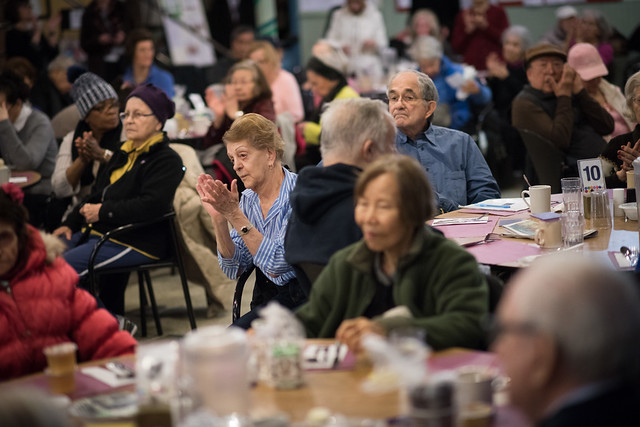 (photo: Michael Appleton/Mayoral Photography Office)
---
In a city where flooding is the face of climate change, extreme heat is a silent but growing threat. Every year, extreme heat in New York City causes, on average, more than 450 emergency room visits and 150 hospital admissions, and results in the deaths of 115 New Yorkers from heat stroke and heat-related exacerbation of chronic health conditions. Older people are at the most risk.
For the first time in human history, our planet has more people over 65 than children under five, and the world's global population is concentrating in cities. New York exemplifies both demographic shifts.
The city's largest landlord, the New York City Housing Authority (NYCHA), has approximately 62,000 residents aged 65 years and older, and seniors continue to be the public housing authority's fastest growing population. Research shows that during heat waves older people suffer worse outcomes than the general population when air conditioning is not available or fails due to power outages. This makes it critical that the city augment its current cooling strategies.
As heat waves continue to increase in frequency and intensity, a new report commissioned by NYCHA recommends ways to protect the city's most at-risk population. Sheltering Seniors from Extreme Heat compares the benefits and costs of a variety of physical upgrades, including energy efficient façades, mechanical cooling, and onsite generator backup, and provides a list of sustainable improvements that would allow NYCHA's senior residents to remain safely at home during summer heat waves and power outages.
Arup's study of NYCHA senior housing units reveals that, in the absence of air conditioning, indoor air temperatures rise dangerously high during heat waves and that upgrading building envelopes is not enough to remedy the problem. To ensure adequate cooling, these upgrades must be supplemented with backup power. Analyses comparing partial backup of critical systems to full-site backup found that the latter increases comfort and that implementation is less disruptive to NYCHA residents' daily activities.
NYCHA recently launched a new cooling system initiative in response to the report. The smart air-conditioning pilot project is currently underway at Meltzer Tower, a NYCHA senior building in Manhattan. As part of the project, each of the building's cooling units will be linked to a networked central control system for a safe and efficient service during dangerous heatwaves.
Another pilot project designed to test the feasibility of heat-pumps as an environmentally sustainable alternative to gas is slated to launch this summer. Seven apartments at the Fort Independence Houses in the Bronx will have their gas-fired hot water heating replaced by an electric heat-pump system that can also deliver cooling.
Smart and electrified cooling systems offer a great opportunity for New York City to meet its ambitious goal to reduce carbon emissions by 80 percent before 2050, while ensuring that senior residents can remain comfortably and safely in their own homes during a heatwave or blackout. As the landlord to more than 400,000 city residents, NYCHA has an important role to play in safeguarding New York's senior population and is paving the way to make New York a safer, more heat-resilient city.
***
Pallavi Mantha is Senior Energy and Sustainability Consultant at Arup. On Twitter @PallaviMantha of @ArupGroup.
***
Have an op-ed idea or submission for Gotham Gazette? Email This email address is being protected from spambots. You need JavaScript enabled to view it.