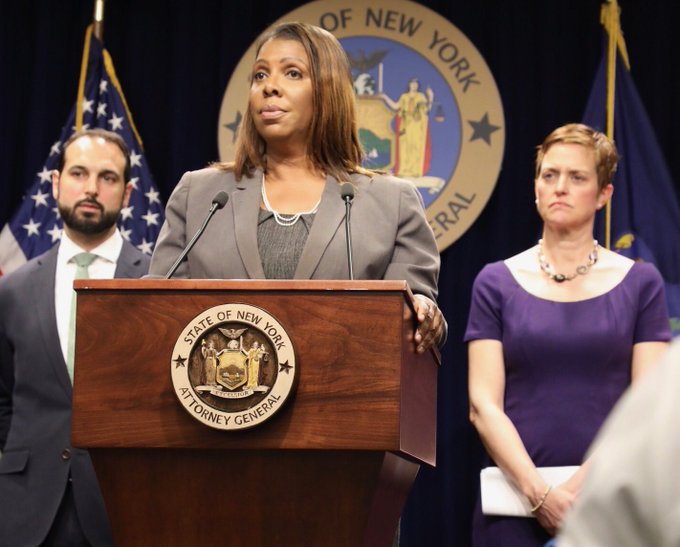 NY AG Letitia James (photo: @NewYorkStateAG)
---
For a company of only a few dozen employees, the Trump Organization has accumulated an astonishing rap sheet of fraud, crime, and other corporate misconduct over the years. And since its owner came to occupy the Oval Office, the company has sunk to new depths as a vehicle for influence and corruption by supplicants from corporate lobbies and foreign governments.
Now that federal prosecutors have refused to pursue a clear case of felony campaign violations using the Trump Organization as the fraudulent financial vehicle, Trump's Attorney General and the federal Department of Justice are giving the boss' company a green light for similar campaign crimes in 2020.
But New York Attorney General Letitia James doesn't answer to Trump, and she has a power unique in America: the power to investigate and potentially dissolve the Trump Organization. It's time to use that power.
Under the state's Business Corporation Law—the modern version of a long-standing legal procedure with a rich history tracing back to the medieval English "writ of quo warranto" —Attorney General James can file a lawsuit in state court to dissolve a corporation, such as the Trump Organization, that is incorporated in New York. The test is whether the company "has exceeded the authority conferred upon it by law,...or carried on, conducted or transacted its business in a persistently fraudulent or illegal manner, or by the abuse of its powers contrary to the public policy of the state has become liable to be dissolved." (This is a cousin of the separate legal provision under which the New York Attorney General successfully sued to dissolve the Trump Foundation.)
This type of lawsuit to dissolve a corporation isn't common, but it isn't rare either. Right now, Attorney General James is in the middle of a dissolution case against a credit card equipment leasing company, and just last year her office won another dissolution order against a different company. It's true that neither of those were companies owned by the president of the United States—but it's all the more important that the president should not get more lenient treatment for fraud than other citizens get. If no one is above the law, New York state law should apply to presidents and non-presidents equally.
Consider, then, the Trump Organization. That's the small nerve center, based in Manhattan's Trump Tower, that oversees a sprawling empire of about 500 tightly-controlled Trump businesses and real estate developments. Some of those, like the Trump National Doral Miami golf course, were legitimate businesses before the Trump Organization bought them. Others, such as the no-longer-Trump SoHo in Manhattan, seem on paper like they might be legitimate, but due to the Trumps' poor business skills, can only be profitable through extensive fraud.
Still others, such as the Mar-a-Lago resort and the Trump International Hotel in Washington, D.C., began as legitimate businesses, but have become festering swamps of corruption since Trump entered the White House. And a few, such as a Panama City development dubbed "Narco-a-Lago," or the failed Trump Tower Baku in Azerbaijan, seem to have been conceived at the start as vehicles for money laundering and corruption.
The case against the Trump Organization, detailed in a series of letters that we and our colleagues sent to Attorney General James and her predecessors, is extensive. Keep in mind that Michael Cohen already pleaded guilty to a campaign finance felony directly implicating Trump himself and Trump Organization officials knowingly and willfully.
Some of the charges on the company's rap sheet—fraud against customers and investors, illegal political contributions, bribery, and obstruction of justice—reflect corporate misconduct of a relatively familiar type, but at an eye-opening scale. Other charges—violating U.S. sanctions against Iran, and facilitating the most flagrant presidential violations of the Constitution's foreign and domestic emoluments clauses as a business model—are more unusual and also more compromising of our national security. The overall picture is a company soaked in a culture of corruption and impunity.
Dissolving the Trump Organization doesn't mean closing office buildings, hotels, or golf courses, or putting innocent people out of work. The law provides that the Attorney General can work with a court-appointed receiver to develop a plan to ensure that relevant businesses can continue to operate and pay their staff and vendors while dissolution is pending in court, and allow for successful operation afterwards under new ownership.
Will Attorney General James use her authority to hold this corrupt company accountable? She's not afraid to tangle with Trump. When he accused her—the first woman and the first African-American to be elected New York attorney general—of just being Governor Cuomo's "tool" for "harassing" Trump's businesses, she kept her cool and responded, "No one is above the law, not even the President. P.S. My name is Letitia James."
It's a name that Trump—as well as Don Jr., Eric, Ivanka, and the assortment of corrupt "business associates" sweating in Trump Tower—had better learn. Because if enough New Yorkers make their voices heard, her signature may soon appear on a lawsuit to dissolve the Trump Organization.
***
Ron Fein is the Legal Director of Free Speech For People. Jed Shugerman is Professor of Law at Fordham University School of Law. On Twitter @RonFein & @JedShug.
***
Have an op-ed idea or submission for Gotham Gazette? Email This email address is being protected from spambots. You need JavaScript enabled to view it.