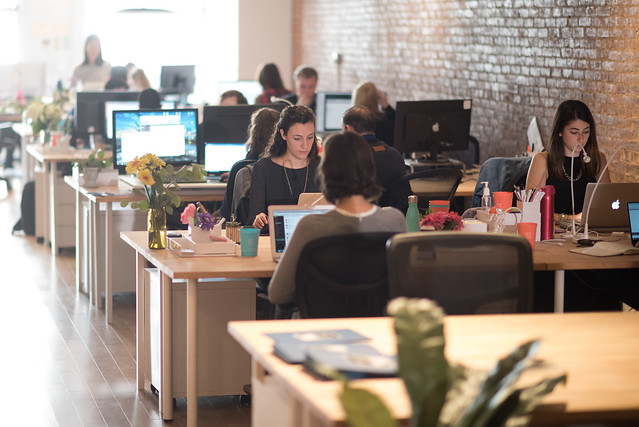 (photo: Michael Appleton/Mayoral Photography Office)
---
As the City of New York continues to work towards building the most efficient, most transparent, highest functioning government possible, the historically opaque and wasteful government contract procurement process is often overlooked, and for too long has been deemed too complicated to untangle.
But new technology has the capacity to make government procurement simpler, faster, and cheaper -- and it is happening in New York.
Of the city's $92+ billion annual budget, over 20% -- approximately $19.3 billion -- is spent buying the necessary goods and services used to provide vital services to New Yorkers, maintain and improve the city's infrastructure, and facilitate the government's day-to-day operations via nearly 40,000 financial transactions. For any large organization, from governments to Fortune 500 companies, managing that kind of scale is a challenge, requiring dedicated people and state-of-the-art software that is up to the task of making procurement as efficient as possible.
At Ivalua we have spent the last two decades building our spend management software to maximize value for both private and public sector organizations along every step of the procurement process, and we're in the midst of doing it for the City of New York.
Spend management technology enables procurement and supply chain leaders to more effectively manage how their money is being spent by:
-Identifying opportunities to reduce costs and drive efficiencies;
-Improving transparency in bidding to ensure competitive pricing;
-Speeding up the contracting process;
-Streamlining the purchasing process for procurement officers and suppliers to ensure invoices match contracts.
Leading private sector companies have long leveraged such technology to optimize their procurement processes, maximizing value, improving efficiency, mitigating risk, and ensuring transparency for shareholders. Unfortunately, the ability of governments to drive similar results has been greatly limited until now.
Despite their best intentions, strict regulations and complex, ever-evolving legislation have bound the hands of those charged with procuring the goods and services needed to run a government. For decades, city agency procurement teams have had to rely on paper-based processes or homegrown, subpar solutions, without the best-of-breed capabilities that drive real value in the private sector. This frustrates everyone, from taxpayers who just want a park built, to the companies selling the playground equipment.
For years, Ivalua has been helping the most proactive public sector leaders close this gap at all levels of government, including states such as Maryland, Arizona, and Ohio, Shared Services Canada, Paris' airports, and now right here in the great City of New York. With a major office right here in Manhattan (one of 15 around the globe), we live here and rely on the same vital services.
For New York, we're now implementing a complete suite to maximize the efficiency and transparency of city government.
The city planned its transformation over three phases spanning several years due to the massive complexity involved. The first phase focused on vendor management and deployed in 2017. A vendor registration process that used to require 12 pounds of paper per vendor and take most vendors 30 days has been fully digitized and cut to just a day.
Information that was previously siloed at dozens of agencies is now shared, improving transparency and efficiency, with input already provided by over 12,000 contractors, 24,000 members of their staffs, and 7,000 city agency staff. Contracts can now be registered more quickly with more timely, automated submission to the city Comptroller.
The second phase deployed more recently and focused on streamlining the purchasing process itself. The third phase will address the bid solicitation and invoicing processes to take taxpayer dollars further while improving payment timeliness and accuracy. It is in design mode, on schedule to be delivered in 2020.
All told, New York City has already significantly improved efficiency, transparency, and the ability to deliver better services more rapidly. While much work remains, the Mayor's Office of Contract Services has taken an incredible step forward that will prove to be a model for cities across the country, and we are proud to be leading the way with them.
***
Dan Amzallag is CEO of Ivalua, Inc. On Twitter @ivalua.
***
Have an op-ed idea or submission for Gotham Gazette? Email This email address is being protected from spambots. You need JavaScript enabled to view it.