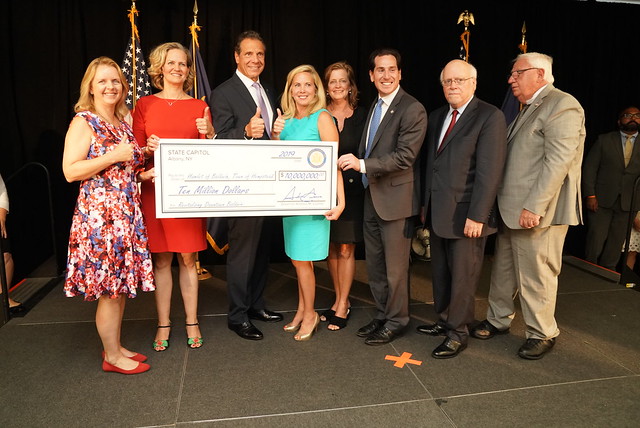 (photo: governor's office)
---
Over the next few months, New York State is poised to overhaul its campaign finance laws in ways that will help reduce corruption and pay-to-play and give more of a voice to the average person.
The potential for this major reform hinges on the actions of the Public Financing and Elections Commission. It is no exaggeration to say that the commission can achieve historic change when it issues binding recommendations on December 1.
The Commission was established during the April budget deal following a campaign for public financing by the 200-group coalition Fair Elections for New York, including Reinvent Albany. The nine-member state commission was appointed by Governor Cuomo and legislative leaders, and is charged with establishing a public financing program.
We want the commission to create a strong small-donor matching program, dramatically lower campaign contribution limits, and establish independent enforcement as in New York City's successful program, which is widely seen as a national model.
A public financing system encourages everyday New Yorkers to participate in our democracy by matching small contributions (or a small portion of a contribution) with public funds. This amplifies the voice of regular folks who cannot make large contributions, and often aren't even asked for donations.
Reinvent Albany found the state's legislative leaders raised few campaign donations from the very people they were elected to represent during the 2018 election cycle. State Senate leaders raised only 23 percent of their contributions from their home district residents, while Assembly leadership raised just 16 percent.
Public financing is essential for fixing our broken campaign finance system. Most of the money donated to Albany elected officials comes from special interests – corporations, associations, and unions – and very wealthy individuals. The 2013 Moreland Commission found the Assembly Health and Senate Committee Chairs in 2011-2012 received about three quarters of their campaign contributions from lobbyists or the healthcare and insurance industries. Candidates received 65% of their funds from donors who gave $1,000 or more and just 3% from donations of under $100 during the same period.
If this year's commission truly wants to change Albany, it must establish a strong public financing system. Reinvent Albany has put forth 18 recommendations for a strong public financing program, including these critical components:
-Create an independent agency to administer campaign finance for all candidates, including those who take public funds. With the state giving public funds for campaigns, the enforcement agency must be fair, independent, and safeguard taxpayer funds so they are used appropriately.
-Dramatically lower contributions limits – and make even lower limits on doing business donors – for all candidates. Candidates must be incentivized to participate in the voluntary public financing program rather than opt out and accept large donations. Donations to all candidates must be low enough so they do not create the appearance or reality of corruption or pay-to-play.
-Set reasonable thresholds to receive public funds. Candidates only receive public funds if they show community support measured by the number of small contributions and the dollar amount raised. These figures must be low enough so community members with local support can run for office.
-Match small contributions only. Only small contributions should be matched with public funds. A common misconception of the New York City public financing program is that candidates are given $6 in taxpayer funds for every $1 in small contributions up to $175. The truth is the first $175 of any contribution, no matter the size, is matched $6 to $1. Reinvent Albany believes taxpayers should not subsidize large contributions – currently allowed up to $70,000 – under New York State campaign finance law.
-Establish "sure winner" restrictions. To protect public dollars and the integrity of the public financing program, public funds should not be given in full to candidates with nominal opposition. Only a portion of public funds should go to candidates whose opponent has few endorsements, little media exposure, or hasn't held an elected office previously.
If the Public Financing Commission includes these components in its program, and applies it to all offices and elections, New York's campaign finance system will stand as a national model for addressing the problem of money in politics.
The commission and its appointers – the state's leaders – should seize the moment for, at long last, transformative change.
***
Alex Camarda is Senior Policy Advisor at Reinvent Albany. On Twitter @alex_camarda & @ReinventAlbany.
***
Have an op-ed idea or submission for Gotham Gazette? Email This email address is being protected from spambots. You need JavaScript enabled to view it.