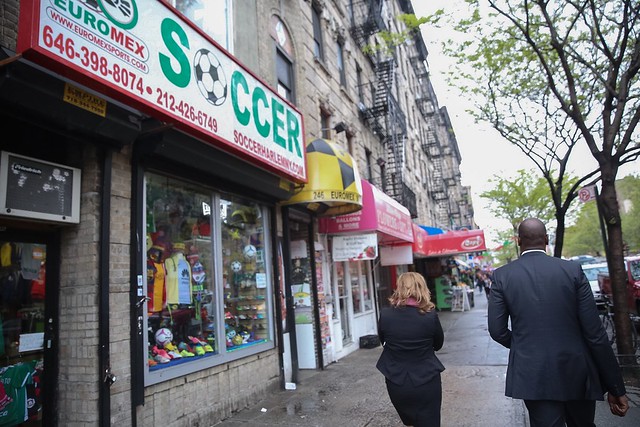 (photo: William Alatriste/City Council)
---
When shops and restaurants that you love and depend on close it can be heartbreaking; I know from personal experience. My Upper West Side neighborhood has been seen as the epicenter of what some call a "small business crisis" in New York City, and we have certainly seen our share of lost community icons and long-shuttered storefronts, but a new report shows there is no citywide crisis and lawmakers should be very careful as they consider remedies to what problems do exist.
Earlier this month the New York City Department of City Planning issued a comprehensive, well-designed study of vacancies on commercial business strips in 24 neighborhoods across the city. It shows that retail storefront vacancies are not unusually high in most neighborhoods (the industry standard is 5-10%) and, where they do exist, are due to a number of causes, which differ from place to place and storefront to storefront.
Just last month, a package of bills was adopted by the City Council that will provide even more information about retail vacancies by requiring that landlords report periodically to the Department of Finance on the number and status of their retail spaces.
Yet elected officials continue to refer to a "crisis" of retail vacancies. Just a few days after the City Planning report was released, Council Speaker Corey Johnson bemoaned the "blight" of retail vacancies "all across the city."
Examples of long-standing merchants priced out by rising rents are more compelling news stories than data that shows the localized nature of the problem. So, despite the fact there is no citywide crisis and the Council's new legislation will provide additional data on vacant storefronts, support is strong for a proposal to require sweeping protections for retail tenants to help assure lease renewals, including mandatory 10-year terms and arbitration when landlord and tenant cannot agree on rent increases. The number of Council sponsors of the "Small Business Justice and Stability Act" (SBJSA) has grown to 30 (of 51 members) since a hearing was held on it this past December.
Concern about retail storefront vacancies and turnover in New York City is not new. It has been labeled as a "crisis" as far back as the 1970s and was a focus of intense scrutiny during the Koch administration in the mid-'80s when the mayor responded by forming a commission to study the topic. Then-Manhattan Borough President Ruth Messinger championed a rent arbitration proposal back then.
Several of my favorite restaurants, diners, and clothing stores on the three blocks of Amsterdam closest to my apartment have closed over the last ten years. There are many vacancies in my neighborhood for a number of reasons.
Some are due to the creation of new, unrented retail space on the ground floor of brand new high-end residential buildings that have sprouted up along the corridors; some are because proprietors decided to retire, or because a new enterprise misjudged how much business it would attract in the area, or because the landlord -- sometimes a residential rental or co-op building -- is holding out for a chain store type of tenant that can pay a high rent to help offset increasing costs like property taxes. This is all part of life in an upscale neighborhood like the Upper West Side. It may be unsettling and even sad, but it is not a crisis.
Also, while some of us may miss our favorite places, the new stores and restaurants that replace them are serving the people that live here, albeit in different ways.
An example is a large new restaurant/juice bar that has opened around the corner from my apartment. A beloved diner used to be there, and when the lease was not renewed nine years ago, it remained vacant for more than two years. The two small stores next to it were also vacated, while the rental apartment building owner held out for a larger tenant to take over the entire space. A slick new place arrived that lasted five years but didn't seem to me to have been able to generate enough business to sustain the large space. (There were protests when the spaces were combined and when the new restaurant opened.) After another six months, Tacombi, which has several other branches in the city, opened. With a menu of reasonably-priced Latin-American food and drinks it appears to be thriving and is filled with neighborhood families.
It is understandable that elected officials feel compelled to "do something" when their constituents feel impacted in such a direct and personal way, which explains why my City Council representative, Helen Rosenthal, along with Manhattan Borough President Gale Brewer, are two of the most vocal advocates for the SBJSA. But as the City Planning report shows, there is simply no basis for citywide legislation. Time will tell, but I expect that the newly-mandated reports from landlords will bear out that conclusion.
Moreover, the SBJSA will do nothing to bring back beloved stores that have already closed and could make it even harder to bring in new tenants since landlords, with less flexibility to respond to the market, will be more selective and want only those with a proven record of financial viability.
A more targeted approach would focus on strengthening retail storefront presence in those areas that City Planning calls "Underperforming Corridors" – in Coney Island, Brownsville, Richmond Hill, and Longwood -- which suffer from long-term historic disinvestment. Incentives and/or modest tenant protections would help these areas without interfering with business decisions in high-income areas that don't need help.
We are not suffering from a shortage of places to shop or eat on the Upper West Side. The market will work here: if stores remain vacant for too long, landlords will lower the rents. That appears to be starting to happen.
The Council should not forge ahead with sweeping legislation that will impose real burdens on landlords in the majority of neighborhoods.
***
Carol Kellermann was president of Citizens Budget Commission from 2008 through 2018.
***
Have an op-ed idea or submission for Gotham Gazette? Email This email address is being protected from spambots. You need JavaScript enabled to view it.