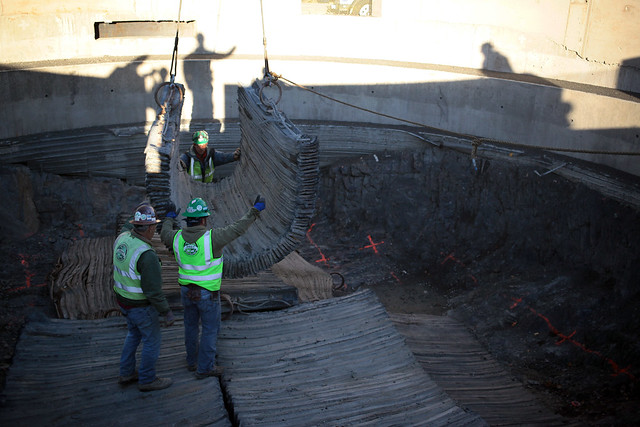 (photo: Ed Reed/Mayor's Office)
---
"Life in the fairest big city in America should never feel impossible," said Mayor Bill de Blasio, touting his agenda for the coming year during his annual State of the City speech this past January.
But just a few blocks from where de Blasio works every day at City Hall, a health crisis brought on by the mayor's own jails proposal could soon make life increasingly unfair, unhealthy – and yes, impossible – for tens of thousands of New Yorkers who reside in Chinatown.
The de Blasio administration unveiled plans to build four borough-based jails in the Bronx, Brooklyn, Queens, and Manhattan as a part of his administration's continued effort to close Rikers Island jails – a 10-year, $10 billion undertaking that is going through the Uniform Land Use Review Procedure (ULURP) and is headed for a vote by the City Planning Commission on September 3.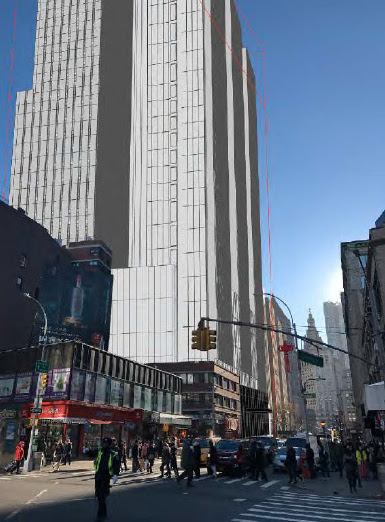 As that debate continues, newly submitted testimony by the NYU Center for the Study of Asian American Health regarding the proposed Manhattan jail at 125 White Street states that construction of the planned 450-foot jail (see city rendering, left) will have detrimental health-related consequences for those residing in Chinatown – especially for vulnerable senior citizens.
That is why members of the City Planning Commission must reject the mayor's jail plan and demand it be reworked to prioritize the health and safety of Chinatown residents. And if the City Planning Commission fails to take that crucial step, the City Council must step up and say no to this deeply problematic proposal.
The NYU testimony demonstrates that the rubber-stamped Environmental Impact Study commissioned by the city as part of the ULURP process was incomplete and didn't tell local residents the full story. As long as the mayor refuses to acknowledge its shortcomings, he shouldn't be allowed to build the new facility.
To be clear, this isn't about NIMBY politics – and isn't the first time Chinatown has had to deal with the repercussions of demolition- and construction-generated pollutants. Following the September 11 attacks, the EPA conducted an evaluation to determine how construction-site emissions affected nearby residents' health in the short and long term. The findings are disturbing.
The EPA concluded that increased exposure to elevated fields of pollution from construction sites worsen residents' co-morbidities and often result in hospitalizations and acute disease episodes.
The EPA report cites an immediate increase in respiratory ailment-related hospital admissions following the attacks, and an increase in admissions for heart- and stroke-related problems as well. The EPA indicated that Chinatown's asthma rates are twice that of other New York City communities, and those exposed to the surrounding air pollutants were found at higher risk of having respiratory and cardiovascular issues.
And when it comes to the new jail proposal, expected construction-site emissions, otherwise known as particulate matter (PM), have both short- and long-term repercussions, according to the NYU testimony. The World Health Organization (WHO) reports that PM pollution causes 8 percent of all lung cancer deaths, 5 percent of cardiopulmonary deaths, and 3 percent of respiratory-infection deaths.
The City Planning Commission should also be concerned that Asian-Americans are increasingly sensitive to construction-site emissions, per NYU's testimony. Chinese, Korean, and South Asian neighborhood residents have a higher risk of getting cancer than non-Hispanic whites when exposed to PM, and the mayor's decade-long proposal would see Chinatown engulfed in PM for the foreseeable future.
The bottom line is that de Blasio's proposal will essentially make parts of Chinatown uninhabitable for years. Those living in adjacent buildings may be required to relocate, and those living in Chinatown will be forced to deal with a consistent stream of construction-site emissions that will undeniably put their health and the health of their families at serious risk.
Members of the City Planning Commission and the City Council have a lawful responsibility to ensure that any new development plans do not harm the public interest – and they must do that by rejecting de Blasio's jail plan. There's just no reason why the necessary and sensible effort to close Rikers jails must come at the expense of the health of local communities.
***
Jan Lee is Chair of The Chinatown Core Block Association. Eric Dillenberger is Chair of the Walker Street Block Association.
***
Have an op-ed idea or submission for Gotham Gazette? Email This email address is being protected from spambots. You need JavaScript enabled to view it.