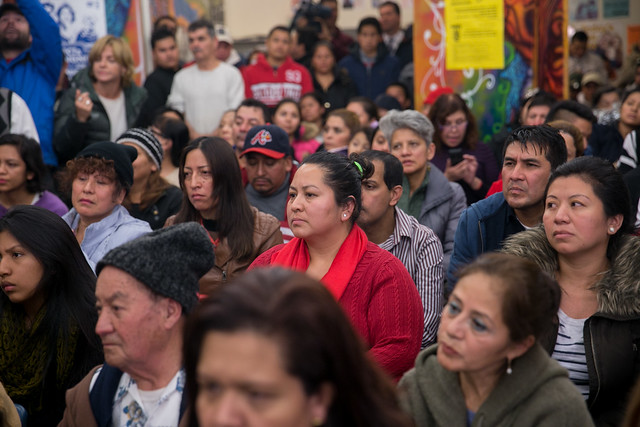 (photo: William Alatriste/City Council)
---
The Trump administration's changes to the "public charge" policy are so ambiguous and poorly communicated as to leave little doubt about whether the resulting fear rippling through immigrant communities nationwide was baked into this bigoted scheme.
Here in New York City, we refuse to follow the White House down this dark path. We are the home of Ellis Island, a town built with immigrant hands and made great by the diversity we celebrate. We will fight the imminent public charge policy changes with every tool available and combat the Trump administration's campaign of fear and misinformation.
This effort must start with our city agencies, which currently do not provide clarity for those new Americans looking for real answers.
New York City's Department of Education and Human Resources Administration websites detail a multitude of programs and services available for millions of New Yorkers. Ranging from legal aid to emergency food sites, these benefits are lifelines for families in need with nowhere else to turn.
None of these resources, however, inform immigrant families of the federal government's changes to public charge policy slated to take effect October 15. The policy change will expand the definition of a "public charge" to include immigrants who receive public benefits such as cash assistance, Medicaid, SNAP, and Section 8 vouchers. Those deemed a public charge will be barred from obtaining a Green Card or permanent residence in the United States.
This has grave consequences for hundreds of thousands of immigrant New Yorkers. For some immigrant parents who use public benefits to provide for their U.S.-born children, they may risk losing any chance at citizenship in the future.
The weaponization of our public benefits programs will undoubtedly have a chilling effect on the number of New Yorkers seeking basic necessities such as access to housing, general nutrition and financial security. It will force some to make the unfathomable choice between feeding their children and the dream of becoming an American citizen.
Leaders like New York State Attorney General Tish James and several immigrant-focused social service organizations are already leading the legal fight to block this policy. But more must be done.
It is important to remember this rule change only applies to individuals seeking admission into the United States or applying for adjustment of status. However, the policy's intentionally misleading language has stoked fear and confusion among a much larger swath of our immigrant population. Some immigrants who may not be affected by the policy change are nevertheless considering disenrolling from these life-sustaining programs out of confusion, fear, or both.
This is where city officials must rise to the occasion, and it is precisely why we have introduced a package of bills in the City Council requiring agencies to create and distribute comprehensive fact sheets and resource materials.
By disseminating information in multiple languages in schools, trusted spaces, and high-traffic government buildings, we can counteract the panic sweeping our city. Our legislation would ensure detailed fact sheets and information on emergency feeding programs are delivered directly to parents, students, and all those who disenroll from Supplemental Nutrition Assistance Program (SNAP) or whose SNAP benefits are set to lapse.
This full-court press will guarantee that nearly every family in New York City would receive this crucial information. These materials will both reassure individuals of their lawful right to public benefits and include information on how to navigate serious issues including how to obtain an attorney and access emergency food.
The danger of this rule change lies not only in its xenophobia, which asserts that America is open only to the wealthy, but also in the uncertainty and fear it strikes in so many of us. It is easy to be scared by the hateful rhetoric that we hear from the president and his acolytes. But if we educate ourselves and each other, we can protect our communities and fight back to ensure our most hardworking, resilient and vibrant communities receive equal treatment.
The blatant attack by the Trump administration on new Americans is in full display across the country as families are separated, detained in horrific conditions, and returned to the perils they fled to seek refuge in the United States. It is up to our local government to provide the necessary resources to all our constituents, regardless of their national origin or economic status. Though the White House may continuously shout at you to go away, this city will honor the lamp that lights the New York Harbor and say to you, welcome home.
***
Carlina Rivera and Francisco Moya respectively represent Manhattan's District 2 and Queens' District 21 in the New York City Council. On Twitter @CarlinaRivera & @FranciscoMoyaNY.
***
Have an op-ed idea or submission for Gotham Gazette? Email This email address is being protected from spambots. You need JavaScript enabled to view it.