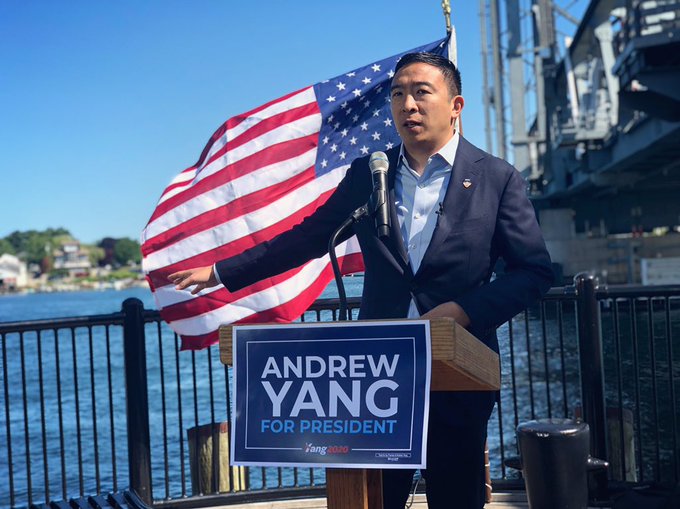 Andrew Yang (photo: @AndrewYang)
---
After the game show stunt that Andrew Yang pulled at the presidential primary debate last week, a lot of people have speculated that he should and will drop out of the race soon. But there is another reason why Andrew Yang doesn't belong on the national political stage, and it involves the reason that Yang fired me in 2007 and how my termination highlights the danger of his "freedom dividend" program.
Manhattan GMAT is a testing preparation company, founded in 2001, to help people get ready for the Graduate Management Admission Test, often used for business school programs, among others. I was its first employee and its primary revenue generator during the start-up years. I had been one of the first Manhattan GMAT teachers, so I knew the test really well, and in the early days, I spoke to every single student, every single customer.
I forged relationships with marketing partners. I created our advertising collaterals. I taped posters to bus stops on Broadway, and I gave out cookies to hungry young bankers at open houses. I even snuck postcards into our competitor's books at the bookstore to grow the company. As the Marketing and Student Services Director, I met all of my revenue marks. By 2005, we'd expanded to other cities and were a multi-million dollar operation.
Then, Andrew Yang became president of the company. He had taught a couple of classes over the years, so I knew him already, but he was not at all involved in the company's operations before then. He promoted me to Senior Director just after he started, and again, I hit all of my growth targets.
Imagine my surprise, then, that on the third day that I was back to work after my honeymoon in 2007, Andrew Yang fired me. Our private discussion, in his office with the door closed, began with Andrew's remarks that because I was married, I wouldn't want to continue working as hard as I had been. That as a wife, I'd be focused on my new life.
At-will employees are let go all the time. I could be fired at any time without a reason.
But Andrew did give me a reason. I didn't even realize at the time how unethical his reason was. I was singularly focused on the embarrassment I felt. How could he fire me after all that I had accomplished at the company. And the horror I felt knowing that I'd have to tell my new husband that our life was shattered (he made less than 15% what I did).
Andrew must have calculated that I would work less, travel less, put in fewer hours as a married woman, yet still earn my six-figure bonuses. He had seen how seamlessly my staff had performed while I was on my honeymoon. He probably thought that they would do the work cheaper. With my compensation package off the books, several college grads could be brought in to spread the work around. And just like that, my wedding and honeymoon had rendered me obsolete from the company that I had helped to build.
Since the termination was couched for me, as a "freedom to move on" narrative, the deal Andrew Yang offered me was commensurate with what he believed I deserved, a monthly payment for no longer working. For two years. I agreed in the end (part of a much longer story) to go away, to take the monthly payoff, which paved the way for the company to develop more sophisticated money-making initiatives at cheaper costs.
Sounds a lot like Yang's "freedom dividend" platform doesn't it? Yang is basically telling the American public that the government will pay them off each month. Rather than governing our way into a sustainable economy, Yang's plan absolves the government from overseeing companies that could render countless workers obsolete. With a monthly payment, the under-educated, aging, perhaps newly married - the obsolete employees - recede into the background as trillion-dollar companies continue to grow unfettered and ungoverned as they have for decades.
Candidates for elected office must be scrutinized more. Past behavior is a predictor of future behavior. And behavior is a reflection of values. The values that it takes to shatter a successful woman's livelihood days after she marries is a deal-breaker for a presidential candidate. At least it should be for women. We have been suppressed, discriminated against, harassed, and abused for far too long, and often behind closed doors, where we are left to carry the burden of shame for actions carried out against us.
Even more importantly, Americans shouldn't take the carrot of a monthly payout without understanding what the deal really means. The "freedom dividend" means that workers are no longer believed to be valuable, that they can't learn new skills, develop new industries and adapt to an ever-evolving existence in our great country. What a depressing approach to the future!
The Democratic Party has a wide array of highly-qualified, committed public servants from which to choose. Andrew Yang is not one of them.
***
Kimberly Watkins is a running and fitness coach in Manhattan and serves as the President of the Community Education Council, in New York City Public School District 3 on the Upper West Side and Southern Harlem. On Twitter @kimwatkinsnyc.
***
Have an op-ed idea or submission for Gotham Gazette? Email This email address is being protected from spambots. You need JavaScript enabled to view it.