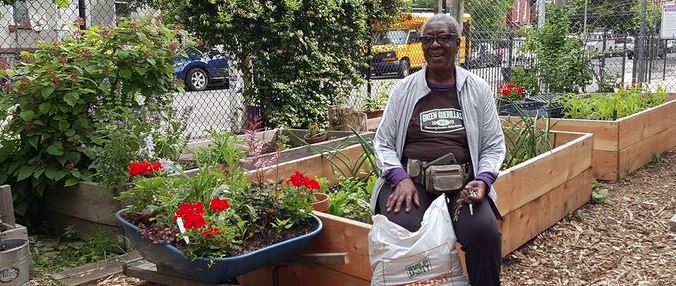 (photo: @NYCzerowaste)
---
In the past few years, the issue of soil contamination has gained the attention of environmental groups in New York City. New Yorkers have ample reason to be concerned about their soil. While the city is cleaner than it used to be, decades of pollution left our local soil thick with toxic levels of heavy metals. For years, the presence and persistence of these toxicants were unknown, posing risks to all urban residents.
Fortunately, public support for environmental protection has rehabilitated much of our city soil. But, there is still more that New Yorkers can do, and Climate Change Week NYC is a good time for us to consider how activities like urban gardening and farming can be done in a way that is both healthy for humans and helps to improve the environment and potentially mitigate climate change.
Abating contaminated soil with organic matter helps reduce greenhouse gas emissions because compost sequesters carbon, diverting it from the atmosphere.
Soil testing labs, public initiatives, and grassroots efforts have done wonders to educate New Yorkers on soil quality and remediation techniques. Urban gardeners began transforming vacant lots in New York City in the 1970s, and such activities have grown in popularity in the past decade. As of 2019, New York City has the largest urban agricultural system in the country, with over 1,900 community gardens and thousands of home gardens growing food and providing other benefits for city residents.
But New Yorkers should be reminded that our soil is still far from pure, and it may likely contain contaminants, like lead and arsenic that we should detect and remediate to avoid exposing our families to harmful consequences. Like any hobby, urban gardening requires preparation, and we must remember to test our soil, change it when possible, and choose our crops carefully so we can reap the best from what we sow.
Testing your soil is your first line of defense against soil-based contaminants. Soil testing labs, like those at Brooklyn College and NYC Urban Soils Institute offer a variety of affordable tests to assess soil characteristics. Generally, you should take several samples from various locations in your garden, combine them, thoroughly mix, and take one cup of representative soil sample to be submitted to the lab. You can request any number of tests on texture, organic content, pH, nutrients, and so forth, although you'll usually want to start with lead. These labs usually return results between 2-3 weeks.
Testing for the total concentration of lead will provide a broad sense of the soil's need for remediation. Bear in mind that the total concentration doesn't always indicate the soil is poor for gardening. Rather, it's the bioavailability of lead -- how readily it's absorbed by our gastric systems -- that determines risk. Nevertheless, understanding the total concentration of lead can inform your soil remediation or amendment strategy.
A Columbia University research team has developed a field testing kit that screens soil for hazardous lead, although it's not yet on the market.
Once you understand your soil characteristics, you can make choices about removing your soil, adding amendments, or bringing in a new soil cover. Compost is the most common and useful amendment, as it contributes organic material for microorganisms to digest, balances the soil pH, and improves soil structure.
There are many organizations that give away free compost (including the Department of Sanitation, and community composters with the NYC Compost Project). You can also purchase compost, or make your own from common kitchen waste -- with the awareness that uncovered scraps can attract scavengers -- and alternate these 'wet' layers with dry forms of compost, such as wheat, sawdust pellets, or leaves.
For community-based organizations with reservations about the quality of local soil, there are other options. A helpful approach is to cover the contaminated soil with a layer of clean soil followed by layers of compost. Separating the old soil from the new with a layer of landscape fabric can prevent mixing and later contamination. The New York City Mayor's Office of Environmental Remediation developed the Clean Soil Bank that takes clean native subsoil from construction sites and makes it available to local organizations or businesses that request it. The soil is available for free for sites that can receive a load of at least 20 cubic yards. There is a new stockpile in East New York Farms! where individuals can also pick up free bags of subsoil mixed with compost.
Lastly, if you're an urban gardener on a small scale, you can protect yourself by being selective about which crops you plant. For example, we ingest more contaminants stuck to the plant than absorbed into the plant itself. Root vegetables like carrots and radishes can carry traces of lead and arsenic despite repeated washings. Lettuce can trap contaminated soil particles on its surface. However, fruit vegetables, like eggplants, squash, and tomatoes, are usually safe for consumption even from moderately contaminated soil. This is due to the physiological barrier between the soil and the edible crop -- from root to shoot, and from shoot to fruit.
Urban gardening is an excellent hobby that brings city dwellers closer to nature. It's calming, nourishing, and easy on the budget. But before feeding your family with home-grown produce, be mindful to ensure that your local veggies are being grown in the right soil.
***
By Dr. Anna A. Paltseva, Dr. Zhongqi Cheng, Dr. Maha Deeb, Sara Perl Egendorf, Dr. Peter M. Groffman. (Paltseva and Cheng are with CUNY Brooklyn College, Department of Earth and Environmental Sciences and Graduate Center, CUNY PhD Program in Earth and Environmental Sciences. Egendorf and Groffman also share those two affiliations and are with the Advanced Science Research Center at the Graduate Center, CUNY. Deeb is with the Advanced Science Research Center at the Graduate Center, CUNY, and the University of Lorraine is Nancy, France.)
***
Have an op-ed idea or submission for Gotham Gazette? Email This email address is being protected from spambots. You need JavaScript enabled to view it.