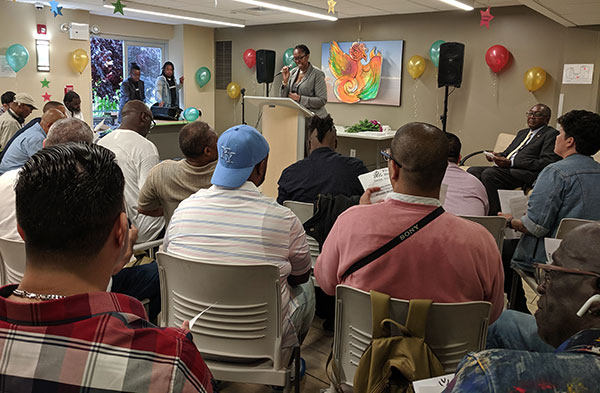 Ann-Marie K. Foster, the author, addresses program participants (photo: Phoenix Houses)
---
It's often said, but worth repeating during National Recovery Month: addiction does not discriminate. Drugs can hook anyone, anytime, anywhere—and it's more of a problem now than it's ever been. In New York, for instance, there were more opioid-related overdose deaths in 2017 than there were in the first six years of the 2000s combined.
Today, the types of drugs available are also terrifyingly effective at creating addicts. Fentanyl and other synthetic drugs are perhaps the worst among them. They are 50-times stronger than heroin and 100-times stronger than morphine. They are also cheap and fairly easy to find in New York. And, they flooded in so fast that we are only now fully realizing the seriousness of this public health issue.
There are some obvious actions government can take to turn this crisis around. Continuing to fund state treatment programs and ensuring life-saving medicines are available statewide should be essential parts of any plan. Reducing access to dangerous illegal drugs and engaging in serious education campaigns to prevent use in the first place is also necessary.
But even all of that will never fully free us from the eternal epidemic of addiction. Addiction is wickedly persistent. It has followed us through the centuries and always finds a way to come back in one form or another. But recovery is possible.
National Recovery Month is an effort to increase awareness and understanding of substance use disorders. Everyone should be armed with the knowledge necessary to identify the warning signs of addiction in a loved one because anyone could be an addict. And it could save their life.
The main signs of addiction are: change in baseline behavior from normal; spending more time alone; irritability; mood swings; change in sleeping habits; change in diet and weight gain or loss; eyes dilated or pin-pointed.
As the largest provider of addiction treatment services in New York, we also see other common trends amongst our patients. The majority of the patients we treat have experienced trauma or have other co-existing health or mental conditions. Many are also dealing with deep guilt, regret, and self-loathing about their behavior and the consequences of their actions, which can manifest itself in various, often destructive, ways.
We believe in treating the whole person to promote the message that recovery in all forms is possible. So we provide medical and dental care, wellness programs, community support, and even recreational activities as part of our continuum of care in addition to evidence-based treatment.
But, ultimately, overcoming addiction is often about the people around the patient. That is why it is so essential that New Yorkers of all backgrounds have the knowledge to identify addiction, the strength to talk to their loved one about it, and the compassion to support them through recovery.
In this time of crisis, don't be afraid to talk to a loved one about their possible addiction. And don't be afraid to ask for help. Addiction is a scary place to be, but there are always paths out. With care and the right tools, addiction doesn't have to win. First though we have to have the will to fight it.
***
Ann-Marie K. Foster is the CEO & President of Phoenix Houses of New York & Long Island. On Twitter @PhoenixHousesNY.
***
Have an op-ed idea or submission for Gotham Gazette? Email This email address is being protected from spambots. You need JavaScript enabled to view it.