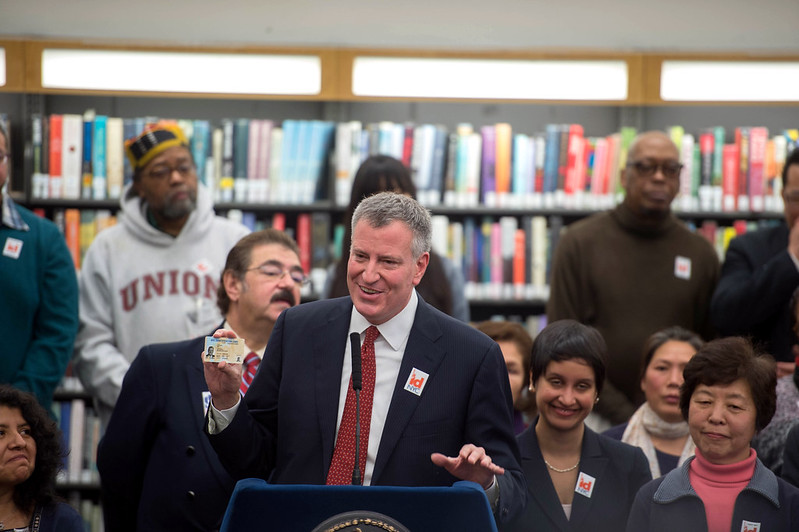 (photo: Demetrius Freeman/Mayor's Office)
---
It's hard to think that winning your legislative campaign can cause a problem, but when you combine progressive victories with the territorialism of New York politics, you can get disturbing results.
Case in point, this past legislative session was a triumph for the immigrant rights movement across New York State. We enacted the Dream Act, securing in-state tuition for undocumented New Yorkers. We passed the Farmworkers Bill of Rights, closing the antiquated exemptions that left so many immigrant laborers vulnerable to exploitation. And we enacted the Green Light bill, finally securing immigrant New Yorkers the right to a driver's license. This last bill might have been the biggest triumph for immigrant families, but it was a political setback to one of Mayor de Blasio's flagship initiatives: IDNYC.
After collaboration by the mayor and the City Council, IDNYC was launched in 2015 as a form of identification for all New Yorkers, irrespective of immigration status. But with undocumented New Yorkers now able to get driver's licenses and non-driver IDs, justification for the municipal ID program is fading. Rather than concede that IDNYC may have outlived its usefulness, City Hall is trying to add new features in the hope of clinging to relevance.
In what is only the latest IDNYC spectacle, the de Blasio administration wants to add a radio frequency identification (RFID) chip to store everything from financial data to potentially even health records. It's a change that no one wants or needs, and would put 1.2 million IDNYC cardholders' privacy at risk.
The proposed RFID chip is a threat to every cardholder, but it particularly endangers the very community IDNYC was supposed to protect: undocumented New Yorkers. It will if the change goes through, but City Council Member Carlos Manchaca -- a leading architect of and advocate for passage of the original IDNYC law -- has introduced a bill to stop the smart chip. His measure would block the payment chip and limit IDNYC cards to only include the information on their face: no health information, no financial information, nothing else.
As Council Member Menchaca and advocates noted, the Trump administration could use the new RFID chip to subpoena information on the 1.2 million New Yorkers using IDNYC. They wouldn't need a warrant or probable cause, just a letter saying that the information would be helpful.
This nightmare scenario is nothing new. Many of us raised these concerns when IDNYC was first launched. They were dismissed at first, as outlandish. Then, when Donald Trump won the 2016 election, the danger became all too real, and soon the mayor found himself in court, trying to block a GOP effort to turn the municipal ID program into a virtual immigrant registry.
Now we're raising the alarm again, but the mayor seems dead set on repeating history, moving forward with this disastrous initiative even as immigrant advocates from across New York City say that this program is a mistake. Sadly, this fits the pattern for de Blasio, a mayor who is eager to speak on behalf of immigrant communities, but slow to act.
In 2017, when the city passed sanctuary city legislation, elected officials celebrated two bills to protect undocumented immigrants (Intros. 1557 and 1588), ratifying our opposition to President Trump's anti-immigrant policies. It was a feel-good moment, unless you looked at the fine print. The bills, which were motivated by fear that the NYPD would become the eyes and ears of the Trump deportation machine, had a glaring exception: they didn't apply to the NYPD. As we speak, there is nothing in New York City law that blocks our police officers from collecting information to help ICE in deporting our undocumented neighbors.
And the pattern goes farther. More recently, my own organization, S.T.O.P., raised concerns about another program that de Blasio supports: OMNY, the proposed successor to the MetroCard. As we document in a just-published report, this new system collects huge amounts of data on every single transit rider, with no meaningful privacy protections.
As with any nearly any personally identifiable information, the more data we collect, the greater the risk. This is especially true for undocumented individuals, survivors of domestic violence trying to hide from their abusers, and countless other New Yorkers with unique security threats. This is why it's not enough to simply pass Council Member Menchaca's bill. It's not enough to simply stop the IDNYC chip, we need to comprehensively review how our city collects, stores, and shares data.
Any time New York City rolls out a new government program we have to go beyond measuring the cost in dollars and cents. We need to understand the privacy price as well.
***
Albert Fox Cahn is the executive director of The Surveillance Technology Oversight Project at the Urban Justice Center, a New York-based civil rights and privacy organization. He writes the monthly "Surveillance and the City" column for Gotham Gazette. On Twitter @FoxCahn.
***
Have an op-ed idea or submission for Gotham Gazette? Email This email address is being protected from spambots. You need JavaScript enabled to view it.