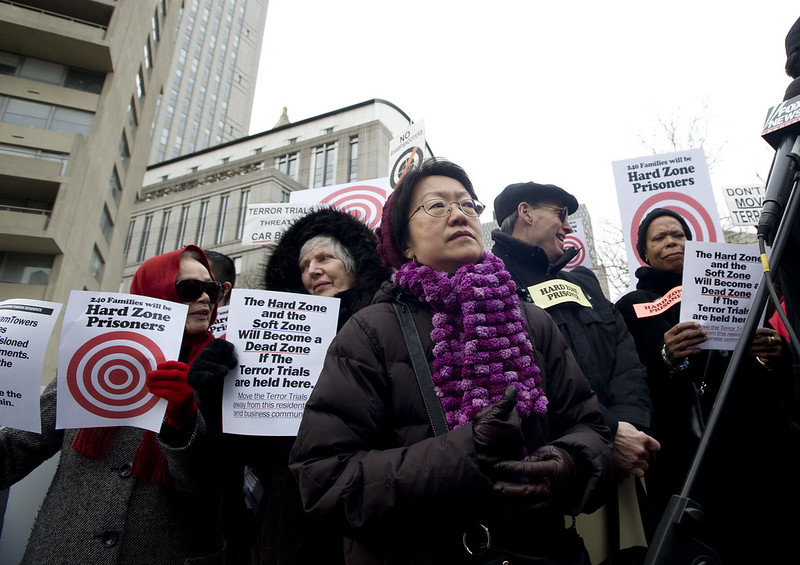 (photo: William Alatriste/City Council)
---
"To be clear is to be kind, to be unclear is to be unkind." – Brené Brown

On August 2, 2018, I attended a meeting at Chung Pak, the affordable senior housing complex on Baxter Street, where the city presented its plans to build a huge new jail in Chinatown. I and other highly-vetted attendees watched a slideshow of what 80 Centre Street would become after it is converted from the county courthouse and district attorney's office to a 50-story jail with coffee shops and retail trinket stores on the ground floor. Discussions of adding a Chinese cultural center within the jail were laced throughout all discussions to sweeten an obviously bitter pill, as jails often are.

The city's plan changed course after vehement community protest. The city eventually stated that it was too expensive to relocate the offices at 80 Centre Street, as if the idea had belonged to them in the first place. They switched sites to 124-125 White Street.

City officials argue a jail is good for communities. Matthew Washington from Borough President Gale Brewer's office has said in response to concerns, 'but you already have a jail there.' This platitude attempts to explain why some believe expanding a jail within the city's largest carceral footprint outside Rikers Island is not worthy of protest from residents and businesses.

Fourteen months later, after six mayor-controlled "community" meetings, two town halls, one scoping hearing, a site change, and a mayoral visit to Chinatown with a highly-vetted group devoid of true community and media presence, our community still knows virtually nothing about the proposed jail.

When leaders are unclear, uncertainty abounds. That uncertainty leads communities to anger, fear, and anxiety. It's no wonder why anti-jail posters in Chinatown are appearing in storefronts and family association buildings with City Council Member Margaret Chin's face splashed across them. When the mayor's office defends the "ongoing" and "robust" dialogue between the mayor's office and Chin, it only serves to stoke the flames of discontent because the talks are done in secret. To be unclear with the public is to be unkind.

Chin is capable of making her points clear when she wishes. At a press conference in Brooklyn on January of this year, at the site where three Chinese men were murdered by Arthur Martunovich in his vicious attack with a hammer, Chin exclaimed "Let's be clear, this was a racial hate crime – plain and simple."

It's that clarity that we seek today for our beloved community, yet we remain unfulfilled due to uncertainty. Palpable concern festers in coffee shops and dim sum parlors, in barber shops and hair salons, where the often-asked questions "What has Margaret Chin said? How is she going to vote?" can be heard.

As author Brené Brown points out, a lack of clarity may happen when one does not know how to be truthful. If the truth is deemed too painful to reveal, humans sometimes obscure or mask the truth. Or it's not shared at all.

A lack of clarity may also be a form of deceit. Why reveal one's true intentions outright, when obfuscation hides the backroom deals? A lack of clarity may be a result of paralyzing fear. 'What if they don't like what I have to say? What if it causes more anger?'

So long as Chinatown is left unclear about Council Member Chin's upcoming vote on October 17, the community will continue to languish in hellish anxiety. One must ask why a successfully elected representative with such strong Asian-American support could be so unkind to her constituents.

Perhaps a unified reminder from us can encourage her to be clear now. I urge all of Council Member Chin's constituents to reach out to her to raise your concerns and her awareness.

To be clear is to be kind, to be unclear is simply unkind.

***
Jan Lee, co-founder of Neighbors United Below Canal (N.U.B.C.). On Twitter @NUBCanal.
***
Have an op-ed idea or submission for Gotham Gazette? Email This email address is being protected from spambots. You need JavaScript enabled to view it.