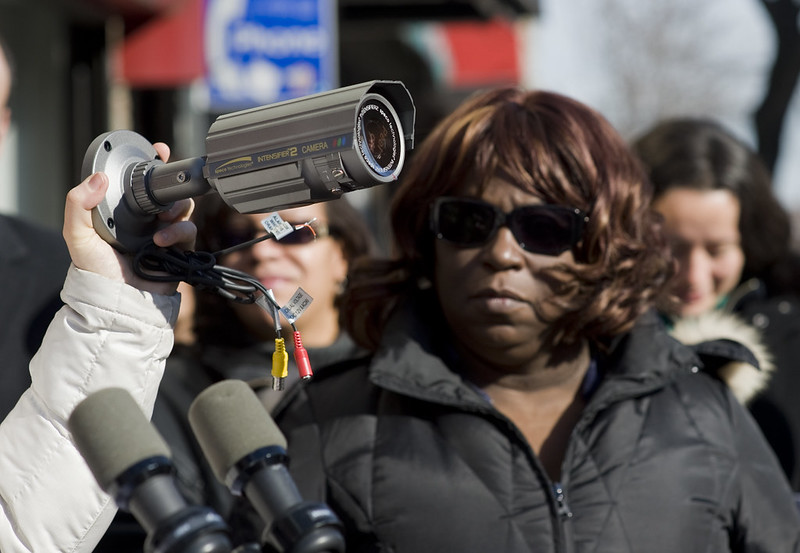 (photo: William Alatriste/City Council)
---
Sometimes City Hall politics can be surreal; too much spin can give you a case of political vertigo. But this week was remarkable even by the standards of the de Blasio administration, with talking points that felt like messages from a parallel universe. Time and again, we heard lofty statements about a city committed to protecting its residents' privacy, a city sadly bearing no resemblance to our own.
It started when the national facial recognition debate came to the City Council chambers. Months after cities like San Francisco fully banned facial recognition, New York City lawmakers introduced a trio of modest proposals that just scratch the surface of our municipal black mirror, and held a hearing on them.
One bill requires notices in stores when they use biometric surveillance like facial recognition. A second bill would require all buildings to register any biometric surveillance with the city. And a third bill guarantees New Yorkers the right to a metal key, even when their building uses key fobs or biometrics. These bills are not perfect, and they're certainly not the full facial recognition ban that more and more cities are passing, but they're a start.
Predictably, the Mayor's Office claimed to "support the bills' intent," before pivoting to the litany of reasons why as laws they would be too much of an "operational challenge" or better suited to another agency. The metal key requirement was the only item to receive support.
This back and forth would have been utterly unremarkable if not for the constant proclamations of how New York City protects privacy. Countless empty phrases like we "value the privacy and livelihood of all New Yorkers" or "protecting the privacy of New Yorkers is something both the Council and Administration care a lot about." Sadly, these platitudes hide the reality of New York City today.
The New York I know deployed automated license plate readers, perpetually logging almost every car in the city. It worked with the MTA to deploy the OMNY fare payment system, even as organizations denounced it as a privacy threat to every passenger. And then there are the biometric programs.
Programs like the NYPD's DNA dragnet, which captures thousands of New Yorkers' genetic information, including young children. And, of course, the most controversial program of all: the NYPD facial recognition database. This error-prone digital dragnet is used to arrest thousands of New Yorkers, many of them wrongly.
Of course, the administration's tone shifted as soon as these troubling biometric programs came into the discussion. How many city agencies use facial recognition? "We don't know." How long can biometric data be kept? "We don't know." When city officials were asked point-blank if the NYPD uses facial recognition, something already reported around the world, the representatives suddenly were at a loss for words.
One program that administration officials were surprisingly eager to talk about was LinkNYC, the Frankenstein creation that's part billboard, part phone charger, part wi-fi hotspot, and part tracking device. One NYC DoITT official proudly claimed that the LinkNYC privacy policy wouldn't let the system "collect or store any identifying information." She went on to assert that the city "specifically prohibited the use of facial recognition," and included "some of the strongest safeguards in the country." The privacy advocates in the room were bewildered.
In reality, LinkNYC kiosks—which combine the aesthetics of a 2001 monolith and the Las Vegas strip—have come under intense scrutiny in recent years, following investigations by the Intercept, Gothamist, and others. Despite the administration's claims, LinkNYC does provide photos to the NYPD facial recognition program in some cases (Link claims to do so only when subpoenaed). Even worse, activists highlighted LinkNYC's potential power to track New Yorkers by transforming our wi-fi and bluetooth-enabled devices into veritable homing beacons (Link says only when users have opt-ed in via an app). The revelations sparked guerrilla privacy campaigns and widespread calls for LinkNYC's elimination.
Sadly, the City Hall spin didn't end with LinkNYC, or at the hearing. This week also saw a remarkable statement on NYPD facial recognition from Commissioner O'Neill himself. When asked about a facial recognition ban, he plunged us back into the mirror universe, claiming "No one is being arrested solely on a facial recognition hit" and calling it an essential tool.
Thanks to researchers at Georgetown and the NYPD's own data, we know just how misleading a claim that is. At least one NYPD employee openly boasted about facial recognition's role in arresting more than 2,700 New Yorkers. The commissioner often responds that no one is arrested solely based on facial recognition, but let's look a little closer.
NYPD officers have included suspects in lineups solely because of facial recognition. In one case, officers texted a witness asking, "Is this the guy…?" and attaching a single photo. In both cases, the NYPD claims that the eyewitness is the reason for the arrest, but decades of false convictions demonstrate that these sorts of suggestive practices can warp witnesses' memories and lead to wrongful convictions.
The reality is thousands of predominantly black and Latinx New Yorkers would never have been arrested without the unreliable and deeply-biased facial recognition system, and I'm terrified to think just how many are innocent.
Part of why New York lags so far behind the rest of the country in reforming biometric surveillance is that the de Blasio administration won't face the facts. It insists on spinning platitudes about New York being a privacy leader. We're not. It's long past time we let this fantasy fade and wake up to the sobering reality of what these Orwellian technologies are already doing to our communities.
***
Albert Fox Cahn is the executive director of The Surveillance Technology Oversight Project at the Urban Justice Center, a New York-based civil rights and privacy organization. He writes the monthly "Surveillance and the City" column for Gotham Gazette. On Twitter @FoxCahn.
***
Have an op-ed idea or submission for Gotham Gazette? Email This email address is being protected from spambots. You need JavaScript enabled to view it.