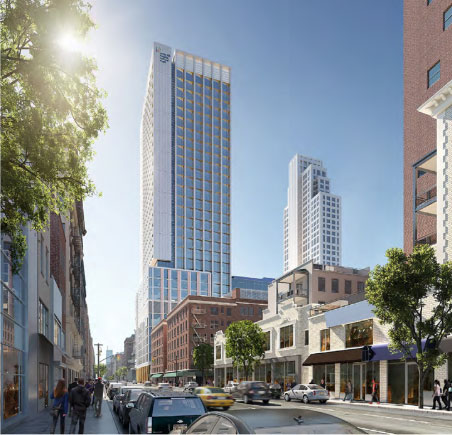 rendering of proposed Leonx Hill Hospital expansion
---
Northwell Health is proposing an unprecedented, $2.5 billion expansion of Lenox Hill Hospital that includes construction and sale of a 490-foot condo tower to help finance a new 520-foot hospital tower and other massive new structures. This pitch has already generated much controversy, as residents of the Lenox Hill neighborhood and surrounding communities are speaking out forcefully against Northwell's plan.
While it is widely understood that this development plan must go through the city's land use approval process (known as ULURP) because of zoning changes Northwell is seeking, many New Yorkers are unaware that Northwell also needs approval from the State Department of Health before it can proceed with any expansion of Lenox Hill Hospital.
The crucial point here is that Northwell must apply to the State DOH to receive a "certificate of need" for its expansion plan. But the facts show that there truly is no need for this proposed expansion on the Upper East Side – and that is why the State DOH must reject the plan and send Northwell back to the drawing board.
This is a matter of common sense. In order to be granted a certificate of need, an institution should be able to demonstrate that its proposal promises to deliver something that is actually needed by the community. When it comes to Northwell's plan for Lenox Hill Hospital, that is not the case.
We can all agree that Lenox Hill Hospital must offer high-quality, state-of-the-art medical care in a well-maintained facility. And if a straightforward modernization plan were all that Northwell were proposing, it would be worthy of support. In fact, it appears that Northwell has already begun financing its own upgrades at Lenox Hill Hospital, with a recent news story noting that officials have "hired a Michelin Star Chef" and made numerous other cosmetic improvements to provide a "luxury hotel experience."
But the idea of building a monstrous luxury condo tower in the midst of a historic residential district to finance single-occupancy hospital rooms and destination medical facilities in one of the city's most affluent and well-served areas is grandiose and insulting to community residents. Simply put, we do not need more hospital beds and significantly larger hospital facilities on the Upper East Side – and our community is not asking for them.
Let's be clear: there are already more than 10,000 hospital beds in Manhattan, at least 3,000 of which are located throughout the Upper East Side. Our communities have access to healthcare facilities and specialty medical care that are the envy of our other-borough neighbors, many of whom have demanded better access to quality medical care.
Want to talk about healthcare needs? Look at the South Bronx, where low-income residents suffer from the state's highest asthma rates. Look at Central Brooklyn, where national experts have called that community's hospitals some of the worst in the entire nation.
If Northwell were truly interested in developing an expansion plan worthy of a "certificate of need," it would seek out ways to bring more of its high-quality healthcare resources to communities like these. Instead, it is advancing a lucrative real estate development pitch that will create the tallest hospital in New York City and serve primarily to reap profits for its grandiose vision and satisfy the egos of its senior executives. All of this will take place at the expense of the local neighborhood, which will be forced to endure 10 years of hazardous construction and a massive condo tower that will destroy the fabric of a historic community.
The bottom line here is that if the State Department of Health follows its mandate to serve the healthcare needs of all New Yorkers and takes a thoughtful approach to evaluating these types of proposals, it has no choice but to reject Northwell's plan and compel the institution to rethink its approach.
***
Andy Soussloff is a Lenox Hill resident and a member of the non-profit Committee to Protect Our Lenox Hill Neighborhood, Inc.
***
Have an op-ed idea or submission for Gotham Gazette? Email This email address is being protected from spambots. You need JavaScript enabled to view it.