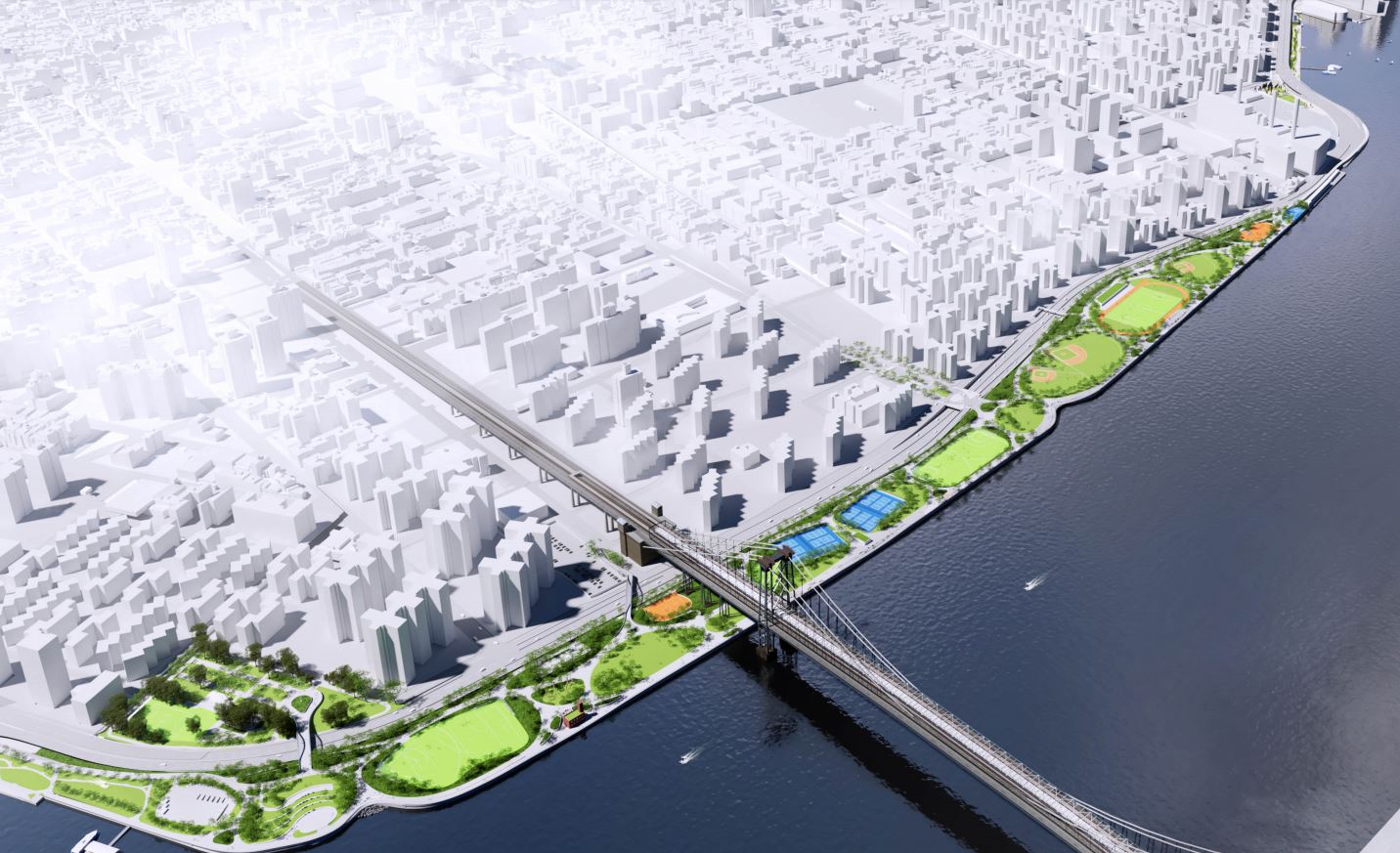 (rendering: City of New York)
---
It has been seven years since Superstorm Sandy made landfall on our city, causing billions of dollars in damage and ravaging some of our city's most critical infrastructure, including our parks. It took years for the famous boardwalks in Coney Island and the Rockaways to re-open. Trees across our coastlines died and continue to be at risk from exposure to salt water. And many of our coastal parks are no less protected from the next big storm today than they were in 2012.
As a steward and advocate for our city's parks, I know that we can't pass up an opportunity to protect our coast and our parks in Lower Manhattan with the East Side Coastal Resiliency project (ESCR). This project, built the right way, can protect East River Park and the neighborhoods surrounding it for generations.
When the city initially proposed a revised ESCR design, my organization, New Yorkers for Parks, voiced our frustration. East River Park is one of the few large, open green spaces with baseball and soccer fields in Lower Manhattan, and so many low- and middle-income New Yorkers rely on it as a home away from home. We made it clear that we would only support a plan that used phased construction, preventing the long-term displacement of park-users from the area.
Today, thanks to the advocacy of City Council Members Carlina Rivera, Keith Powers, and Margaret Chin, as well as Manhattan Borough President Gale Brewer, the city has committed to a construction plan that is phased, ensuring nearly 50 percent of the park remains open at all times. In addition, the city has provided a plan to ensure local youth sports teams can continue to play in the park and at surrounding sports fields and parks, many of which are receiving long-overdue repairs and upgrades.
And a new tree planting campaign has already been launched in the neighborhood, with over 1,000 trees expected to be planted in addition to the hundreds of new trees replacing the dead or aging trees in East River Park.
But in order to make this plan truly work for the most impacted communities, we must continue to call on city agencies for greater involvement and community coordination. Part of that effort must include new major maintenance investments in this park and others so that our parks do not fall into disrepair. It is not enough to simply rebuild a park: it is our duty to maintain it, especially when it is our first line of defense for climate change.
It's expected that ESCR will provide coastal protections within three years. But if the City Council fails to approve this land action now, the project would likely never return, and we will lose the $335 million in federal funds that must be spent by 2022. This funding is a one-time opportunity. Losing it would be yet another tragedy.
Lower Manhattan residents deserve a park that will not only protect their homes but will protect their future. The city has never embarked upon a resiliency plan of this scale - and while the project may not be perfect, we have to start somewhere.
During Superstorm Sandy, water infiltrated all five boroughs; storm surges don't discriminate. Other stretches of our waterfront will require similar investments in the not-too-distant future.
The time to plan is now. The time to act is now. Let's make this happen.
***
Lynn Kelly is Executive Director of New Yorkers for Parks. On Twitter @lynnbod & @NY4P.
***
Have an op-ed idea or submission for Gotham Gazette? Email This email address is being protected from spambots. You need JavaScript enabled to view it.