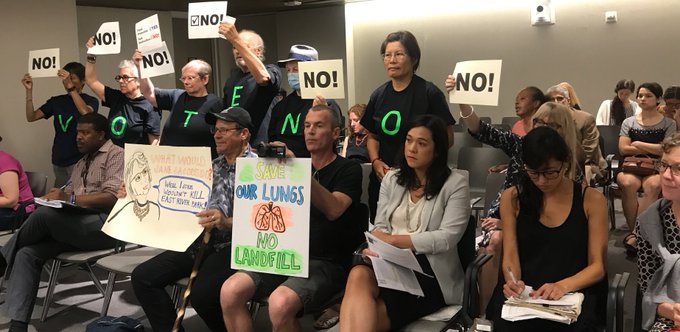 (photo: @ERPAction)
---
An Open Letter
Dear City Council Members Carlina Rivera, Margaret Chin, and Keith Powers:
You have indicated that on Thursday you will vote for the flood control plan that will demolish East River Park and rebuild it 8-10 feet higher over five years. This is a $1.45 billion, five-year project that will destroy more than a mile of coastline park that is vital to our neighborhood, the un-wealthy end of the Lower East Side and East Village. I urge you to change your vote to "no" on Nov. 14. Here's why:
Once this plan passes the City Council, you will lose all bargaining power. The city will not be obliged to reply to the many unanswered questions or do any of the things it has promised to look into, such as these points:
Interim Flood Protection
The city promises to study temporary flood protection while constructing permanent solutions. If you vote to accept this East Side Coastal Resiliency plan, the city will not be obliged to offer a single sandbag through years of hurricane seasons (the city says three years—but we'll talk about timelines later).
Phased Construction
During phased construction (keeping sections of the park open during construction), the entire mile-plus promenade along the river will be closed for at least two years. That is so that the eight-foot flood wall can be built. If pile driving is going on the entire length of the park, the promised 42 percent of the areas still open will be unbearably noisy. In addition, there will be no access to the river at any point along the water for those years (and likely much longer—again, see timelines). As the barrier rises, we will be imprisoned behind a metal wall. Do you find that current phasing scenario acceptable? Your neighborhoods will be horrified when they figure it out.
That is leaving aside whether it's acceptable at all because phased construction will still destroy the whole park—just over a longer period of time than closing the whole park at once would have. We are proposing an environmentally and socially conscious alternative.
Health Risks
The dust from digging up contaminated soil and adding layer after layer of landfill will clog our lungs. Our Lower East Side/East Village neighborhood already suffers high rates of asthma and 9/11-related respiratory troubles. The 1,000 trees that help us breathe will be gone. We need picnic areas, ball fields, greenery, and river access for our mental and physical health.
Alternate Park Spaces—Mitigation
Have you gotten the greenway you have been requesting to substitute for the loss of the biking/running/strolling path along the river? No, you've gotten a promise to study the possibility of a protected bike lane. Have you gotten the free ferries from Corlears Hook to Governors Island you've been requesting? No, that's not even mentioned in the agreement you reached with the city as announced on Tuesday. Are you satisfied with a few playgrounds repainted or covered with artificial turf? Are you satisfied with the progress of greening of the streets and creating of play spaces and BBQ areas to substitute for the loss of mature trees and all the heavily used picnic, lounging, and natural areas we have now in East River Park? You should know that the thousands of saplings promised for our streets and the new park will not come close to the size of the 1,000 lost trees.
Timelines
Do you trust the five-year timeline the city has provided? The city has no answers to how long it takes for the eight feet of fill to settle. They do not know how long digging up and wrapping ConEd lines will take or how to deal with the contaminated soil that will be dug up. This is acceptable to you?
Even if the city could tell us how long the above complications will take, you know the city is not good with deadlines. Surely you see that in the tiny Luther Gulick Park on the Lower East Side a bathroom has been under construction for four years. You know it took 10 years to rebuild the promenade in East River Park. Do you think voters will mind not seeing the river for another 10 years?
Construction
The city says the park will stay completely open until fall 2020. In the summer work will be done in the park, however. What work? Where? How noisy and dirty will it be?
Community Advisory Board
What authority will the newly announced community advisory board have about any of the issues raised above? What authority will you as the local elected officials have?
Your constituents have been working hard to convince you to vote "no" on the ESCR. At a Nov. 4 rally on the steps of City Hall, representatives of grassroots community groups delivered more than 8,000 petition signatures to the mayor. Two thousand of those signatures came from NYCHA residents, who eagerly signed. The team who gathered those names did so to show that NYCHA residents do not support the plan, despite what NYCHA Tenant Association leaders say.
We announced a letter signed by 50 community and conservation groups from around the city. We've been testifying and demonstrating our hearts out for a year. You say you listen and respond to the community, but you have not heeded our thousands of voices.
We insist on a plan that will provide flood control with minimal destruction of existing parkland and biodiversity.
We want interim flood protection.
We don't want to contribute to climate change in order to cope with climate change.
We want our low- and middle-income neighborhood to be treated with the respect that wealthy neighborhoods receive. You know this kind of destructive, ugly plan would not be acceptable in a rich neighborhood. Witness how fast the city dropped the plans to put a six-lane highway where the Brooklyn Promenade is.
We do not want East River Park destroyed. You can do better. Our neighborhood deserves better. Vote no!
Sincerely,
Pat Arnow for East River Park ACTION. On Twitter @ERPAction.
***
Have an op-ed idea or submission for Gotham Gazette? Email This email address is being protected from spambots. You need JavaScript enabled to view it.