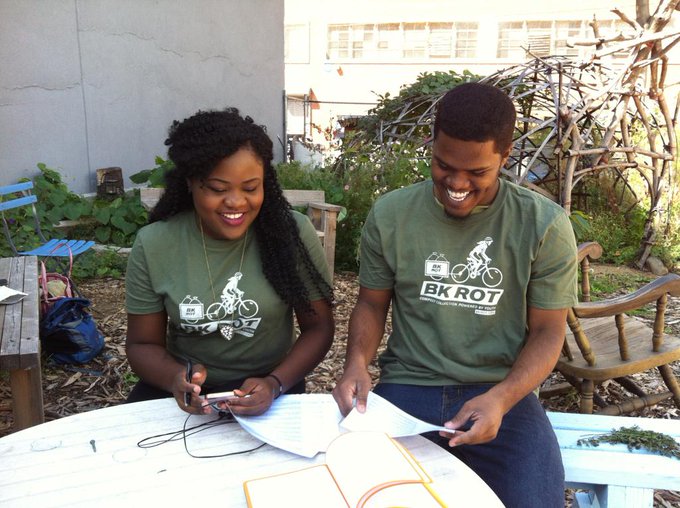 (photo: @BKROT)
---
For most New Yorkers, the city's private sanitation industry is mostly out of sight, out of mind. Yet it impacts us in major ways. The industry's old trucks chug and idle along inefficient routes, spewing pollution throughout the city each night. Once collected, the trash is dumped in communities of color, namely north Brooklyn and the south Bronx. Carters make huge profits while paying their predominantly black and brown workers horrendous wages.
Some workers have reported making as little as $80 for a 16-hour shift. Even more disturbing, some carters have created their own "unions" as a way to block legitimate labor organizing.
In 2013, I started a grassroots, organic waste micro-hauling business called BK ROT. At the time, I thought we were creating a small pilot. Six years later, I have come to realize that we've created an entire new sector of zero-emissions waste carters that are highly efficient at diverting large amounts of organic waste from landfills in New York City. When BK ROT started, we were the first micro-hauler in NYC, now there are seven across Brooklyn, Manhattan, Queens, and the Bronx.
BK ROT offers composting services to homes and businesses not serviced by the city's sanitation department or by private carters. We collect organics by e-bike and process them locally as a fossil fuel-free alternative. The compost is distributed to local farms for growing food. We hire local youth at fair wages in an effort to combat the high unemployment rates in Bushwick and East New York.
From the start, we strived to be a socially-just operation. Our model was simple: good, green jobs that value workers and keep resources flowing within the community. The service fees covered our operations staff (workers ages 17-24) and leveraged our non-profit status for funding for public educational programing. We went from one worker, who started at 16 and is now 24, to a team of six. In 2013 we processed 300 pounds of food waste a month, in 2018 we did 73 tons, and in 2020 we are on track to capture 250 tons.
When New York City initiated reforms to the commercial hauling industry through the Commercial Waste Zone (CWZ) system, we saw an opportunity to integrate micro-hauling into one of the largest private sanitation systems in the world. As a humble grassroots hauling operation, we knew it would be an uphill battle.
From the jump, it felt overly ambitious to demand that our environmentally-conscious hauling service, powered by teenagers on e-bikes, be included in the city's massive overhaul. Could we find our stride alongside the likes of multi-million-dollar companies, in an industry historically run by the mob?
We struggled to fit our grassroots solution into policy discussions alongside deeply vested interests. As a new type of hauler, policy-makers were puzzled by our innovative model and not sold on our viability. Mid-way through our advocacy, BK ROT ran out of land to process material because we only had 1,000 square feet of space and a growing list of businesses wanting our services. Our collection rates stagnated as we demanded that the draft CWZ legislation allow us to collect more food waste annually.
Demanding a higher annual collection rate would give us the room to scale up as we worked to overcome barriers such as large capital required for new technology and developing compost distribution networks. Instead of partnering with the bad actors in the carting industry just to grow our collection numbers, we doubled down on our commitment to workers, communities, and the planet.
And, we organized.
We connected with Transform, Don't Trash, a coalition of environmental justice and labor groups who spent years exposing the private carting industry's abhorrent practices. BK ROT also gained power by forming alliances with emerging micro-haulers, mostly led by women and people of color. Our new bonds helped forge a stronger voice.
We spent nearly devised a tiered system that defined annual hauling capacities (tonnage) for human powered e-bikes and zero emissions vehicles. We codified micro-hauling within the CWZ framework and successfully secured the ability to haul 2,600 tons of food waste per year.
The CWZ is the most progressive waste management reform in decades. The benefits will be felt citywide, but most acutely in communities of color that have suffered through environmental injustices and labor exploitation.
Our inclusion guarantees further emissions reductions in New York City, while diversifying an industry dominated by white men, as New York City's micro-haulers are minority- and women-owned business enterprises (MWBEs).
I am incredibly proud of BK ROT, and the win for local micro-haulers. I stand with and remain deeply inspired by the Transform, Don't Trash coalition that played a leading role in demanding sustainability and accountability in our private waste system.
The existential threat of climate change necessitates taking risks and going big on even the most unassuming ideas. Policy-makers must challenge the boundaries of what is seen as possible. Large scale climate mitigation means recognizing the power of grassroots groups and bringing them directly to the policy table.
***
Sandy Nurse is the Founder and Former Executive Director of BK ROT and a candidate for State Assembly in Brooklyn's District 54. On Twitter @NurseForNY & @BKROT.
***
Have an op-ed idea or submission for Gotham Gazette? Email This email address is being protected from spambots. You need JavaScript enabled to view it.