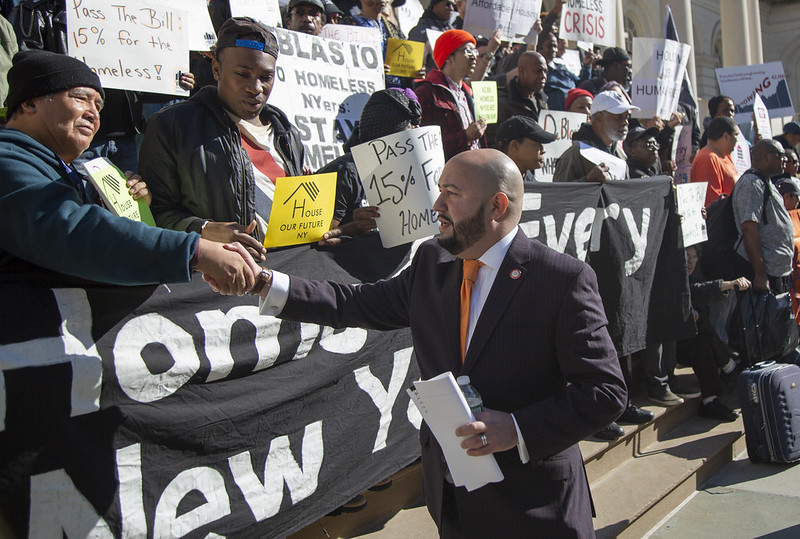 Council Member Salamanca (photo: John McCarten/City Council)
---
A year ago, a homeless woman confronted Mayor de Blasio during his gym workout in Park Slope to ask why the city doesn't set aside more apartments for homeless people. The incident and a video of it in which the mayor refused to talk with the woman, Nathylin Flowers Adesegun, were widely reported. A few weeks later, City Council Member Rafael Salamanca of the Bronx introduced legislation that would require any rental housing project receiving taxpayer subsidies such as tax abatements, loans, tax credits or reduced-cost land to set aside 15% of its units for people living in the city's shelters.
The mayor's comments about the proposed legislation were on target. He said:
"I think that the [current] affordable housing plan works for the people of the city because it is for everyone. It is meant to reach working-class people, middle-class people, low-income people," and, "I don't want to send a message that the only folks who can get affordable housing are folks who end up in shelter. I think that's wrong for everyone."
Now, almost exactly a year later, Salamanca has re-introduced the same bill but the mayor's response has been quite different -- he says he is sure he can reach a deal with Council Speaker Corey Johnson.
The mayor was right a year ago and there is no reason to change positions now. His apparent disinterest in or distaste for conflict with the Council cannot be allowed to lead to bad policy that will impede what has been a successful program to build and preserve affordable housing for needy New Yorkers at a variety of income levels.
In 2014 the de Blasio administration issued Housing NY, a ten-year plan to build and preserve a total of 200,000 units of housing in the five boroughs. An important principle of the plan was that the apartments developed would be affordable to families at an array of income levels, from those of extremely low-income, defined as below $25,000 a year for a family of four, to those of middle-income, families of four earning $100,000-138,000 a year, and others in between. The plan projected the distribution of units developed at 20% (40,000) for extremely low- and very low-income households, 58% (116,000) for low-income households, and 22% for moderate- and middle-income households (44,000).
In 2017 Housing NY 2.0 modified the administration's already-ambitious goals by accelerating its plan, extending it two years, and adding an additional 100,000 units to be preserved or created by 2026. The new targets increased the number of extremely low- and low-income households to be housed to 25% of the total.
Providing affordable housing to New Yorkers at all low- to middle-income levels is important to maintaining a thriving economy and a diverse, vibrant city. As a recent report from the Department of City Planning shows, the city's supply of jobs far exceeds its supply of housing and we need to generate more places for workers to live.
It is very expensive to build and maintain units for extremely low-income households (approximately $150,000- $200,000 in city capital subsidy per unit for construction, plus ongoing rental assistance) so the rents at higher income levels are necessary to make developments economically viable. The situation is not helped by the fact that the City Council keeps piling on requirements -- like the just-added prevailing wage requirement -- that are not only costly, but deter developers (both for- and non-profit) from wanting to even do deals with the city. It also must be acknowledged that many families in the shelter system need a variety of on-site services in addition to housing, services that private-sector buildings do not provide.
Reasonable people can debate the shortcomings and details of Housing NY, for example, the inclusion of thousands of units in Stuyvesant Town as "preserved" but there is no denying that it has been an ambitious effort that has thus far leveraged over $14 billion in city capital commitments and generated 135,000 units of urgently needed housing.
City officials need the flexibility to design each project based on its overall size, location, and cost; they should not be constrained by arbitrary apartment allocation requirements to particular income levels or types of tenants.
Mayor de Blasio needs no prodding to devote priority and resources to homeless individuals and families. His annual budget provides more than $3 billion a year for shelters, rent assistance, legal assistance, and other homelessness prevention programs, re-housing efforts, and related social services.
So far, about 11% of the units generated by Housing NY have gone to homeless households. Moreover, in 2016 NYCHA started giving preference to homeless families and over the past three years, nearly half of all tenants placed in NYCHA units -- 6,400 -- have been formerly homeless. Another 4,400 homeless families have received Section 8 rental assistance through NYCHA in the same time period.
The City Council should not create a one-size-fits-all set-aside that would tie the hands of the Mayor, Deputy Mayor for Housing, and other city officials who are trying to spur as much housing construction as possible and who are already motivated to create units for homeless families without compulsion.
If the 15% homeless requirement is in addition to the 25% proportion of units Housing NY 2.0 already requires for extremely low-income units, it will make some projects so costly that they will not be built. If the homeless allocation is instead made part of the total number of project units allocated to low-income families, it will take much-needed units out of the pool available to the thousands of other families earning less than $25,000 a year who also need decent and affordable places to live in New York City. Neither is acceptable.
The Council's focus should be on streamlining the process for project approval and creating more new affordable housing across the income spectrum, not counterproductive requirements and virtue posturing.
***
Carol Kellermann was president of Citizens Budget Commission from 2008 through 2018.
***
Have an op-ed idea or submission for Gotham Gazette? Email This email address is being protected from spambots. You need JavaScript enabled to view it.