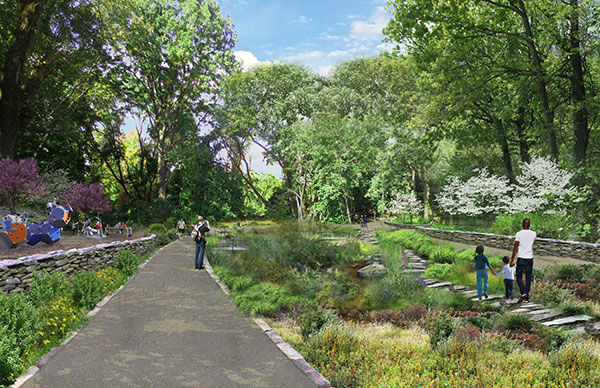 (rendering: DLANDstudio)
---
In the heart of Queens there is a 3.5-mile strip of abandoned railroad track that represents the promise of transformation. No train has traversed its overgrown rails since 1962. A mature forest of trees towers above the derelict tracks. Weeds and wildflowers poke up amid the trash that has been dumped there.
It is a space that could better serve some of New York City's most diverse communities and show that every neighborhood deserves a great park and a safe place away from cars to walk, run, and cycle.
The Trust for Public Land, Friends of the QueensWay, and the Queens Chamber of Commerce are solidly behind a plan to develop this neglected swath of industrial infrastructure into an imaginative greenway with outdoor classrooms, tree-canopied walkways, picnic areas, bike paths, jogging trails, four-season landscaping, and year-round nature-based programs.
A greenway park will carve a calm, welcoming river of plants and paths through Central Queens; improve air quality; moderate increasing summer temperatures along its route; create a safe right-of way for schoolchildren; provide traffic-free pedestrian and bike routes to existing transit hubs; extend the beautiful oak forest and lively amenities into communities; and stimulate the surrounding area's economy and businesses.
The QueensWay will be a great New York park that takes its character from the diverse communities that it ties together.
It's time for Mayor de Blasio to say "Yes" to The QueensWay and include preliminary funding in the upcoming city capital plan. Further delay, while other boroughs see investments in greenways, is unjustified and unfair.
For decades, the 47-acre abandoned line in Queens has slipped deeper into decay as decisions about its fate were debated and delayed. But a critical evaluation of the potentials and possibilities for the rail line is in—and the evidence is clear. The MTA took a hard look at the cost and the benefits of rebuilding the railroad corridor for rail traffic and determined the prohibitive price tag for railroad restoration could exceed $9 billion, and that any transit benefit from reopening the line would be minimal at best.
That sticker shock doesn't even factor in the additional costs and impact on the homes, businesses and commuters that would be affected. As the MTA noted but did not factor into its cost estimate, construction would take years and would close roads, sacrifice community spaces like the Forest Hills Little League facility, disrupt and slow service on existing train lines, force nearby residents to cope with an active railway just steps from their houses, evict commercial tenants beneath the viaduct, clear cut a winding stand of 60-year-old trees, and alienate at least seven acres that are designated parkland.
That finding—that we can't justify the high cost of reconstructing the 3.5-mile corridor as a useful rail line—removed the last questions about the direction we should take. A park on the old rail line is shovel-ready and the long-unused bridges, rails, and viaducts can be adapted without major disruption to the surrounding area. The QueensWay will cost less than two percent of the cost of rail reactivation. Most important, the idea has widespread support in the community.
This is the moment to acknowledge the extraordinary gift of an open, expansive linear greenway and reclaim the desolate space as a place for people. A greenway for Queens is a celebration of resilience, of the trees and plants asserting themselves along the old rail line, of the people eager to embrace an opportunity to transform an eyesore into a dynamic resource, and of a borough whose time has come. Now is the time to make The Queensway happen.
***
Carter Strickland is New York State Director of The Trust for Public Land; Travis Terry is President of Friends of QueensWay; and Thomas J. Grech is President & CEO of the Queens Chamber of Commerce.
***
Have an op-ed idea or submission for Gotham Gazette? Email This email address is being protected from spambots. You need JavaScript enabled to view it.