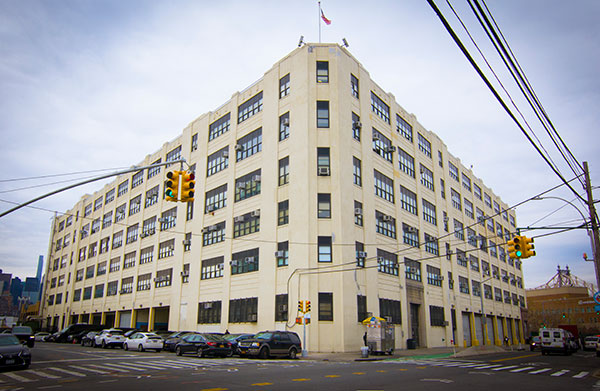 City-owned building at Vernon Blvd & 44th Dr (photo: Memo Salazar)
---
2019 may go down in history as the year public disenchantment with New York City's land use policies reached a boiling point.
In June, protestors disrupted a meeting about a neighborhood study for a potential rezoning on Southern Boulevard in the Bronx, claiming that city agencies did not really want their opinions. In August, a judge heard arguments in a lawsuit challenging the 2018 Inwood rezoning, with groups in that Upper Manhattan neighborhood charging that the environmental impact study undertaken there was illegitimate. In September, resident groups publicly assailed City Council Member Carlos Menchaca when he proposed to enter into community benefits negotiations with Industry City Associates, which had applied for a private zoning change in Brooklyn's Sunset Park. That same night, Queens activists turned an Economic Development Corporation-sponsored meeting about the Sunnyside Yard master plan into a raucous "teach-in," loudly expressing their conviction that the city was failing to elevate the public interest over the aims of real estate developers.
What explains this increasing lack of faith in government's good intentions?
Part of the problem, as others have pointed out, is that the city has no framework with which to strategically coordinate land use changes and infrastructure investments. Without a comprehensive planning process to guide investment decisions and resolve equity tradeoffs, the city's moves to densify and develop in particular neighborhoods are met with fear and protest.
But also part of the problem is the de Blasio administration's outdated mindset with respect to development more generally -- particularly development on land owned by the city. The practice of selling publicly-owned sites to developers to raise revenue, and to promote the creation of new, mostly market-rate housing and office inventory, became commonplace under Mayor Michael Bloomberg. The de Blasio administration has continued the practice, frustrating those of us who believe there are better uses for public land.
To take one example: in Long Island City, Queens, a battle is brewing about the fate of two sites in Anable Basin. Located on 44th Drive close to the waterfront, they are currently owned by the public. But they have a history: in 2018, the city's Economic Development Corporation had issued requests for proposals or requests for expressions of interest for them, and come to a preliminary agreement with the development firm TF Cornerstone to build and operate a mixed-use development (with residential, commercial, and some industrial uses) on one of them. Then came Amazon. Last November, the sites appeared on the map of the planned HQ2 campus.
When the Amazon deal fell through in February of this year, the city went silent, and local activists (many of whom had fought HQ2) started thinking not just about what they didn't want in their neighborhood but about equity-positive alternatives.
Last summer, a coalition formed around the aim of creating a Community Land Trust (CLT), which provides a vehicle for permanently affordable development managed by mission-driven organizations. The land trust activists developed a plan to renovate one of the city-owned sites – a 638,000 square foot industrial building at 44th Drive and Vernon Boulevard – as a multi-tenant space for small manufacturers, working artists, a commercial kitchen, and a school. A non-profit partner selected to operate the space would be subject to a special deed, drawn up by the land trust, that compels them to charge below-market rent in perpetuity to the kinds of tenants who are currently being displaced from Long Island City in droves by luxury development.
Judging by the YourLIC planning exercise announced last month, the city appears to have other plans for the sites the public owns in Anable Basin. But before things go any further, the de Blasio administration should consider conveying the site at 44th Drive and Vernon Boulevard to the Western Queens Land Trust.
On land it owns, the city should be leading by example, fostering development that creates family-supporting jobs and offers open space and public facilities (like schools) without contributing to gentrification and displacement. An indication of what is possible in Long Island City can be seen on the activists' website, OURlic.nyc.
We have set the bar too low for too long. Using public land, the city can subsidize development that improves communities without making them unaffordable to the people who currently live there. This path is not the most lucrative option in financial terms. But the highest and best use of land need not always be the use that commands the highest investor return. In Long Island City and elsewhere, conveying city-owned property to land trusts and other mission-driven organizations is an investment in neighborhood value that could help earn back the trust of the currently disenchanted.
***
Laura Wolf-Powers is an associate professor in the Department of Urban Policy and Planning at Hunter College. On Twitter @wolf_powers.
***
Have an op-ed idea or submission for Gotham Gazette? Email This email address is being protected from spambots. You need JavaScript enabled to view it.