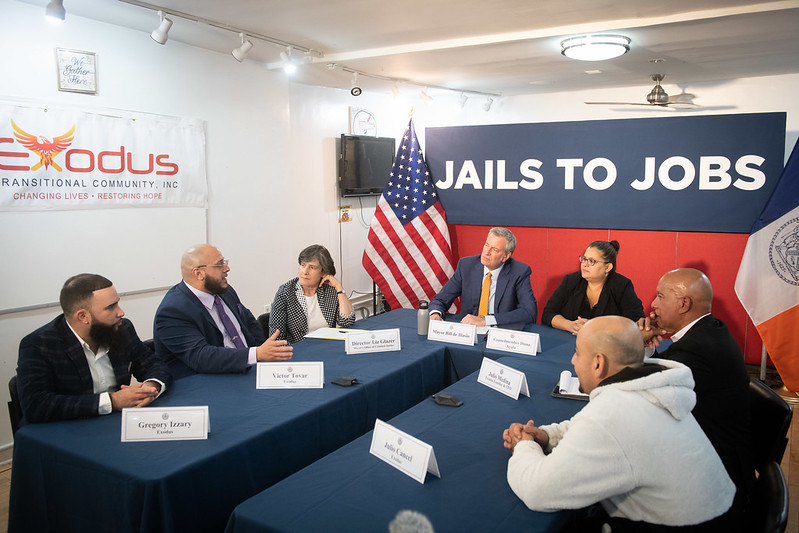 (photo: Michael Appleton/Mayor's Office)
---
For decades, formerly and currently incarcerated New Yorkers -- along with mental health experts, legal advocates, and service providers -- have demanded that city officials find the courage to close Rikers Island jails once and for all, erasing a shameful stain on the legacy of a city that aspires to be the most progressive in the world. Due in part to the sweeping success of the #FREEnewyork campaign securing transformative pretrial reforms in Albany this year, New York City is on track to release over 900 New Yorkers from city jails ahead of a January deadline -- bringing us that much closer to shutting down Rikers, permanently.
In the past several months, we have seen fear-mongering opponents of criminal justice reform continue to spread myths about threats to public safety and the excessive costs of implementing these reforms, while advocates have not stopped fighting to uplift living examples of a better future.
In November 2018, RFK Human Rights Foundation launched the "Mass Bail Out" in collaboration with JustLeadershipUSA, VOCAL-NY, katal, and other grassroots advocacy organizations. This bail out operation lasted roughly one month and successfully freed 107 women and children from New York City jails. A major component of the bail out was the welcome center/resource tent that provided folks with information on housing and legal resources, a fresh toothbrush, a MetroCard, and a prepaid cellphone, among other things to ensure people had support when returning home.
Of the 107 people who were freed, 105 returned to their next court date— and these results are not unprecedented. Actions such as the nationwide Mama's Day Bailout have produced incredible results that prove time and time again what impacted communities and organizers already know: capital and cages are not the best way to ensure return to court. Resources and support are.
On October 17, the New York City Council held a historic vote on the future of Rikers Island. This vote, and the organizing that influenced the Council to improve upon the mayor's proposed plan, was passed alongside upwards of $260 million of investments into community-based solutions and resources outside of the justice system.
Since the #CLOSErikers campaign launched in 2016, advocates have made clear that many successful alternative responses to crime and punishment already exist in communities -- in New York and across the world -- but our city, state, and federal budgets have historically undervalued and under-utilized these practices in favor of expanding punitive responses and the carceral system.
The leaders of the #CLOSErikers campaign never lost sight of their broad vision to permanently shrink the jail system; improve conditions for anyone who remains incarcerated; and decarcerate through both legislative reforms and community investments. Survivors of Rikers Island and the City Council negotiated a thorough Points of Agreement document ahead of the land use vote for new jails to lay the groundwork for more investments under the #buildCOMMUNITIES platform and Roadmap for Mental Health Resources and Diversion.
As we prepare to welcome home thousands of New Yorkers, the de Blasio administration must guarantee they have access to all of the supports and non-restrictive programs that can truly help people thrive by meeting their needs. As advocates continue to advance their demands through hearing testimony and other direct action, on the Council end, we must hold the city administration accountable for delivering on post-release supports.
It is critical that the administration follows through on the $11.2 million commitment to 380 additional beds in the Justice Involved Supportive Housing program and change its federal HUD rule interpretations that have historically prevented New Yorkers who cycle in and out of city jails from being recognized as "chronically homeless" -- blatantly neglecting that their lack of housing or the shortage of programs that provide access to housing for justice-involved people is the reason they cannot find support or stability in their communities.
With bail reform implementation less than one month away, thousands of arrested New Yorkers will be released and sent back home to await their court dates in their communities where they belong. However, we have not truly delivered justice to these folks unless we provide them with the supports to ensure their success -- resources that help them and our entire city.
In October, we voted to put a deadline on the permanent closure of Rikers Island, while shrinking the citywide jail capacity over 75% in the next few years. We must continue to fight for the urgent and sensible investments that will ensure people return home to communities that are equipped to support them while also working to prevent people from coming into contact with the justice system in the first place.
We have to get this right the first time – the futures of thousands of New Yorkers, and really the city as a whole, depend on it. We must show the rest of the country, and the world, that we have the power to end mass incarceration while making our communities safer in the process and the will to continue fighting for the freedom and success of every New Yorker in every community.
***
City Council Member Antonio Reynoso represents parts of Brooklyn. Brandon J. Holmes is New York City Campaign Coordinator at JustLeadershipUSA. On Twitter @CMReynoso34 & @BJHolmes_NYC of @JustLeadersUSA
***
Have an op-ed idea or submission for Gotham Gazette? Email This email address is being protected from spambots. You need JavaScript enabled to view it.