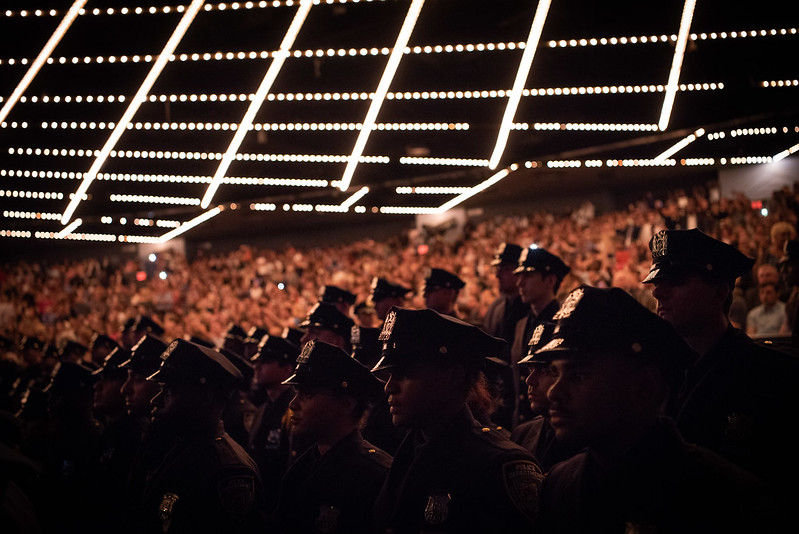 (photo: Michael Appleton/Mayor's Office)
---
How many of us would think being jailed is a form of help? Not many, I'm guessing. But that's the twisted rationale faced by countless New York sex workers, forced to endure the constant threat of imprisonment by people who claim it's "for their own good."
At a time when the American political establishment is witnessing a nonpartisan revolt against the waste and destruction of mass incarceration, one area of the carceral state is potentially headed in the wrong direction: the war on sex work. Not only is this puritanical crusade endangering sex workers' lives, but it created yet another justification for the over-policing of communities of color. Even worse, it's facilitating some of the worst abuses of the Trump Administration's attack on undocumented communities. And let's not forget that it's the latest rationale for expanding the surveillance state.
Guised in the language of combatting forced "sex trafficking," new measures have given law enforcement agencies sweeping powers to take down websites used by consenting, adult sex workers. Federal measures like SESTA-FOSTA, have driven many sex workers offline and into dangerous conditions. Sex workers have faced an increase in violent attacks, and some have even died, because of the laws that were purportedly passed to "protect" them. The impact has been so disastrous that lawmakers are now pushing a bill to study just how much damage their own law did.
The federal government hasn't been alone in using the rhetoric of "sex trafficking" to target consensual sex workers. In New York, anti-sex work policing has birthed an array of surveillance tools, using everything from wiretaps to A.I. driven chat bots to try to identify sex workers and their customers. At the same time, the NYPD rapidly expanded its policing of sex work in immigrant communities, before pledging to sacale back, followed by a deadly raid in Flushing, Queens.
The NYPD's campaign against sex work hasn't gone unanswered. This year, the fight to decriminalize sex work accelerated in Albany, as lawmakers and sex work activists pushed to end the outdated, discriminatory, and paternalistic statutes that jail sex workers. Even as Governor Cuomo, Mayor de Blasio, and much of the political establishment came out against reform, advocates still gained momentum. In the end, the measure didn't pass last term, but it gained more support than prior attempts at decriminalization, laying the foundation for enactment next year.
But not if the anti-sex worker lobby has its way. Rather than listening to the sex workers who speak out against continued criminalization, the anti-sex worker movement has tried to co-opt the progress with a watered-down bill. They call it the "equality model." Sex workers call it an invitation to deportation.
But let's not get distracted by the branding. Before "equality," they labeled it as "Nordic," in honor of the small selection of Nordic countries that prosecute sex work consumers, but not sex workers. But when you look at the details of how these laws work overseas, it's clear that the facts fall short of the hype.
Sex workers in Norway and Sweden still operate without the protection of the law. Many face threats of retaliation when they report robberies and rape. When Ireland adopted this approach, violent crimes against sex workers increased nearly 50%. Every country that has tried to enact watered-down decriminalization has seen an increase in violence targeting the sex workers that the bills supposedly help. And the same thing will happen here in New York if lawmakers allow the decriminalization momentum to be hijacked.
As with SESTA-FOSTA, many of the sex workers these laws are supposed to help will end up in the crosshairs of the law. Watered-down decriminalization is designed to not just punish the New Yorkers who purchase sex work services, but the business owners who rent space, help with marketing, or give any other assistance.
But many sex workers wear more than one hat. Someone who might be "protected" by watered-down "decrim" for the sexual services they provide directly would be in the NYPD's sights for sharing a hotel room or apartment with a friend who does the same. Even retweeting a friend's advertisement might get you a knock at the door from police.
And this doesn't begin to address the myriad of other ways that sex workers face collateral consequences from law enforcement, child services, and even ICE. Watered-down reforms won't restore parental rights to the sex workers who are loving parents. And in the era of the Trump Administration assault on undocumented immigrants, half-hearted reforms will do nothing to help the countless New York sex workers put at risk of deportation because New York's anti-sex work laws.
Rather than falling into the predictable trap of half measures and compromise bills, it's time for New York to take a bold step and enact evidence-based reforms that are driven by impacted communities. Anything else would simply reenact the mistakes of the past.
***
Albert Fox Cahn is the founder and executive director of The Surveillance Technology Oversight Project (S.T.O.P.), a New York-based civil rights and privacy group and a fellow at the Engelberg Center for Innovation Law & Policy at N.Y.U. School of Law. He writes the monthly "Surveillance and the City" column for Gotham Gazette. On Twitter @FoxCahn & @STOPspyingNY.
***
Have an op-ed idea or submission for Gotham Gazette? Email This email address is being protected from spambots. You need JavaScript enabled to view it.