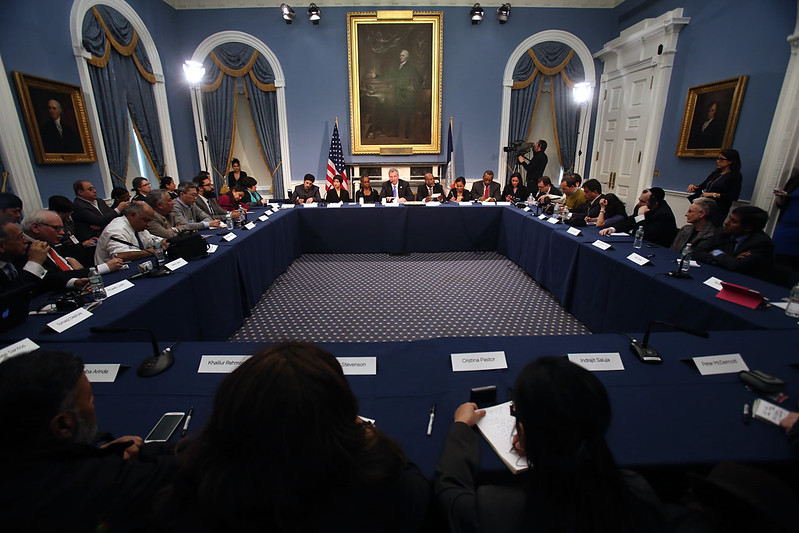 (photo: Rob Bennett/Mayoral Photography Office)
---
The City of New York has embarked on a mission to transform a procurement system that is outmoded, inefficient, and wasteful, and we are proud to have already made monumental progress. This paper-heavy process has been built up over generations, it is overly burdensome, particularly to small vendors, nonprofits and minority- and women-owned businesses, and, for many years, has plagued vendors with delayed approvals, slow payments, and a lack of transparency.
This reform effort has been underway for a number of years. A system that has been built up over decades cannot be overhauled by a few techies pulling all-nighters.
Procurement transformation is crucially important partly because of its scale. The City of New York enters into contracts every year for over $20 billion in goods and services; nearly $7 billion of that is with nonprofit organizations that deliver health and human services to our most vulnerable neighbors. This purchasing is made by 40 city agencies, with a combined staff of more than 6,000 procurement professionals from a network of more than 14,000 vendors. Last year alone, we managed more than 43,000 procurement actions.
But it is also important because of the lives it touches. A nonprofit organization that provides housing for the homeless or assistance to children in foster care or meals to the elderly likely delivers its critical services through contracts with the city. They need those contracts to be developed and executed expeditiously and to be paid on a timely basis to ensure uninterrupted services – lives are literally counting on it.
Clearly, this is too important an initiative for the city, our vendors, and our communities to allow the project to be denigrated or mischaracterized — as it was in a recent op-ed column, "Taxpayers Fleeced for Nearly $47 Million in Tech Boondoggle..." (Dec. 13).
The company we chose to help us build our new platform, Ivalua, was selected through an open competitive bidding process. Its proposal was evaluated and selected by an evaluation committee, pursuant to the city's procurement rules. Its original contract was for $30 million and increased not because of any cost overruns, but because we decided to expand the scope of the work, based on the success of early system releases and the demand from our stakeholders. Moreover, the strength of Ivalua's product is validated by other jurisdictions across the country that have effectively implemented its e-procurement technology.
Trying to compare what New York City is doing here with a smaller municipality purchasing 15 software licenses for a light procurement tool is like comparing a canoe to an aircraft carrier. It is in no way comparable to the design of an end-to-end procurement system that involves 40 city agencies, 6,000 staff, thousands of vendors, and more than 43,000 procurement actions annually.
Like many other large citywide transformation projects, this one – called the Procurement and Sourcing Solutions Portal (PASSPort) – is being developed and launched in stages. It has been live since August 2017, phase two was launched in April 2019, we are on track to release phase three, our largest release, in Spring 2020, and another component, which will digitize citywide budgeting and invoicing, will be released by early 2021. Our expansion of PASSPort has been fueled by the quantifiable efficiencies we have seen already and the demand by vendors and city agencies to go completely digital.
No reform of this magnitude is going to take place without some mistakes along the way. When those happen, we will be transparent about them, take responsibility, and work hard to fix them. But we all need to be clear about the facts – which show that the City of New York's procurement transformation is happening as planned and on a reasonable timeframe, that it has already produced enormous benefits, and that it will prove to be of great value to city agencies and vendors, as well as to city taxpayers.
***
Dan Symon is the City of New York's Chief Procurement Officer and Director of the Mayor's Office of Contract Services.
***
Have an op-ed idea or submission for Gotham Gazette? Email This email address is being protected from spambots. You need JavaScript enabled to view it.