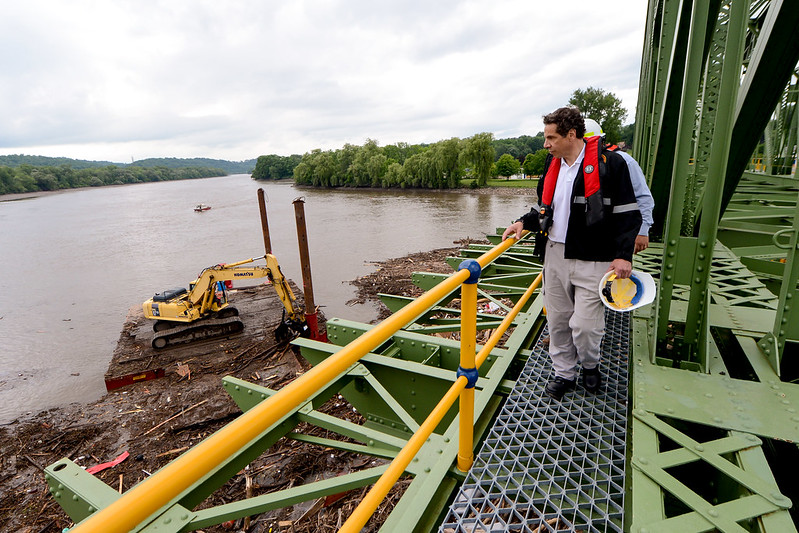 (photo: governor's office)
---
This spring, thanks to the tireless work of grassroots organizers, New York State took the first step towards tackling the climate crisis. The Legislature passed, and the governor signed the Climate Leadership and Community Protection Act, which sets binding mandates to get New York off of fossil fuels and directs much-needed support to communities hit first and worst by the climate crisis.
The CLCPA is a landmark piece of legislation. It's been called "the most ambitious climate target in the country" and New York's "best hope for meaningful climate action." But now, it's in danger of being delayed. With only 10 years left for meaningful action before we lock in catastrophe, New York must begin to implement its new climate law now.
Governor Cuomo is stalling progress on climate action by not signing a related piece of legislation, which establishes an Environmental Justice Advisory Council to help the state center the needs of frontline communities in its climate and energy planning.
Because of an obscure clause in the legislative language, the CLCPA and the Environmental Justice Bill go into effect at the same time, and the Environmental Justice Bill will become law on January 1 of the year after it's signed. It's now mid-December, and Governor Cuomo still hasn't signed the Environmental Justice Bill. If we wait more than a few weeks, we risk delaying the CLCPA by at least a year – cutting into our already short timeframe for slashing our emissions and investing in a Just Transition for frontline communities.
Despite producing fewer greenhouse gas emissions than the rich, low income-communities and communities of color are hit first and worst by the climate crisis. Too often, climate solutions, including those put forth by traditional and mainstream environmental groups, ignore this reality. We should use all the tools at our disposal to ensure those most impacted by climate change lead in developing the solutions.
The Environmental Justice Bill and the equity provisions of the CLCPA help New York be firm in its commitment to environmental justice. Between these two pieces of legislation, we have mandates to get New York off of fossil fuels along the timeline recommended by the world's leading climate scientists, invest in communities on the frontlines of the climate crisis, and create good, long-term, green jobs across the state. But unless the governor signs the Environmental Justice bill, neither will go into effect for another year.
The climate crisis is too threatening, and the consequences of inaction too large, for us to drag our feet. The Senate should deliver, and the governor should sign, the Environmental Justice Bill without delay.
***
Priya Mulgaonkar is Resiliency Planner at the New York City Environmental Justice Alliance. On Twitter @priyukli & @NYCEJAlliance.
***
Have an op-ed idea or submission for Gotham Gazette? Email This email address is being protected from spambots. You need JavaScript enabled to view it.