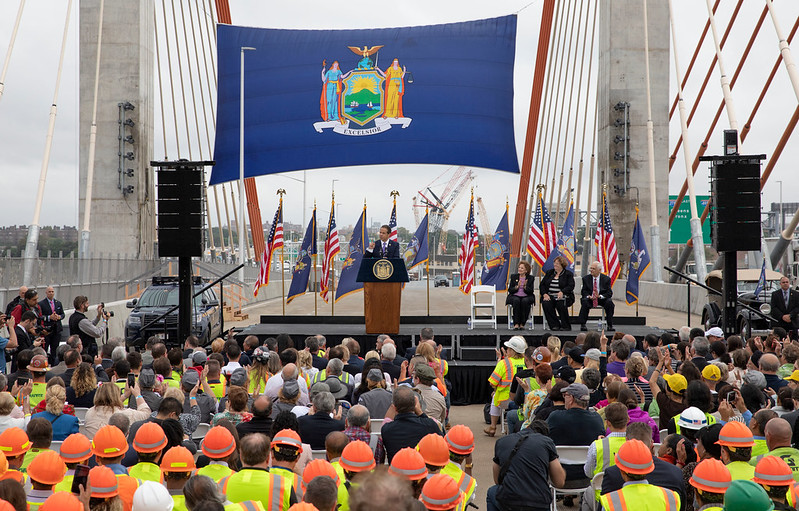 (photo: Mike Groll/Governor's Office)
---
New Yorkers are famous for our limitless ambition, but the City's potential is limited by our government's ability to build and improve public infrastructure to advance equity, speed commutes, adapt in the face of climate change, and boost our economic competitiveness. Simply put, we can't grow if we can't build our public infrastructure. Thankfully, Governor Cuomo can expedite construction and repairs to schools, hospitals, roads, bridges, and much more, cost-effectively, by signing the NYC Design Build Act.
The NYC Design Build Act amends the procurement laws in two important ways: it allows the city government to combine a project's architects, engineers, and construction teams into one contract and one collaborative team. This way, the design team is forced to wrestle with the issues of construction costs and schedules in a way they do not do today. Second, the NYC Design Build Act would allow New York City to choose construction contractors that can deliver the best value along a range of factors including quality, innovation, and schedule, as opposed to just choosing the lowest bidder.
These changes will encourage better planning and understanding of the total costs of the project up front, which should clear many of the risks and delays that cause these projects to drag on interminably.
Going forward, the Legislature should extend the common-sense design-build strategy to all state and city agencies. The Legislature must find other ways to reduce the cost of operating and maintaining the infrastructure we already have, including through public-private partnership legislation. Otherwise, New York City will fail to keep pace with our peers in the nation and around the world. But, in the meantime, the NYC Design Build Act is a good first step, and we encourage Governor Cuomo to sign it.
***
Assemblymember Robert Rodriguez represents parts of Manhattan and is the Assembly sponsor of the NYC Design Build Act. Sarah Fitts and Jamie Rubin are members of the Regional Plan Association Board. Fitts is also an attorney working in energy and infrastructure; Rubin is CEO of Meridiam North America, which develops infrastructure projects in the United States and Canada, and was former Commissioner of New York State Homes and Community Renewal.
***
Have an op-ed idea or submission for Gotham Gazette? Email This email address is being protected from spambots. You need JavaScript enabled to view it.