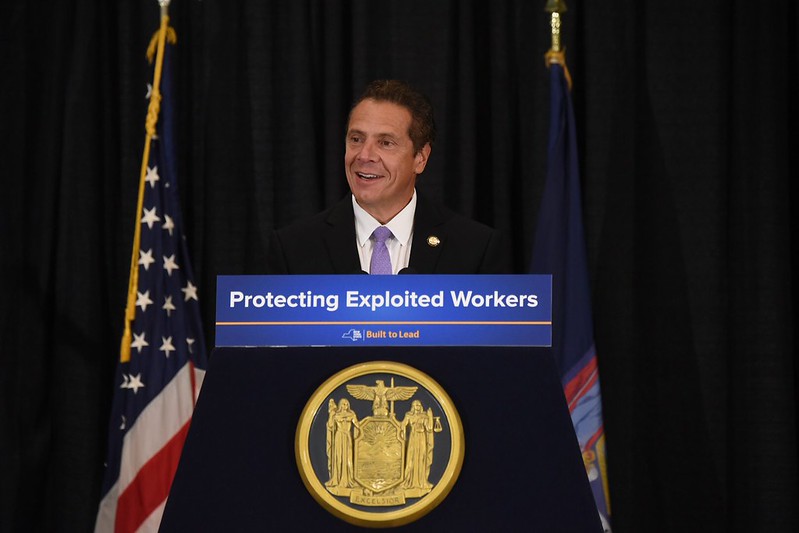 (photo: Don Pollard/Governor's Office)
---
I recently attended a fascinating panel on a topic that will be hotly-debated in Albany in 2020 – the regulation of the gig economy workforce. I listened to representatives from organized labor. We heard from spokespeople from technology platforms like Postmates and DoorDash. There were academics. There were even public officials, such as State Senator Diane Savino, the sponsor of a bill that could radically shift the nature of work for hundreds of thousands in New York State.
Know who was missing from the panel? Gig economy workers themselves. And their voices must be heard.
We already know where the labor unions stand. They are pushing hard to get Uber drivers, Door Dashers, and Task Rabbits reclassified from independent contractors (who have no right to unionize) to traditional employees (who do). With union membership eroding the last 50 years, organized labor needs to regain relevance, and getting jurisdiction over the fast-growing gig workforce is a ripe chance for it to do so. The unions have strong relationships, built over decades, with lawmakers in Albany. And, with the recent backlash against big tech, the timing is right for them to act.
We also know what the technology companies want: the status quo. They have built their companies, and fortunes, on the premise that their drivers, dashers, and dog walkers are independent contractors who log on when they want and earn what they can. Some tech platforms are now discussing offering limited benefits, such as retirement and health plans, for their freelancers. But the potential full reclassification of their workforces represents an existential threat to these companies.
The tech companies are scared. And, while they don't have many friends in Albany, they have piles of money to hire lobbyists and advisors to gear up for this fight. In California, where a law was recently passed attempting to clarify the issue, the tech platforms have pledged $90 million to support a ballot initiative that would exempt their workers from the legislation.
What we still don't know, in California, New York, or anywhere else, is what the workers themselves want. Do most prefer the autonomy, if unpredictability, that comes with being your own boss? Or would the majority of them rather a more conventional but stable work arrangement?
So far, these workers have been getting lost in the shuffle. Last year, in an effort to protect drivers from falling earnings, the New York City Council passed a law requiring the ride-sharing apps to pay $17.22 per hour minimum wage. The unions declared a victory. But the drivers ended up getting shafted, when (predictably enough) Uber and Lyft began limiting drivers' hours in response, leaving them worse off. Unable to stay profitable under these new rules, Juno – founded, ironically enough, as a driver-friendly alternative to Uber and Lyft – went bankrupt last month.
For sure, gig economy workers are not monolithic. The freelance graphic artist in DUMBO might not want the same working arrangement as the single mom cleaning houses in Crown Heights. Some people crave a 9-to-5, while others seek nontraditional hustles. One thing is for sure: we should not assume what any of them want. And we should not trust the unions or tech companies to speak honestly for these workers when their own hides are so much at stake.
Won't the legislative process adequately hear these workers' voices? That's wishful thinking. We can't expect the average Lyft driver to call his state senator or show up to testify at a public hearing in Albany, if he even knows it's taking place.
Instead, neutral researchers should be tasked to survey gig economy workers across the state. Journalists must go interview these workers in the streets – not just the hand-picked few put forward by the unions and tech companies at their press conferences. And state legislators must devise ways to hear from all their constituents, not just those who know their way around the State Capitol.
This is a high-stakes game of chess between two powerful factions, labor unions and technology companies. Gig economy workers must not be the pawns.
***
Sean Basinski founded the Street Vendor Project at the Urban Justice Center and was, until 2019, its director. On Twitter @SeanBasinski.
***
Have an op-ed idea or submission for Gotham Gazette? Email This email address is being protected from spambots. You need JavaScript enabled to view it.