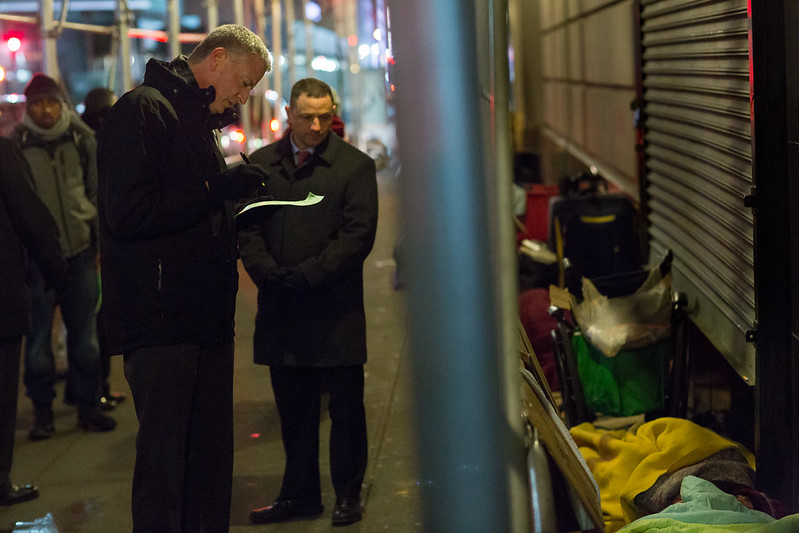 (photo: Michael Appleton/Mayor's Office)
---
The city's homelessness crisis is well-documented and deeply troubling, including far too many people sleeping on the streets and in the subways. If it seems like there are more and more people in those situations, it is because there are: the estimated number jumped 23% from 2018 to 2019, based on the one-night winter HOPE Count, to about 3,500 in total.
The city's efforts to reduce the street population have mostly failed. Nothing emphasizes this failure more than the recent murder of four homeless men who were sleeping on the streets in Chinatown.
The mayor's response to this tragedy was to increase the number of outreach workers and urge other city workers to call 311 about people living on the streets. However the city's own statistics show that the number of placements into housing has actually dropped, per the Mayor's Management Report (MMR), after having risen.
In addition, reporting has shown that many of the homeless people on the streets have been told that they must be seen on numerous occasions in the same spot in order to prove that they are homeless and qualify for a caseworker. If this wasn't bad enough, the process, once it begins, can take up to nine months before someone gets a placement in supportive housing.
There is an option other than going into a dangerous shelter, which many homeless people living on the streets or in the subways fear, or staying on the streets and in the subways, which is going into a drop-in center. Unfortunately, these drop-in centers were reduced by 50% during the Bloomberg administration.
A drop-in center is an oasis for homeless individuals living on the street. They can get food, clothing, showers, medical care, and meet with a social worker. These centers do not have beds, they have chairs but there is an option for people to be transported to a shelter or local church or synagogue where volunteers will help them stay for the night.
I have been advocating in writing and on television for four years for the city to increase the number of drop-in centers and the response has been to only open one part-time center in Queens. We need more -- there are only five full-time centers and only two of them are in Manhattan, which is the epicenter of street homelessness.
The most effective method for reducing homelessness has always been supportive housing. I ran two supportive housing programs, which provide a homeless person who is disabled, usually from mental illness or substance misuse, with an apartment and a social worker. Unfortunately, once again the city has failed in this effort, with placements at a 14-year low with only 1,300 supportive housing units opened of 15,000 promised four years ago, or less than 10%. These incredibly slow building and placement rates must be accelerated immediately.
The city recently announced the expansion of outreach efforts and addition of 1,000 safe haven beds. This is a step in the right direction as safe havens have only one or two clients in a room and are considered much safer than a regular shelter. Which begs the question: why aren't the other 12,000 beds for single adult males safe?
The number one reason people on the street give for not going into shelter is fear. Many of them have had bad experiences, ranging from assault to robbery. In fact a recent exposé by The City showed that crime is rampant in the single adult shelters and the Mayor's Management Report shows a 25% increase in serious violent incidents in adult shelters. A few weeks ago, two homeless men in an Upper West Side shelter got into a fight and one stabbed the other to death.
These shelters are patrolled by Department of Homeless Services peace officers and private security guards. The peace officers do not carry guns but they have tasers available to them and they have the power to make arrests. I have advocated for the NYPD to take a greater role in shelter security and a few years ago the mayor decided that the NYPD would supervise the security operation. However, a handful of officers is not enough.
The city should institute a 90-day pilot program where NYPD officers would be stationed 24/7 in the city's two worst men's shelters, at 30th Street and First Avenue and the Bedford Atlantic Armory, to support the DHS officers in their duties.
This suggestion will probably be met by criticism from some advocates as criminalizing those experiencing homelessness, but the fact is that homeless people are the victims of crimes committed inside the shelters to such an extent that many would rather sleep on the streets.
In addition to this pilot, the state must stop dumping thousands of newly released former prisoners into the shelter system. They must do a better job of discharge planning and setting up halfway houses to assimilate that population into society.
As we see more homeless New Yorkers on the streets and in the subways, it is time for new action by our government officials.
***
Robert Mascali is a former Deputy Commissioner at the NYC Department of Homeless Services and Vice President for Supportive Housing at Women in Need.
***
Have an op-ed idea or submission for Gotham Gazette? Email This email address is being protected from spambots. You need JavaScript enabled to view it.